Hot Ones Buffalo Hot Sauce Review: A Classic Take On A Familiar Flavor That Doesn't Pull Any Punches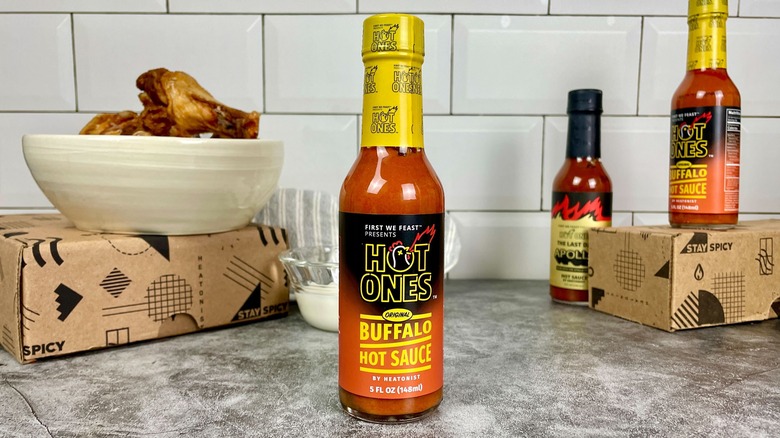 Jenny Kellerhals/Mashed
Season 21 of Hot Ones, produced by First We Feast on YouTube, recently came to a close, with another lineup of celebrities subjecting themselves to potential physical humiliation by eating progressively hotter chicken wings while trying to answer insightful interview questions by the host, Sean Evans. But wing lovers can keep the heat going with a brand new sauce from Hot Ones to add to their collection, the Original Buffalo Hot Sauce.
Buffalo sauce is typically made by melting butter into hot sauce, as well as vinegar and spices. It's definitely more of an art than a science, and there are as many different Buffalo sauces in the world as there are people making it. But being connoisseurs of hot sauce, the Hot Ones hot sauce makers took on the challenge, knowing that their Buffalo sauce would have to be something special. We got an early taste of the sauce to see how it compares with some of the other Hot Ones hot sauces, and if we could make it through all 10 of the wings doused in the new Buffalo sauce. Here's everything you need to know about the new Original Buffalo Hot Sauce from Hot Ones.
What's in the new Buffalo hot sauce?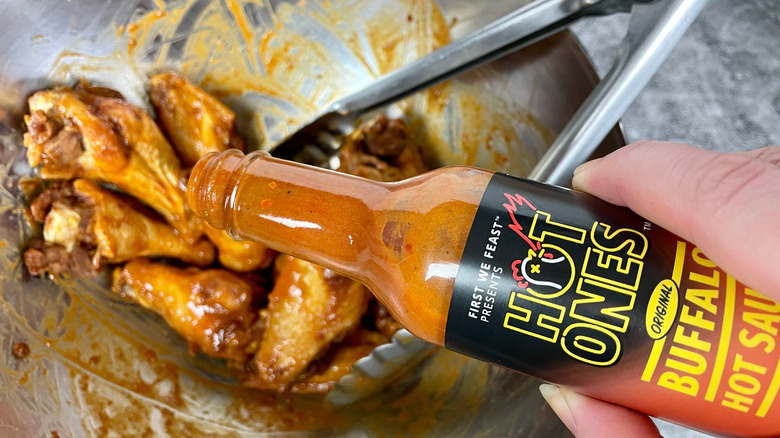 Jenny Kellerhals/Mashed
Hot Ones isn't attempting to reinvent the wheel with the new Original Buffalo Hot Sauce here. In fact, several of the main ingredients you'll recognize as Buffalo sauce staples, including aged red cayenne peppers and distilled vinegar. That's followed up with salt and butter, which are regular ingredients that would get added to a hot sauce when mixing together to make Buffalo sauce, as well as rice vinegar and red bell pepper (which is essentially paprika).
But there are a few more custom ingredients included in the mix, like celery, molasses, garlic powder, chipotle powder, smoked paprika, chia seed, and habanero powder, all of which set the signature Buffalo sauce apart from its competitors. As far as heat goes, the new sauce is given a 2 out of 10 heat rating, with medium garlic, vinegar, and sweet notes. But we've been burned before, and we know from experience that the habanero powder listed at the end of the ingredient list may be small in volume, but can punch way above its weight.
How to get a taste of the new sauce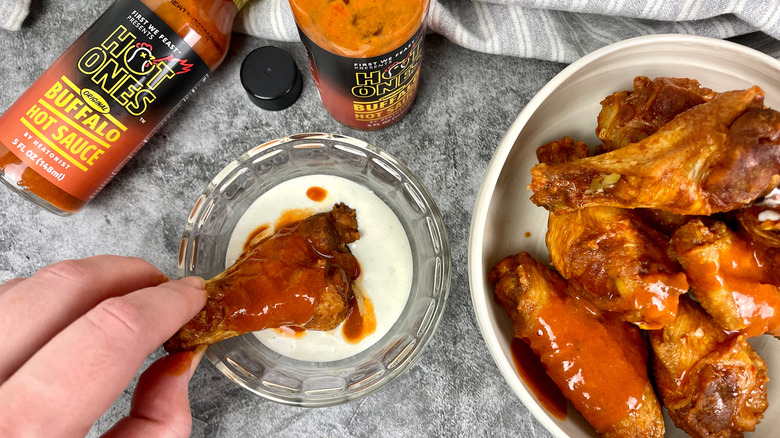 Jenny Kellerhals/Mashed
You may have heard rumors about the new Buffalo sauce floating around already, since subscribers to the Hot Ones monthly hot sauce box were given a first taste of it in their August subscription box. But on August 24th, the sauce is finally being released to the public on the Heatonist website — the home of the Hot One's signature hot sauces. Heatonist also has two brick-and-mortar locations that will stock the hot sauce in New York City, which can be found in Williamsburg, Brooklyn, and Chelsea Market in Manhattan. Everyone else will have to wait until later in the year to buy it in-store when it makes its way to Sam's Club and Target as part of a special holiday hot sauce pack.
Each 5-ounce bottle of Buffalo sauce costs $10, before taxes and shipping, and currently only comes in one size. It's a flavor that fans have been requesting for years, according to a brand representative, and will be available as a regular part of the Hot Ones hot sauce lineup from this point, forward. We're also likely to see the new Buffalo sauce make an appearance in the show's Season 22 lineup, which currently does not have a release date but may begin as early as the end of September if previous seasons are any indication.
The kind of heat that keeps you coming back for more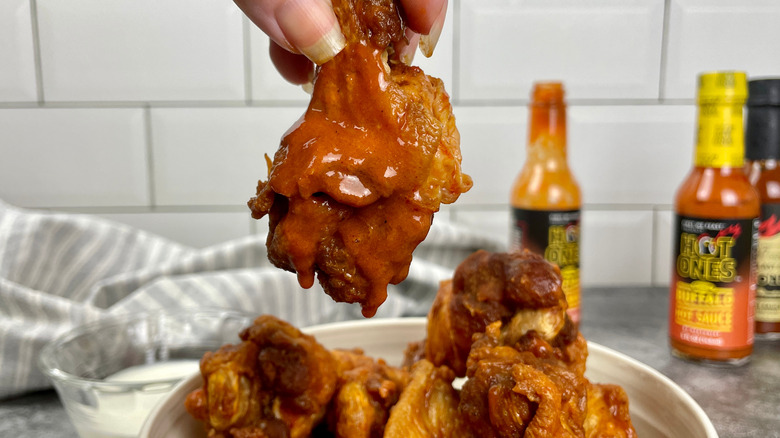 Jenny Kellerhals/Mashed
We poured ourselves a tall glass of milk and braced ourselves for the worst. Having already tasted a handful of the Hot Ones hot sauces, including The Last Dab Apollo sauce, we worried that these wings might just burn a hole in our mouth. We bit in, recognized a bold, spicy, and yet familiar Buffalo sauce flavor, and then waited a few more seconds to see if there would be a walloping hit of heat on the back of the bite (fool us once, right?). But the Original Buffalo Hot Sauce doesn't pull any punches. It's just hot enough to make our weakest taster reach for a small sip of their drink, and casual enough that our most heat-resistant taster found it comforting. After a little nervous laughter, everyone kept eating until the wings were demolished.
Depending on how saucy you like your wings, you might go through the 5-ounce bottle pretty quickly. We ended up using about half of the bottle over 10 wings, because we like them on the saucier side. And since this Buffalo sauce doesn't need to be mixed with other ingredients before serving as other sauces do, you might be surprised by how much you use in one sitting. It tasted great with our generic blue cheese sauce, although we think it would also taste great paired with ranch too, if that's more your style. Ultimately, it's a Buffalo sauce everyone enjoyed, and we'd absolutely go back for more.
How the new Buffalo sauce compares to the rest of the Hot Ones hot sauces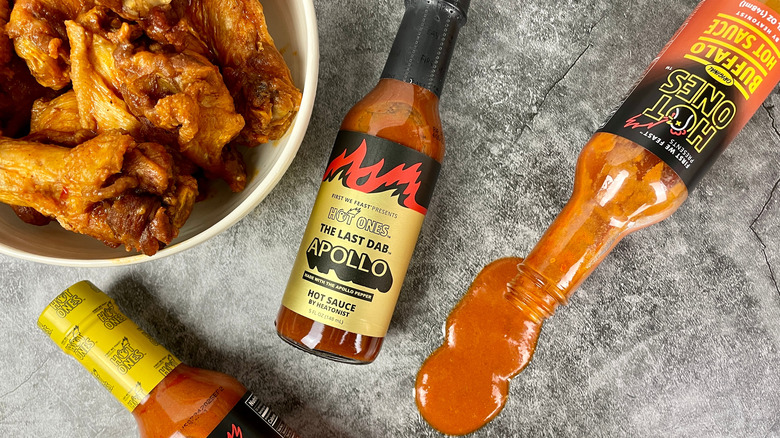 Jenny Kellerhals/Mashed
On the show, guests sample wings with sauces from a wide variety of brands, but there are typically a few wings topped with Hot Ones brand hot sauces as well. (After all, you can only sample so many choices before developing an opinion on what one should taste like for yourself.) The sauces range from the universally approachable "The Original" hot sauces, which rank about 2 out of 10 on the heat scale, to "The Last Dab" lineup of sauces, which begin at a 10 out of 10 heat rating and only get hotter somehow. In the middle of the scale, you'll find the "Los Calientes" sauces which will put the average hot sauce eater to the test, but won't necessarily leave you begging for mercy if you're a seasoned fire-eater.
Each sauce typically has its own unique variety of peppers, acid, and spices, making them fun to sample and pair with all kinds of foods (not just wings). What sets the new Buffalo Hot Sauce apart from the crowd is that it's got butter mixed into it, like a prepared Buffalo sauce would in a restaurant. You could absolutely make Buffalo sauce out of any of the other hot sauces in the Hot Ones collection, but you'd likely need to mix in a few more ingredients to make it a true Buffalo sauce.