The Brand Behind Costco's Aged Balsamic Vinegar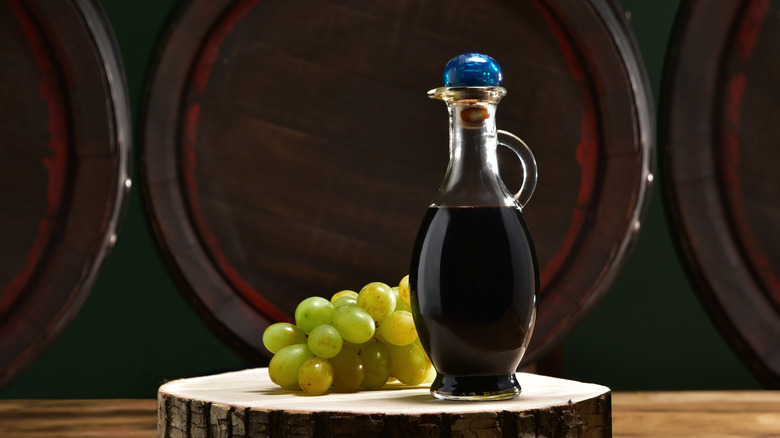 barbajones/Shutterstock
With its acidity, tartness, and pungent bite, balsamic vinegar can be used to amp up a variety of meats from steak, chicken, and pork to an array of salads and veggie dishes. It can be applied as a marinade, a dressing, or a reduction. For fans of Costco's Kirkland Signature Aged Balsamic Vinegar of Modena, if you have ever wondered what brand is behind the flavorful magic, look no further than the bottle itself.
For this partnership, Costco teamed up with a company called Acetum back in 1999, and when you do a little digging into its background it quickly becomes evident to see why. Acetum is based in Modena, Italy, which is a northern Italian town renowned for its barrel-aged balsamic vinegar and cheese. Acetum's website boasts the superlative statement that Acetum is the "world's largest producer of certified balsamic vinegar of Modena PGI." But what does that actually mean?
Better with age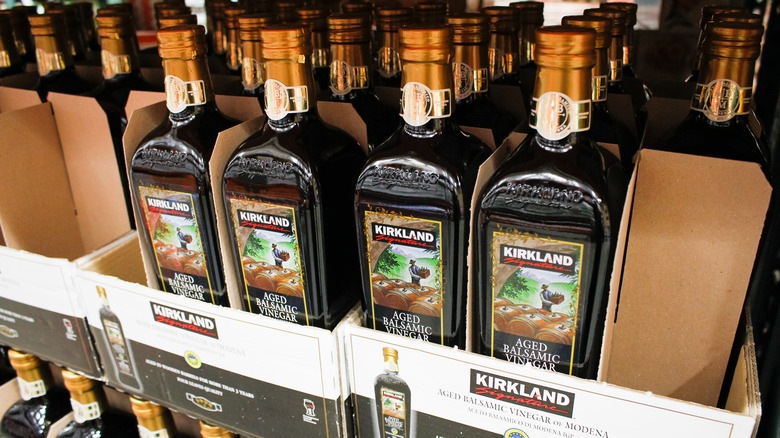 The Image Party/Shutterstock
The PGI acronym tacked on at the end stands for Protected Geographical Indication, essentially a guarantee that this balsamic vinegar was made in the Modena region. This PGI certification also provides a guarantee that the balsamic vinegar will spend no less than 60 days aging in wooden barrels. The aging process lends balsamic vinegar its distinctive richness and thick consistency. Costco would understandably want shoppers to know that it sources its balsamic vinegar from the reputable Acetum brand and thus makes no secret of it on the packaging.
Customer reviews seem to mostly confirm that overall Costco shoppers are happy with the Italian-derived balsamic vinegar. It received a very respectable 4.7 out of five-star rating based on 974 testimonials. Negative reviews primarily complain that the aged balsamic vinegar used to have more richness and depth of flavor, but now tastes like it has been diluted with water. Costco continues to keep its nearly 25-year relationship with Acetum going strong, a clear indication that it values the brand and its specialty product.