Your Alfredo Sauce Deserves A Pumpkin Twist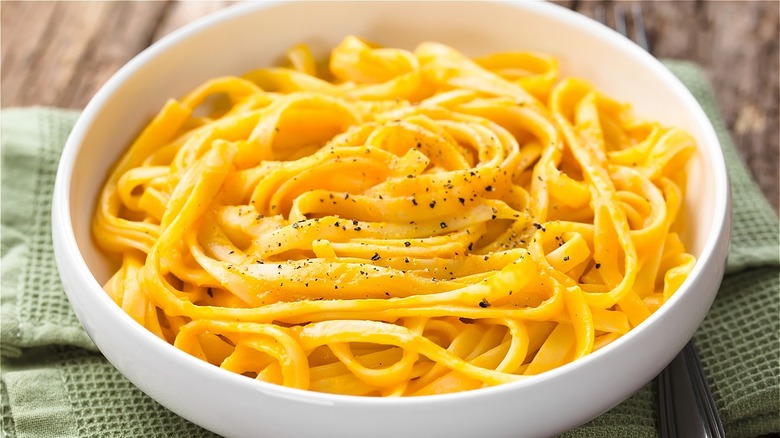 Everybody loves weeknight pasta dishes because they're fast and easy. Plus, you usually have everything you need to make a delicious dinner that even picky eaters will enjoy. However, the dried pasta and jarred tomato sauce can only carry you through so many meals before it becomes time to spice things up. To shake up pasta night, reach for an unexpected ingredient — pumpkin. This gourd is often left to fill Thanksgiving pies, but it can add a depth of flavor to a simple Alfredo sauce, leaving you with a warm, satisfying, and deceptively simple pasta dinner.
This entrée might feel like it should be part of a fall recipe rotation, but it's a great dinner to make any time of the year. To prepare it, you only need to mix pumpkin purée with your favorite Alfredo sauce, whether homemade or from a jar. If you don't have a go-to Alfredo recipe, make this sauce from scratch by sautéing fresh sage with butter, whisking in pumpkin purée and cream until smooth, then simmering it until thick and flavorful. Nutty, lightly sweet pumpkin mixed with creamy, cheesy Alfredo sauce served over pasta makes for a comforting, hearty dinner.
Ways to customize pumpkin Alfredo sauce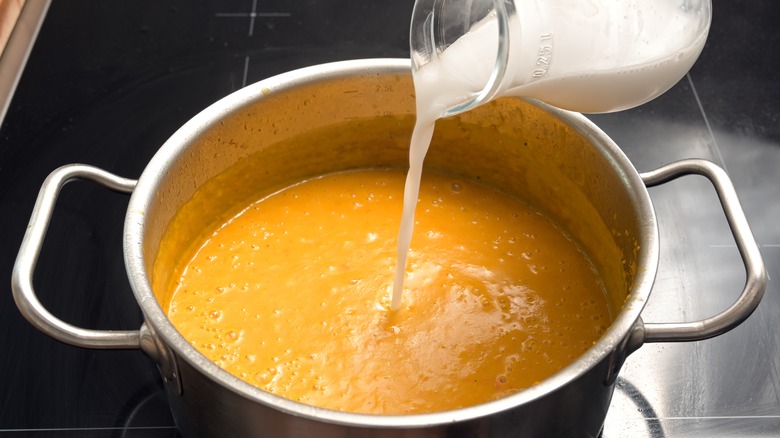 Maren Winter/Shutterstock
When it comes to the pumpkin element, you have a few options. You can go for easy mode with canned puréed or cubed pumpkin, but you need to use an immersion blender or food processor if you use anything but purée; it needs to be smooth to meld properly. However, if you consider yourself a gourmand, why not work with the whole pumpkin? A great way to give this dish extra flavor would be to roast pumpkin in the oven with olive oil, salt, and pepper before blending it into a purée and adding it to your Alfredo sauce. 
You should also consider using some herbs to give the sauce something extra. Pumpkin and sage are a natural pairing and taste great with cheesy Alfredo. To highlight pumpkin Alfredo's more buttery, toasty flavors, you could add roasted pumpkin seeds or pine nuts, which also lend a delightful crunch and depth of flavor. 
Additionally, you'll want to pick out the right pasta for this recipe. Alfredo is quite heavy, particularly when fortified with pumpkin, so you'd be better off skipping angel hair for this one. Long, flat, and sturdy fettuccine noodles hold up well to the hefty sauce, but spaghetti, linguini, or bucatini could also work beautifully. As is recommended with most pasta dishes, top your homemade pumpkin Alfredo with a generous sprinkle of parmesan and a hit of freshly cracked pepper.