Seasoning Gives KFC Sri Lanka's Fried Chicken An Added Kick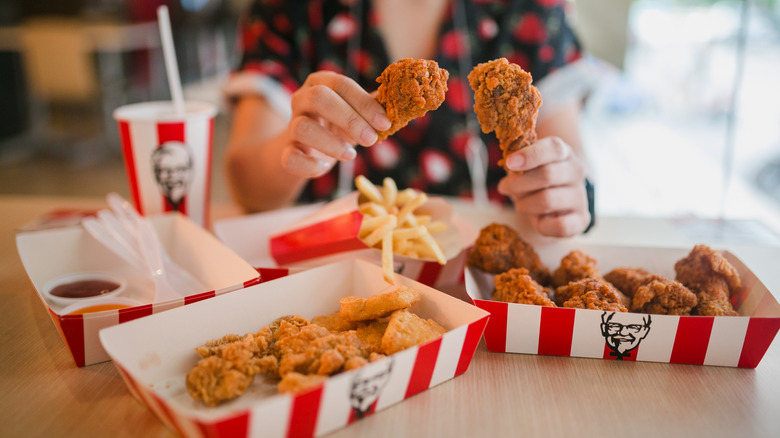 WUTTISAK PROMCHOO/Shutterstock
If you've ever wondered how it's possible for KFC's fried chicken to be so delicious after indulging in a crispy bite, the chain's secret signature spice blend is the culprit. However, the Colonel's secret recipe varies depending on what country you're visiting. American fast food around the world will usually feature unique menu items that you can't find in the States, largely due to the culinary freedoms taken to cater to regional tastes. Sri Lanka's KFC is no stranger to this practice, infusing its fried chicken with an added layer of zest, similar to the South Asian country's typical fare. Most Sri Lankan cuisine features a mixture of seasonings like turmeric, chili, cumin, and curry leaves to create a flavorful, spicy kick that would make most Westerners break out in a sweat. The spice level of Sri Lankan KFC chicken isn't quite as strong and instead provides a welcome upgrade from an otherwise average fast food menu.
For those who have tasted a Tom Yum soup recipe before, which is one of Thailand's most famous dishes, the flavors of this brothy delicacy actually come in powder seasoning as well. Fly three hours west of Thailand to Sri Lanka, and you'll learn that this is the same blend used on its spicy KFC fried chicken. Whether you order a few juicy pieces to munch on yourself or grab a bucket filled to the brim to share with the whole family, it seems like Sri Lanka's spicy KFC chicken is definitely worth trying.
The spice at KFC Sri Lanka adds a new dimension of flavor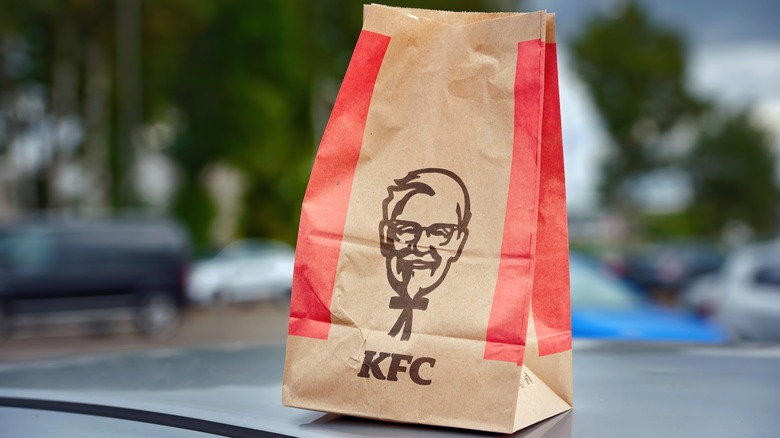 Tricky_Shark/Shutterstock
Usually, when ordering spicy food at a restaurant in Sri Lanka, you better know what you're signing up for. However, that doesn't seem to be the case for its KFC fried chicken, which is described in one TikTok video as being mild enough to still enjoy the flavor kick. Some commenters from Sri Lanka agree that its menu is better than many other international KFC menus, and others suggest that local fried chicken hotspots taste even better when compared to the American fast food chain. Another fan confirms that it's Tom Yum seasoning that gives Sri Lanka's KFC chicken its reddish layer of extra spice by saying, "You can always ask for extra Tom Yum on the chicken and it will be so much better!"
This spice isn't just used in sweet and sour soup but is also a popular additive to many snacks in countries like Thailand and Sri Lanka. Its main ingredients are lemongrass, galangal or ginger, red chiles, and kaffir lime leaves. If you're trying to blend the spice yourself, there are other versions of homemade Tom Yum seasoning out there that include a Thai chili paste called nam prik pao, which you can find online or at most Asian grocery stores. We imagine creating your own version of Sri Lanka's KFC fried chicken seasoning using fresh ingredients would be pretty delicious when added to an easy KFC copycat recipe.