Halloween Ice Cream Sandwiches Are The Ultimate Party Treat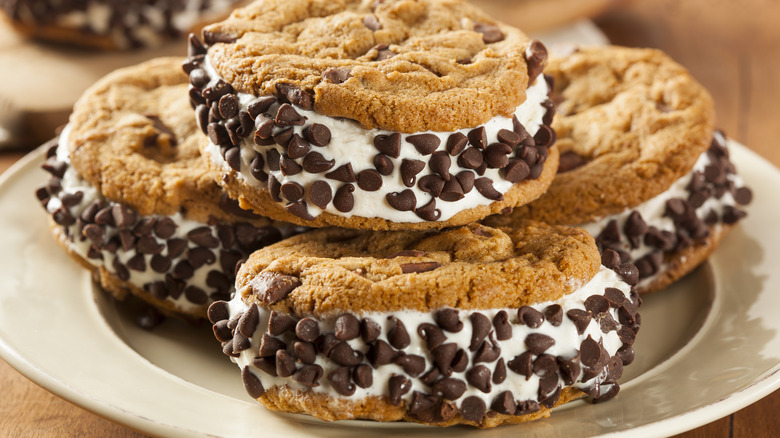 Bhofack2/Getty Images
October can be the perfect time of year for a creative chef or baker to feel inspired, especially when it's time to prep for all things Halloween. Whether you're bringing a themed dish to a party or need to curate a spread of spooky delights for your own festive get-together, there's an unending sea of fun Halloween recipes out there to choose from. One sweet treat that can be a real hit for kids and adults alike is the classic ice cream sandwich. Not only are they easy to make, but you can design them to be deliciously cute, creepy, or anything in between.
If you've already stocked up on your go-to ice cream flavor and your favorite cookie recipe, it's as simple as combining the two by smashing the ice cream between two crumbly cookies. Or perhaps you'd like to stick with the ever-popular Klondike ice cream bar, in which case you can just grab a spooky cookie cutter shaped like a ghost, bat, or pumpkin, press it into the Klondike bar, and call it good. But for those who welcome the challenge of creating something totally unique this Halloween, you can opt to make your own homemade ice cream sandwiches with your own flair. Be sure to grab some colorful Halloween sprinkles, cookie cutter shapes, or candy eyes either at the store or from Amazon, which will undoubtedly spark some fun ideas throughout the baking process.
Some ideas for making Halloween-themed ice cream sandwiches
For those who can't resist the world's favorite cookie, you're going to need the best chocolate chip recipe to turn your ice cream sandwiches into the eye-catching Halloween dessert you're envisioning. You can even combine cookies like one TikToker does in her viral recipe, where she takes Pillsbury Pumpkin Shape Sugar Cookies and smushes them into the center of each chocolate chip cookie before baking. After about 10 minutes of baking, the cookies go from average to Halloween-ready, each sporting a bright orange pumpkin face. You also have the option to roll your cookie dough in festive sprinkles before baking, placing a few creepy eyeball candies in each cookie for good measure. If you'd prefer to skip making cookies, you can use large chocolate graham crackers to sandwich your ice cream, drizzling chocolate on top for a more refined look.
One popular flavor choice for Halloween ice cream sandwiches is vanilla, but you can take it a step further and go for pumpkin flavor, or make your own homemade pumpkin ice cream. It's not hard to do if you've got some pumpkin puree, condensed milk, and heavy cream handy. Feel free to double down on the Halloween sprinkles by mixing some into your ice cream too! You can even turn your cookie sandwiches into spiders by sticking a few chocolate-dipped pretzels into the ice cream for legs. Have fun wowing your next party guests when they crunch into this creamy Halloween dessert.