September Aldi Finds That Are Perfect For Autumnal Parties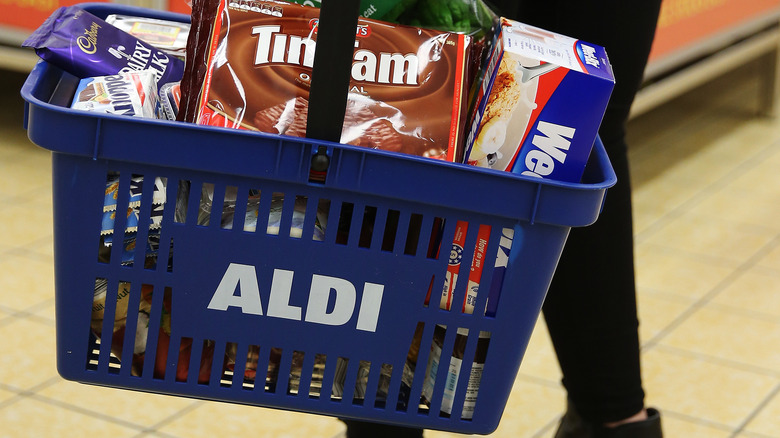 Bloomberg/Getty Images
As August comes to a close, the sun-filled beach days and nighttime bonfires of summer will soon retire for another year. But the changing of the calendar reminds us that fall is right around the corner, and there's no better time to start planning all your autumn-inspired gatherings. From Halloween to Thanksgiving and every cozy day in between, there are plenty of reasons to host parties with your favorite people and indulge in the tastes of fall. From apple cider and pumpkin spice to savory meats and cheeses, Aldi has a wide range of products suitable for your next fall get-together.
Mashed got a sneak peek at the hottest new seasonal goodies that will be offered exclusively at Aldi, just in time to get us into the fall spirit. The leaves may not be falling just yet, but with Aldi's newest harvest decor and autumn-inspired treats, these September finds are sure to put you in the mood for a cozy walk while you sip a pumpkin spice latte and patiently wait for the fall foliage.
Clancy's Roasted Sweet Corn Popcorn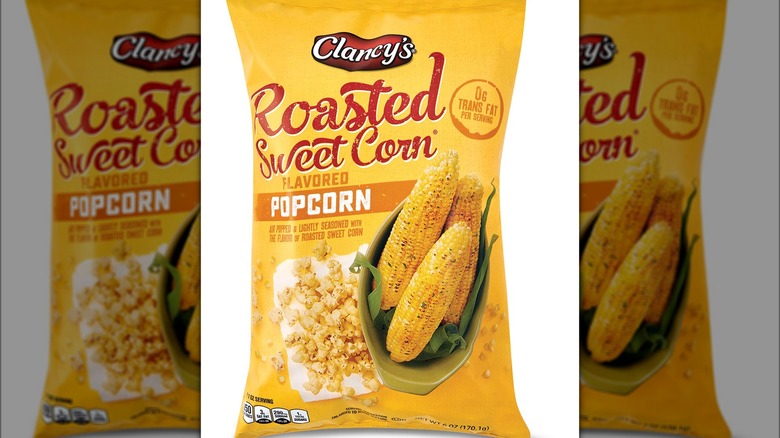 Aldi
This roasted sweet corn-flavored popcorn (yes, corn-flavored popcorn) is the perfect snack to pour into bowls for hungry guests to snack on before the main course is ready.  The sweet and salty snack will be available at Aldi on September 6, for only $2.49 per bag.
Three Mills Pumpkin Spice Mulled Wine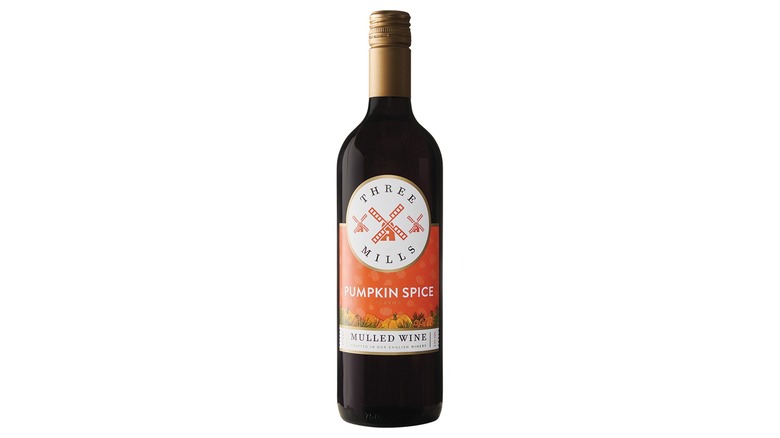 Aldi
You've heard of a PSL, but when you need to sip on something a little stronger than coffee, pour yourself a glass of pumpkin spice mulled wine. The Three Mills fall-inspired adult beverage is priced at $5.99 per bottle, and can be found on Aldi shelves starting September 6.
Huntington Home Fall Garland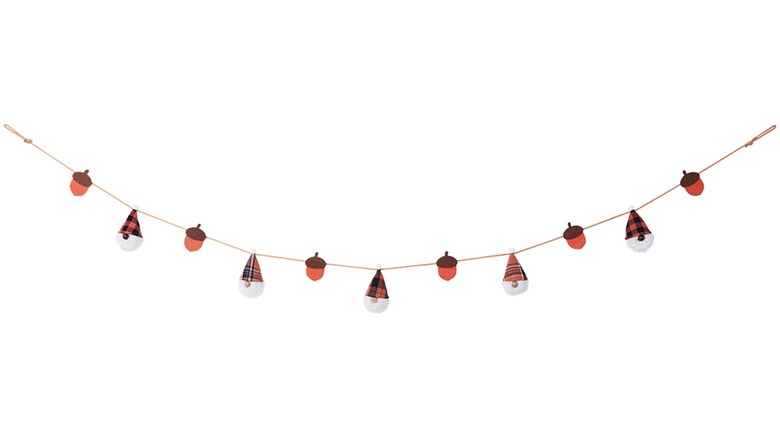 Aldi
This adorable Huntington Home fall garland will make your home feel extra festive this autumn. If you can't choose between the pumpkins and acorns pattern and the plaid pumpkins & gnomes design, you can grab a pack of each off of Aldi's shelves for just $4.99 apiece starting September 6. 
Bake Shop Cookies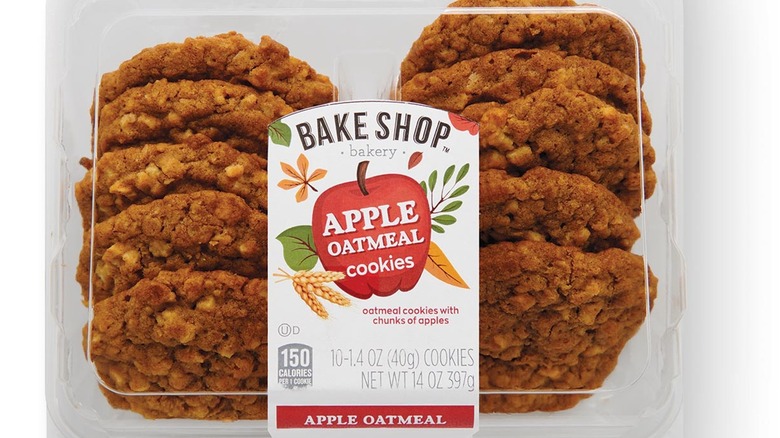 Aldi
For just $3.89, you can indulge in a case of Bake Shop cookies from Aldi. They come in delicious fall flavors like apple oatmeal and pumpkin pecan. You'll have to sit tight until September 27 to get your hands on these deliciously baked treats, but they are worth the wait! 
Don't Mind If I Do Cabernet Sauvignon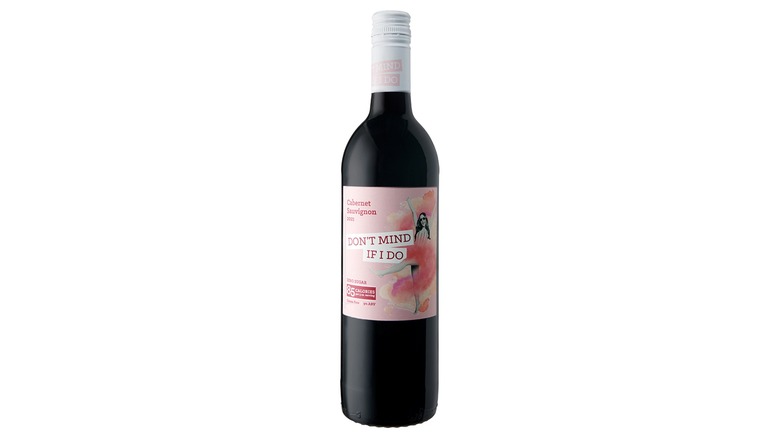 Aldi
This cabernet sauvignon label is saying what we're all thinking when we reach for a bottle of red wine: "Don't mind if I do!" At $7.99 per bottle, this delicious and beautifully decorated wine will be available at Aldi starting on September 6. 
Crofton Pumpkin Casserole Dish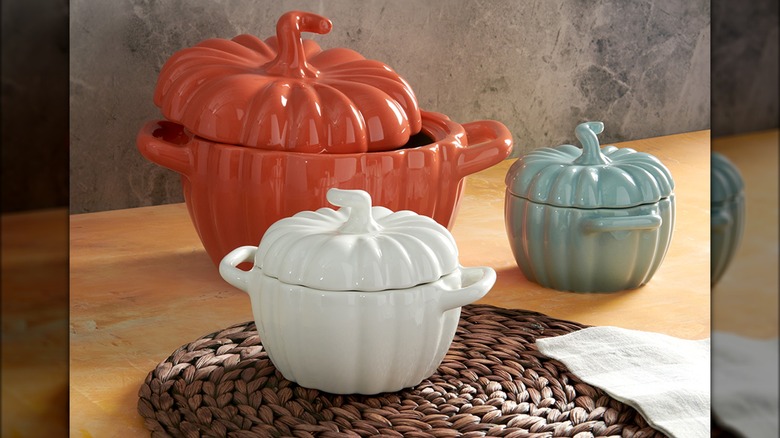 Aldi
When the calendar says September 6, you can begin looking for these pumpkin-shaped casserole dishes. These tall, deep, lidded dishes are a great way to add a subtly autumnal flair to your gathering. The dishes are priced at $8.99 for a mini and $14.99 for a large, and come in multiple festive colors. 
Emporium Selection Artisan Flavored Cheese Assorted Varieties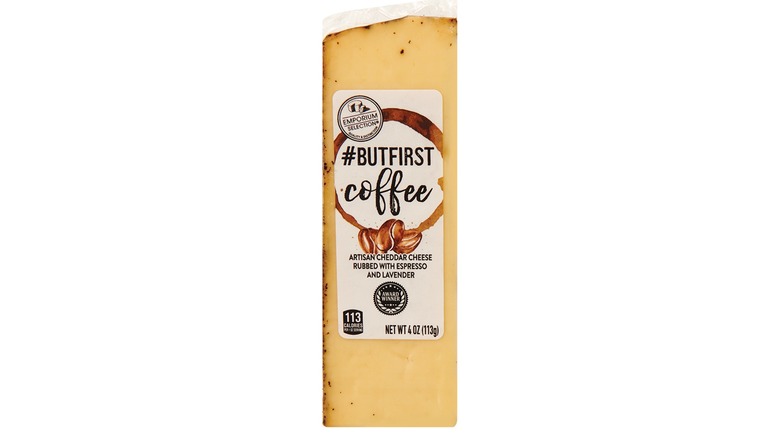 Aldi
Aldi's Emporium Selection of artisan-flavored cheeses aren't just mouthwatering, they're also quite unique. Starting September 8, you can try all four of their newest fall-inspired flavors for $3.49 each: Some Like It Hatch (hatch chiles), Honey I'd Rather Bee At The Sea (sea salt & honey), You're Cajun Me Crazy (secret Cajun spices), #ButFirst Coffee (espresso and lavender). 
State of Brewing Pumpkin Cider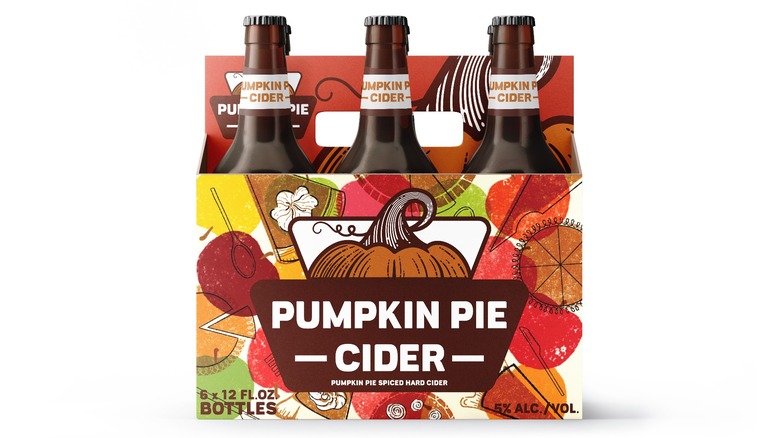 Aldi
Hard cider lovers rejoice. On September 8, Aldi shelves will be stocked with pumpkin pie cider from State of Brewing. For $7.99, this six-pack of boozy cider is sure to put you in the mood for fall and satisfy your pumpkin pie craving until Thanksgiving rolls around. 
Huntington Home Harvest Wreath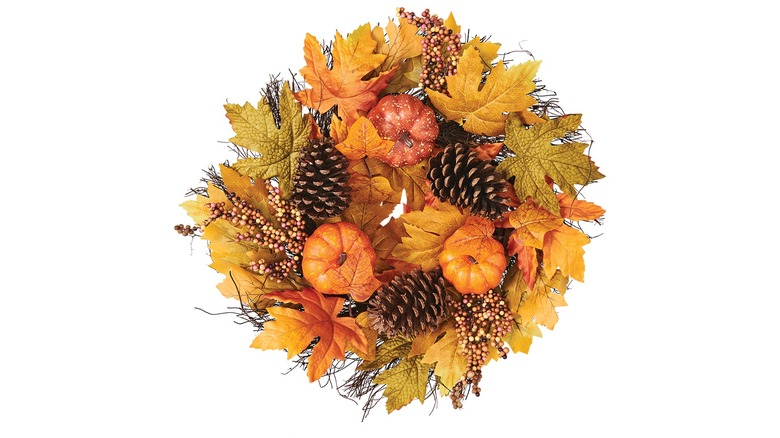 Aldi
Huntington Home's harvest wreath is the perfect fall decor to welcome guests into your home. The festive decoration will be available at Aldi on September 13 for $14.99. For a variety of decor styles, the wreath comes in Fall Harvest, Mixed Pumpkins & Gourds, and Eucalyptus. 
Specially Selected Cheese Pairing Spreads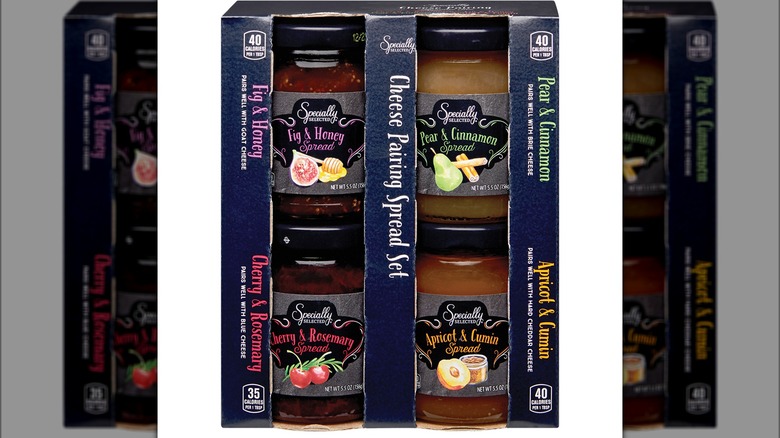 Aldi
After you've snagged an artisanal cheese or two from Emporium Selection on September 8, pair them with one (or all) of Aldi's special selected spreads for $5.99. The set includes four flavors: Fig & Honey, Pear & Cinnamon, Cherry & Rosemary, Apricot & Cumin. 
Mama Cozzi's Pizza Kitchen Garlic Knots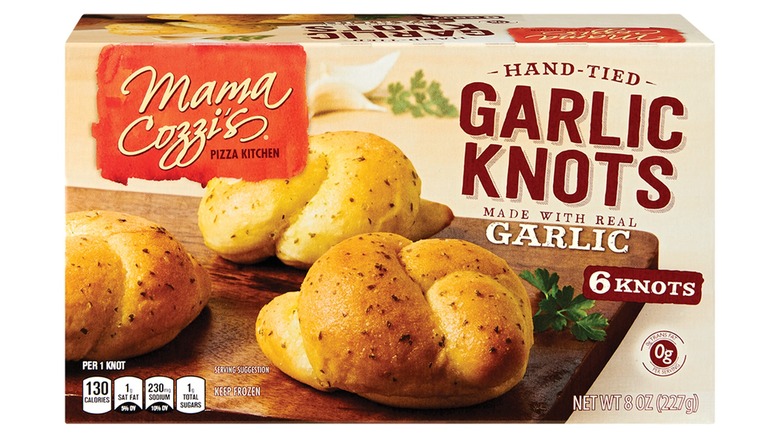 Aldi
If you're looking to serve up a batch of warm and cozy appetizer bites this September, Mama Cozzi's Pizza Kitchen garlic knots are the perfect choice. A box of 6 knots is $2.49, found in the Aldi frozen foods aisles starting September 13. 
Crofton Harvest Serving Platter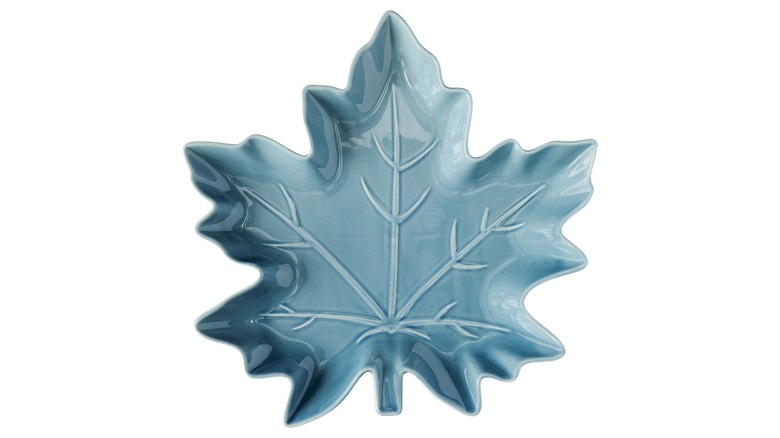 Aldi
Not everything has to be pumpkin-shaped and covered in warm colors to make for beautiful autumn decor. This elegant harvest serving platter from Crofton is a great piece that you can use to display your delicious treats all fall and winter. Find it at Aldi for $9.99 on September 20.
Appleton Farms Salami Collection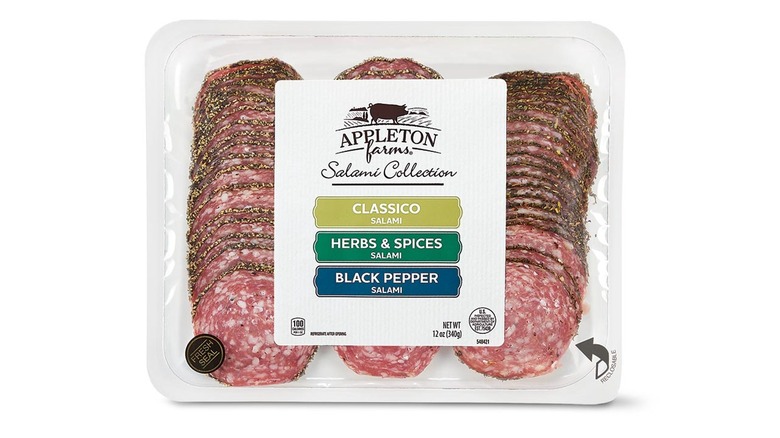 Aldi
After snagging the Emporium seasonal cheese and Specialty spreads from Aldi on September 8, complete your first charcuterie board of the season with this salami collection from Appleton Farms. For $6.49, you can enjoy all three flavors: Classico, Herbs & Spices, and Black Pepper. 
Benton's Mug Toppers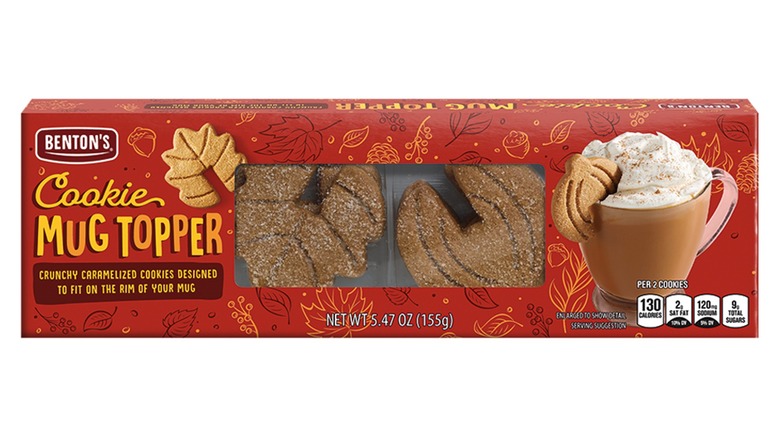 Aldi
For those with a sweet tooth, these cookie mug toppers are an adorable addition to your nightly mug of hot cider or mulled wine. The crunchy cookies are adorably shaped to give your drink an extra festive touch. Find them at Aldi for $2.89 starting September 27. 
Huntington Home 3 Wick Candle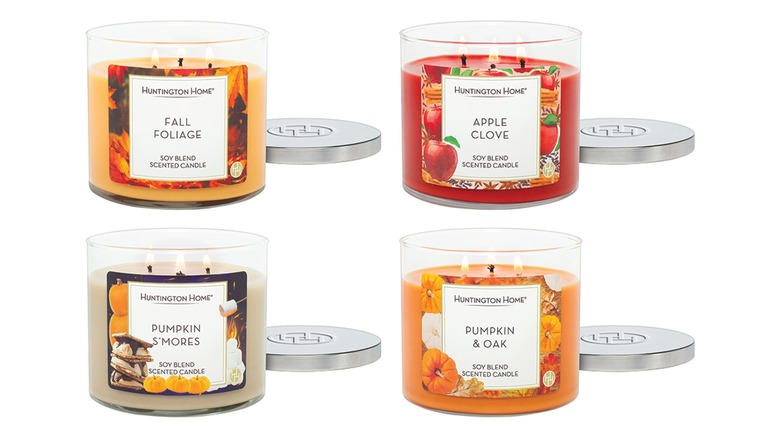 Aldi
Greet your guests with the scents of the season by lighting these three wick candles from Huntington Home. Find a variety of sweet, fall-inspired scents like Fall Foliage, Apple Clove, Pumpkin S'Mores, and Pumpkin & Oak at Aldi for $4.49 each starting September 6.
Specially Selected Artisan Crackers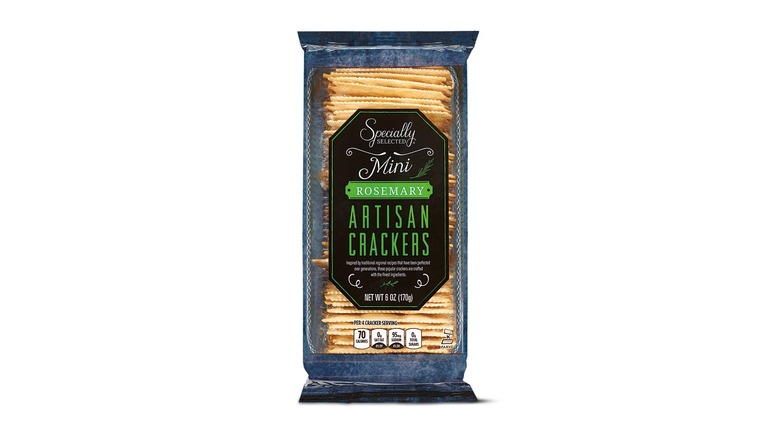 Aldi
On September 8, don't forget to grab a sleeve of Specially Selected artisan crackers to round out your meat and cheese platter. Whether you reach for the original flavor or the rosemary variety, these artisan crackers are sure to please a crowd. They can be found at Aldi for $3.49. 
Specially Selected Cheese Stuffed Queen Olive Assortment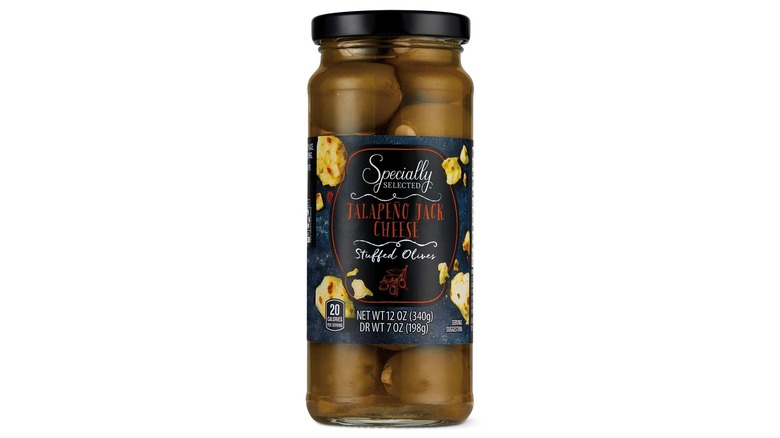 Aldi
Olive lovers, mark your calendars for September 8, when the new Specially Selected Cheese Stuffed Queen Olive Assortment arrives at Aldi. The subtle spice of the jalapeno jack cheese is perfect to transition your palette to the flavors of fall, or try the white cheddar cheese and feta cheese flavors for $2.98.
Huntington Home Faux Pumpkins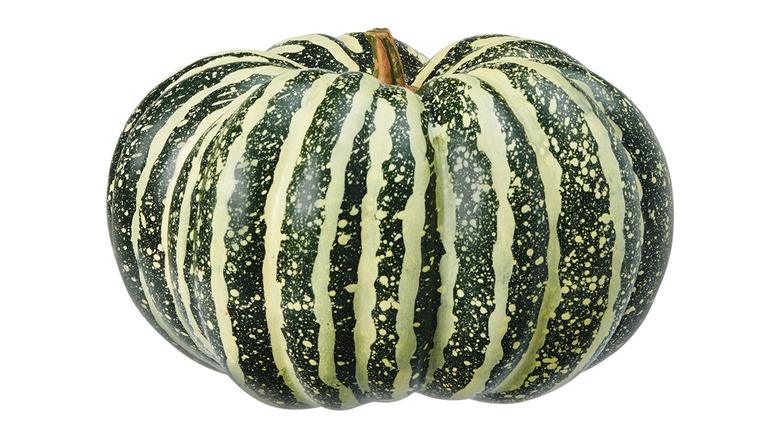 Aldi
Unlike the jack o' lanterns that rot after a few weeks, these Huntington Home faux pumpkins from Aldi that are sure to stay festive all season. Find them on September 6 for $9.99 each, available in multiple styles: Medium Orange Pumpkin, Copper Gourd, or Green and White Pumpkin.
Fremont Fish Market Pub Style Bites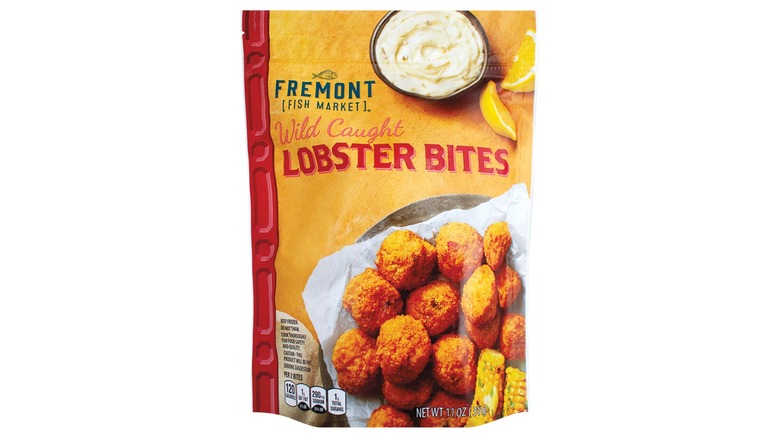 Aldi
If you're craving a taste of the coast this season, grab these Fremont Fish Market Pub Style Bites. These delicious pub style bites can be found at Aldi beginning on September 6, and are available in shrimp and lobster flavors for $4.99 per bag.