The Pumpkin Pecan Aldi Cookies Reddit Is Running To The Aisles For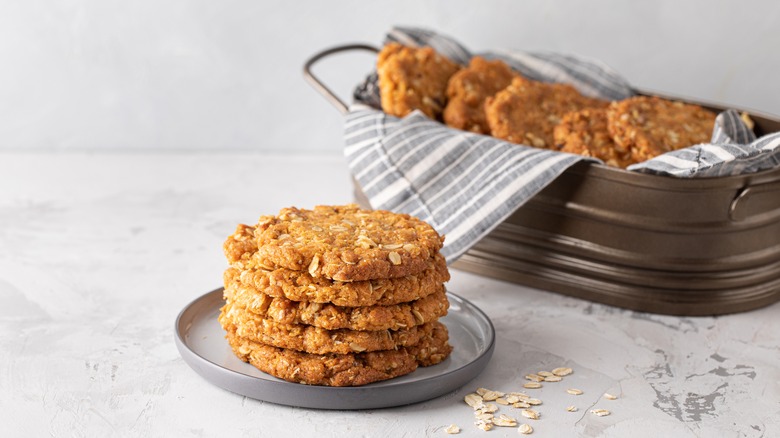 Murni/Shutterstock
It seems like the food products on Aldi's shelves just keep on getting better every week. With the company offering its customers a regularly rotated inventory of fresh new products with its weekly Aldi Finds, shoppers are always surprised to see what new sweets and treats they can find at their local store (via Aldi). It's what keeps many customers coming back and may have been what led the grocery store to sweep this year's Product of the Year Awards.
The anticipation was already high when Aldi teased its fall food lineup to customers, and most of those new seasonal products did live up to those high expectations. With the flavor of pumpkin found in many snacks this fall season, some can be hit or miss.
Not for Aldi, though. The pumpkin bread, pumpkin spice cider, and ice cream all won over the hearts of customers throughout the world. Now, there's another pumpkin-inspired snack that will join its roster.
Bake Shop's Pumpkin Pecan cookies
Next time you go to Aldi for your next grocery haul, you may want to run, not walk, to the cookie section. The grocery store's latest fall food product of Bake Shop's Pumpkin Pecan Cookies are worth the extra effort, according to Reddit.
"Run don't walk to the pumpkin pecan cookies" said the original Redditor. The person actually continued to say that they got the cookies on a whim "just in case our Instacart shopper couldn't find the apple oatmeal ones. These are way better and have thqty half baked texture."
The cookies are coming out on top in the comments, with people going head-over-heels for them. "These are insane. I finished the entire pack in two days. No regrets," one person commented. "Oh my gosh these slap!! (I think that's what all the cool kids say)," another user said.
According to the thread, the pack of cookies sells for around $3.45, but prices may vary depending on your location in the world.