The Best Type Of Wine To Pair With Tuna Salad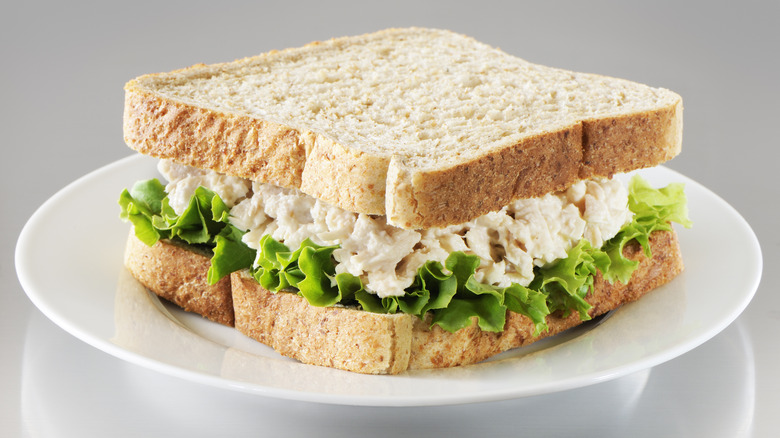 Easybuy4u/Getty Images
Tuna salad is something that we typically think of as a sandwich filling, and as such, is often eaten at lunchtime rather than for an evening meal. In such a case, our midday beverage of choice may be something along the lines of iced tea, soda, coffee, or milk since the days of pandemic work-from-home day-drinking are long behind us. For the sake of argument, however, let's say you're enjoying your tuna sandwich on a leisurely weekend and you'd like to enjoy it with a stronger libation. Which wine should you select to accompany it?
While tuna sandwiches may have a somewhat workmanlike, even plebeian, reputation, this doesn't mean you need to settle for Two-Buck Chuck (which now costs about double that, anyway). Mashed spoke with Troy Bowen, sommelier and co-owner of Denver restaurant Noble Riot, to get some advice about his top picks for tuna. "If you're going for a tuna salad or something that has other ingredients in it," he told us, "a weightier white like Albarino, pinot gris, or my favorite, Chenin Blanc, will hook you up."
A wide variety of wines may work well with tuna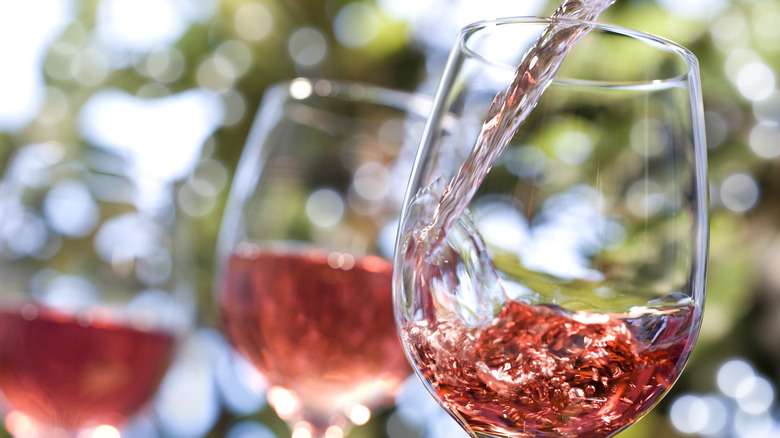 Markswallow/Getty Images
As tuna and mayonnaise may not be the only elements in your tuna salad, other ingredients may impact your choice of wine. Do you like tuna salad with a lot of pickles? A gewürztraminer or riesling would pair with the pickles, as would a Chardonnay or sauvignon blanc. Are you partial to tuna with a lot of onions? The aforementioned German wines (gewürztraminer and riesling) would help offset some of the pungency, while Troy Bowen's recommended Chenin Blanc could work if you want something a bit less sweet. If you're partial to a tuna melt, pinot grigio would be perfect as it has the ability to complement without overwhelming either the tuna or cheese.
While many oenophiles adhere strictly to the white wine with fish rule, a vintage of a different color might suit you and your sandwich better. Nicoise salad, which is how the French do tuna, is typically paired with rosé, and this type of wine also goes quite nicely with American-style tuna sandwiches as well. Red wines, including Cabernet Sauvignon, Sangiovese, Syrah, and Merlot, can also be used to accompany tuna salad if these are more to your taste than whites.