Rice Cake Ice Cream Sandwiches Are A Surprisingly Appetizing Combo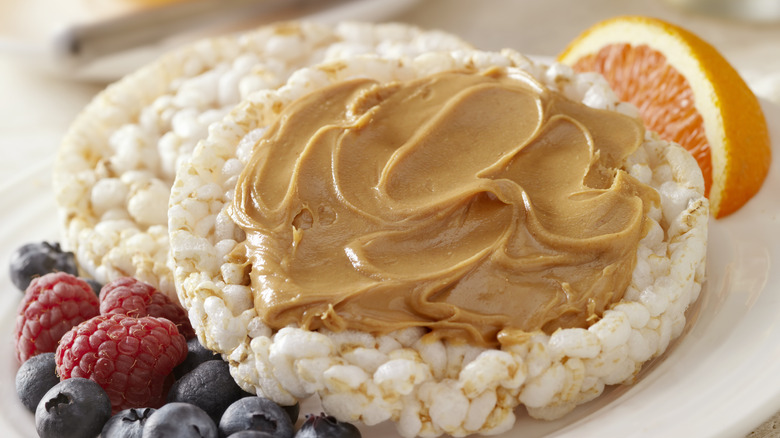 Lauripatterson/Getty Images
The internet has no shortage of interesting alternatives to classic sugary snacks for those looking to cut back on calories, or simply enjoy a refreshing twist on an old favorite. One such hack making waves across social media calls for crafting a pseudo ice cream sandwich using ice cream, chocolate chips, and rice cakes in place of cookies. For an alternative that brings in even fewer calories, the ice cream can be subbed out for Greek yogurt, allowing you to partake in the delicious treat even when you're cutting out sugar entirely. 
These combinations can be found all over the net, with simple and basic constructions that call for sandwiching your frozen dessert of choice between store-bought rice cakes. There are even step-by-step guides on crafting delicious treats at home using several additional toppings and ingredients, including sprinkles, various flavors of ice cream, and even homemade rice cakes, which allow you to control each and every ingredient you consume. 
For the best results, most sources recommend wrapping your sandwich and letting it cool in the freezer for at least an hour to keep the entire affair homogenized and prevent the sandwiched ingredients from oozing out of the sides when you take a bite.
How can you make the best rice cake ice cream sandwich?
Compared to traditional cookies used in ice cream sandwiches, rice cakes are truly a no-brainer as a substitution. The crispy low-calorie cakes offer a high-fiber and no-sugar alternative to even the sweetest chocolate chip or snickerdoodle treats, and many rice cake flavors can be just as delicious. 
Though rice cakes have existed in the United States for over a century, Quaker popularized the airy snacks in the mid-1980s as a healthy alternative to bread. According to Quaker Oats' official website, the standard lightly salted rice cakes contain no gluten and only 35 calories per cake. While these nutrition facts are subject to differ depending on the flavor option you choose, rice cakes are a versatile substitution for a number of kitchen staples.
For the purposes of constructing the most delicious rice cake ice cream sandwich, be sure to think about which rice cake flavors will pair best with your preferred ice cream flavor. You can create a mint chocolate masterpiece using mint ice cream and chocolate rice cakes, or a sweet caramel explosion with butter crunch ice cream and caramel corn rice cakes. There are a wide variety of flavors available to purchase from the Quaker Oats company and even wider options for those of you looking to make your own rice cakes at home. While it's a bit hard to imagine an ice cream flavor that would pair perfectly with the tomato and basil-flavored rice cakes, there's likely a winning combination for everyone.