Dunkin's Turtle Syrup Is A Combo Of 2 Classic Flavors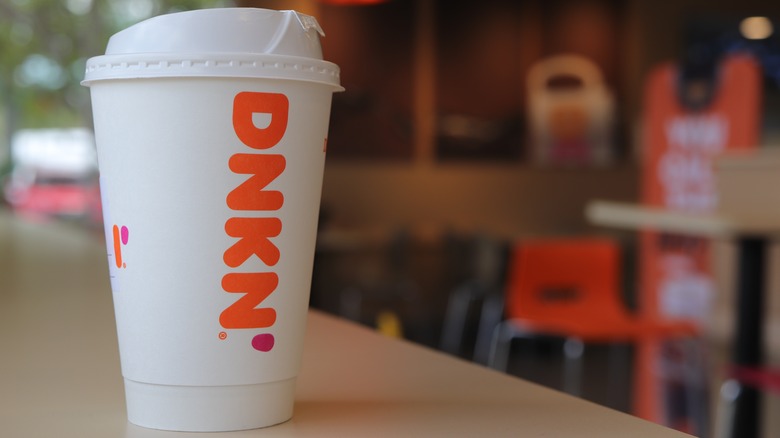 Deutschlandreform/Shutterstock
For those of us who enjoy a good caramel turtle recipe, Dunkin's turtle latte could've been a dream come true. This drink included espresso and whole milk, whipped topping, and a decadent drizzle of turtle syrup -– essentially butter pecan and mocha syrups.
Unfortunately, the turtle latte was available only through the summer months of 2023, leaving us turtle latte-less for the foreseeable future. Yet, not all hope is lost, as Dunkin' still carries both butter pecan and mocha syrups. While you may not be able to order the real deal turtle latte, you can get pretty darn close by ordering a regular latte and politely requesting these two syrups be swirled in. Even better, get it topped with whipped cream.
Although the seasonal drink may have been removed from the official Dunkin' menu, its core components are all still available for customizing other drinks. With that in mind, let's make every season turtle season!
Turtle flavor can be created in many ways
To be fair, the aforementioned Dunkin' hack isn't the only way to enjoy a turtle latte. At its core, the flavor includes caramel, chocolate, pecans, and a dash of salt, so there are plenty of different ways to create a turtle drink or dessert. For example, if you don't like coffee, you can get your turtle fix by ordering a Dunkin' hot chocolate with caramel sauce and butter pecan syrup — which is now conveniently offered year-round.
You can also buy salted caramel syrup and butter pecan syrup from Torani and make turtle hot chocolates or coffees at home. Once you know what goes into turtle flavor, you can use it in so many more ways, from homemade cheesecake and brownies to ice cream. You name it. It doesn't get much better than eating a slice of turtle pie inspired by Dunkin's turtle latte.