Can You Reheat A Fast Food Burger In An Air Fryer?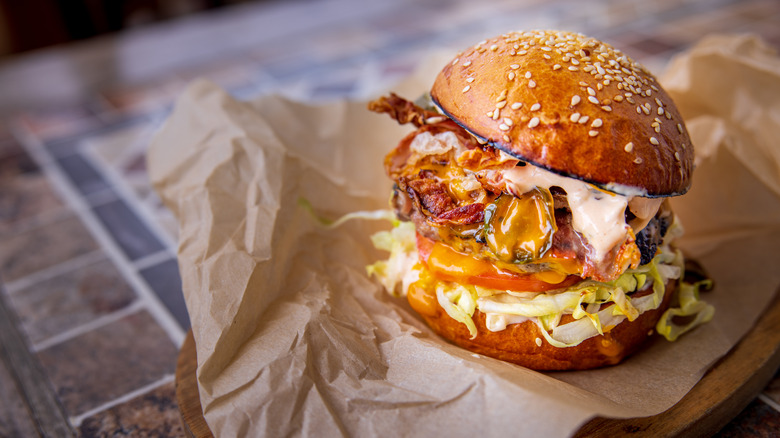 Zoranm/Getty Images
In recent years, the air fryer has become the hottest kitchen gadget to hit the market, with hundreds of interesting recipes and hacks available online to help you make use of the countertop technology. Air fryers function similarly to small convection ovens, offering quick and easy reheating and generally providing a higher quality cook for crispy foods than your microwave. One TikTok user has been turning heads by showing that you can successfully reheat leftover fast food burgers in the air fryer to achieve melty gooey cheese and warmed-to-eat beef and create a seamless next-day experience you likely couldn't achieve in a toaster oven or microwave.
The hack simply requires you to wrap your day-old fast food burger in tin foil before placing it in the fryer basket at roughly 400 degrees Fahrenheit for about 3 minutes. The result is a perfectly reheated takeout burger ready for your consumption. This hack is especially helpful as fast food, particularly burgers and french fries, have garnered a reputation for never returning to their original quality once they have gone cold.
Should you try this hack at home?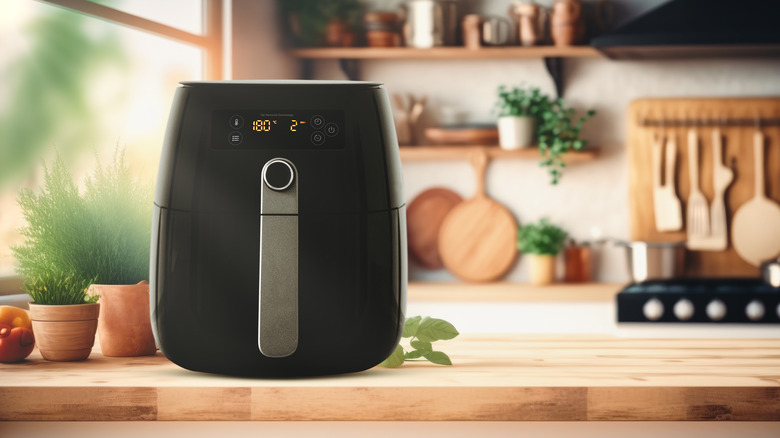 Casezy/Getty Images
While the air fryer seems to be a perfect vessel for reheating burgers, many TikTokers are leaving their critiques about the method in the comments section of the post from @healthyfitbella, who shared her hack. One user points out the flaw in reheating an entire burger, toppings and all, stating, "Mmm soggy warm lettuce. Just how mom used to make it." Others echo similar concerns, stating, "noooooo not the lettuce" and "ah soggy bun and hot lettuce and tomato, perfect hack!"
Perhaps if your fast food burger has toppings that aren't meant to be heated, such as lettuce and tomato, you could remove them before reheating and then put them back on before consuming. Of course, the process of reheating a fast food burger begins to reach a point of diminishing returns when there are too many steps involved, so the best course of action may simply be to order smaller quantities at the drive thru and try to finish your full meal when possible.
All things considered, nearly 40% of food is wasted in the United States, according to figures from FeedingAmerica.org, so any measures you can take to avoid wasting perfectly good food should be seen as a win. The hack may not be for everyone, but some users who watched the TikTok post are offering encouraging comments, calling their own air fryer burgers "a taste sensation."