Apparently, Gordon Ramsay Made One MasterChef Contestant Black Out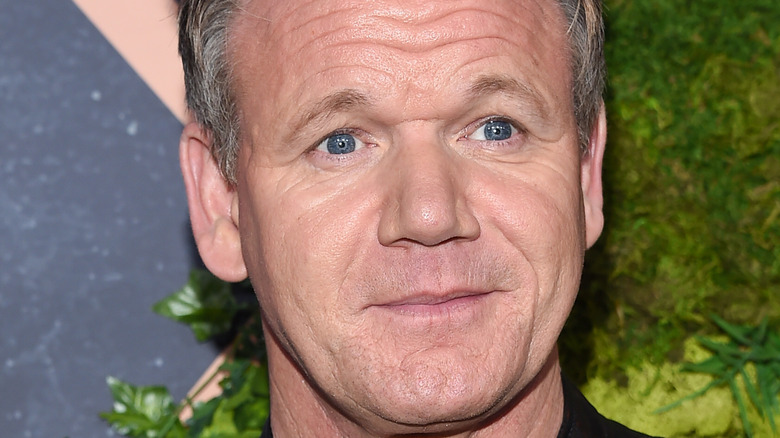 DFree/Shutterstock
Every fan of cooking shows like "MasterChef" can breathe with a sigh of relief that they're not the ones on television getting scolded by Gordon Ramsay. The Scottish chef has made a name for himself in television thanks to his no-nonsense approach and colorful language. And unless you're a child competing on "MasterChef Junior," you're guaranteed to feel his fury if you make mistakes in the kitchen. The pressure was so much that Ramsay reportedly made one "MasterChef" contestant blackout. 
Charles Calvino Hang was eliminated from Season 13 of the show after a tag-team challenge turned disastrous, and communication broke down between Hang and fellow contestant Jennifer Maune. Hang, an Ohio hairstylist and content creator, saw his dreams of being MasterChef go up in smoke. But admittedly, he had a tough time getting his head in the competition prior to the elimination. 
In an interview with Parade, Hang explained that he blacked out intermittently throughout the challenge. He said, "I did not know what a knife was. I did not know what a mashed potato grinder was. I blacked out. I really don't know what came over me. There was a lot going on and to have the famous Gordon Ramsay in your face, eye-to-eye you just don't know is this for real. I didn't know what anything was, and I take full accountability. I knew most of it had to do with me."
Gordon Ramsay is an intimidating figure, or is he?
Of course, Charles Calvino Hang wouldn't be the only aspiring chef to feel intimidated by Gordon Ramsay. Anyone who has watched "Hell's Kitchen" knows that Ramsay doesn't suffer mistakes. He's even used a bit of that reputation to scare his daughters' boyfriends. However, several contestants who have worked with Ramsay pointed out that there's more to the chef than his bluster. In an interview with Mashed, "Hell's Kitchen" winner Christina Wilson explained Ramsay is only angry when his personal reputation is at stake. Otherwise, she said, "You'll see him be really constructive and give you some pretty honest feedback, same thing at 'MasterChef.'" Meanwhile, "Hell's Kitchen" contestant Kori Sutton viewed Ramsay as something of a mentor during her time on the show. 
So it's likely Hang didn't feel the full fury of Ramsay, but the contestant was still too star-struck to recover. You see, Hang didn't go out of his way to audition for the show, but was approached by a member of production to apply for "MasterChef." He never dreamed of being on TV opposite Ramsay. He told Parade, "That was a great experience overall because I grew up watching him and it's amazing to say, 'I've met Gordon. I've got yelled at by Gordon.' I can check that off my list."