Burger Kings In China Have So Many More Flavor Options Than Expected
When it comes to Burger King menus outside the U.S., food that caters to local tastes and regional culinary favorites will always take the crown. After the American fast food chain opened its first Chinese branch in Shanghai in 2005, it soon became one of the nation's favorite spots to grab a bite, only taking a backseat to KFC and McDonald's. Not only does China's Burger King have loads of different menu items to choose from, but it also features the traditional flavors of congee and Sichuan-spiced chicken wings, and boasts an elevated breakfast menu that makes us wonder, "When is it our turn?"
Fans can enjoy their Whoppers, called Emperor burgers at China's Burger King, plain or spicy, with beef or juicy grilled chicken. Then there's the more expensive line of burgers, which its website lists as King burgers or Ruthless Overlord burgers, a title meant to convey how absolutely stacked they are with meat or fried fish fillets. Meat lovers can indulge in the Big Mouth Angus burger, a towering unit piled high with beef, roasted pastrami, melty cheese, and crispy, Japanese-style fried onions. Besides China's savory Burger King entrees, you'll also find unique side dishes. Instead of having a classic side of golden fries with every order, here you can order peppery wings or drumsticks, fried dough sticks traditionally called youtiao, or red bean sesame balls with your meal. However, what's really caught our eye are the shrimp-laced burgers on China's seasonal Burger King menu.
Its seasonal BK menu is where Asian flavors really shine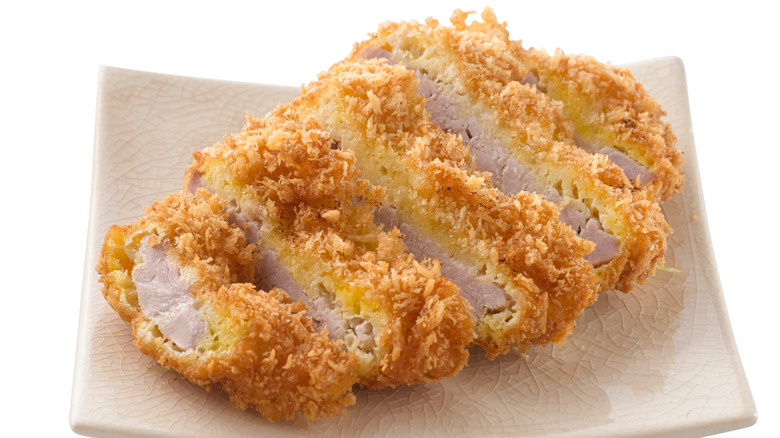 Coolscene/Shutterstock
While fast food shrimp might sound like a risky idea to some, it's become the star of the current seasonal Burger King menu in China. The country became the world's top importer of shrimp this year, and its seasonal menu reflects this success story with its seafood-topped Whoppers. Japan's Burger King has also released these shrimpy, surf 'n' turf burgers for a limited time, inspired by the sweet and sour flavors behind Thailand's tom yum kung soup. BK's shrimp burgers include a layer of pineapple salsa that adds just the right level of tartness to the burger as a whole. Seafood makes yet another appearance on the menu in the form of chewy squid fries. The seasonal menu also has other Asian delicacies including Japanese tonkatsu, mung bean coconut pies, taro cheesecake, and rose lychee-flavored drinks.
We want to try pretty much everything on China's seasonal menu, and we're also hoping that America's Burger King might one day ride the surging wave of popularity that is boba tea, and add it to its menu like it has at BK China. You know the soft serve waffle cones have to be good there, too. It sources its ice cream from Japan's second-largest island of Hokkaido, where the dairy business is famous for its ultra-creamy, high-fat milk products, which seems like a perfect way to soothe your taste buds after experiencing the higher spice levels found in China's Burger King menu.