Starbucks' Timing Of Firing A Pro-Union Worker For Alleged Theft Is A Little Sus
Tanoy1412/Shutterstock
After working at Starbucks for nearly three decades, one former employee suddenly found himself out of work the other day. According to a press release shared with Mashed by Starbucks Workers United, Logan Matthews was hired at Starbucks 26 years ago. During his long tenure with the company, Matthews worked at 50 different locations nationwide and assisted with the opening of eight new stores. Matthews seemed like a valued and trusted employee, so what was the reason for his recent abrupt firing? Supposedly, money went missing from the store Matthews was working at during one of his closing shifts, back on July 26.
However, the company let him go in September, just two days after his store formally filed to unionize and Matthews came forward as a union leader. Timing is everything, and in this case, it seemed to say something suspicious about Starbucks' priorities.
Per an official statement sent to Mashed by Starbucks, Matthews has since been reinstated and is free to return to his role. Still, this incident comes after many former Starbucks employees filed charges against the corporation with the National Labor Relations Board (NLRB), alleging unfair labor practices. Since December 2021, over 200 former Starbucks employees have reported being let go after engaging in union activity.
Alicia Flores is one of those employees; she worked at Starbucks for seven years before getting fired. She calls Starbucks' union-busting strategy "psychological warfare," telling The Guardian, "Starbucks doesn't know what this is doing to people's mental health, and it's kind of ironic because the company prides itself on being pro-mental health."
Starbucks' dynamic with unionizers has long been tense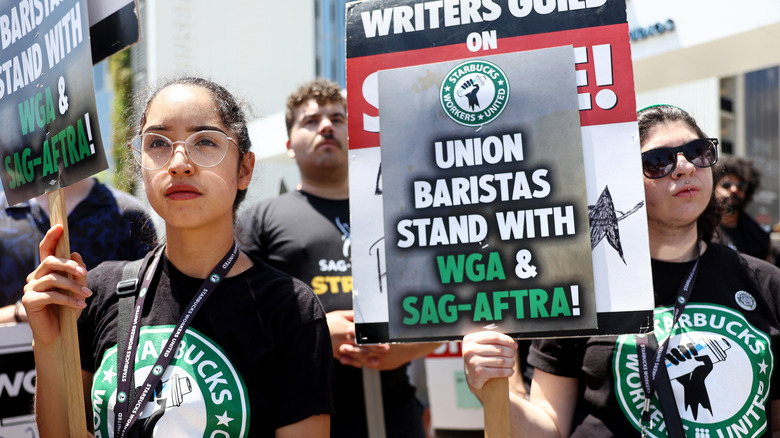 Mario Tama/Getty Images
Despite the ongoing Starbucks union battle, Logan Matthews was blindsided when he was no longer welcome at the job he'd called home for over two decades. "I am shocked that a company that I dedicated 26 years of my life to would fire me in this way simply because I decided to stick up for myself and for my co-workers," he said (via Starbucks Workers United). "Starbucks made a huge mistake by firing me, and they're going to be held accountable. You don't fire a 26-year worker two days after their store announces their organizing campaign. You don't get away with that."
As mentioned, though, Starbucks has since clarified that "Logan has been reinstated with applicable backpay and the local leader involved has been placed on leave pending the outcome of a thorough investigation." The chain further explained, "Our policies and procedures exist to create an equitable environment for all partners and customers. Following an initial review of the matter, it became apparent that local leadership did not follow our established internal investigation process." Additionally, the company "thank[s] Logan for his many contributions throughout his tenure at Starbucks and apologize[s] for this failure to adhere to established processes."
This particular issue may have been rectified, but broader concerns still persist. According to the U.S. Senate Committee on Health, Education, Labor, and Pensions, the NLRB determined Starbucks has broken labor laws more than 100 times since workers started organizing.