The Sweet And Salty Snack That's Perfect For Movie Nights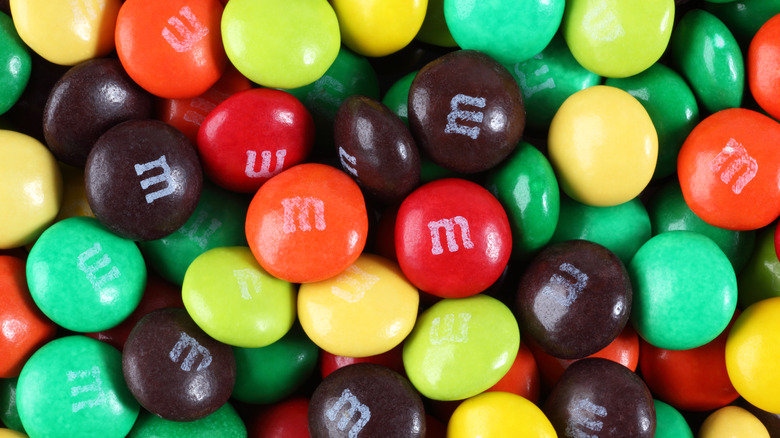 Ekaterina79/Getty Images
Movie night just isn't the same without an oversized bucket of popcorn. What could be better than listening to (and smelling) popcorn pop as the opening credits roll across the TV or theater screen? Popcorn has become so synonymous with watching movies that there are now tons of flavors to choose from, like butter, caramel, or cheese toppings. No matter the flavor you choose, there is one sweet addition that pairs as perfectly with popcorn as the marriage of peanut butter and jelly. It's chocolate.
Chocolate and salt are perfect for each other. Sweet and salty are two of the five flavor profiles, and perhaps no other combination is as decadent as this one. Salt naturally enhances the flavor of chocolate and counteracts the bitterness of the cocoa. And, out of all the chocolate treats that pair so well with popcorn, M&M's may just be the perfect match.
M&M's have an outer shell that melts only slightly when mixed in with hot popcorn so that it doesn't leave a gooey mess on your hands. Not only do they add sweetness to your favorite snack, but they also add bright colors that just make movie nights more fun. The makers of M&M's have paid attention to this trend and have tried two new snacks: M&M's-flavored popcorn and popcorn-flavored M&M's.
The next level of M&M's and popcorn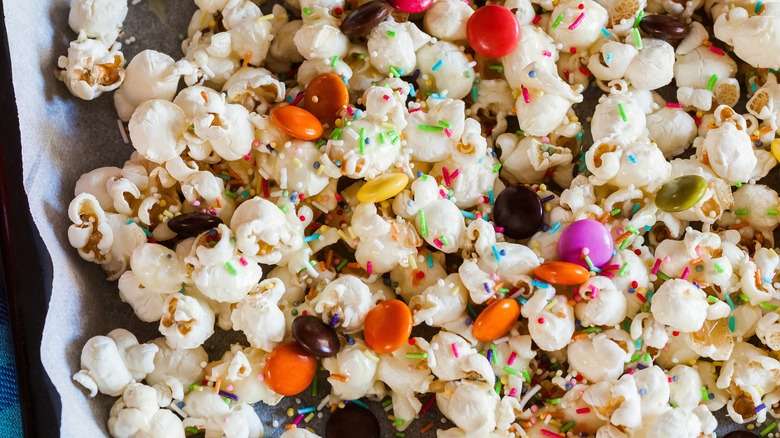 NatashaPhoto/Shutterstock
A few years ago, M&M's partnered with company Snack Pop to release a candy-flavored popcorn, which has a solid fan base. The popcorn is sold pre-popped and includes one of three different candies: regular, peanut, or mini M&M's. The sweet and savory combo makes movie night even easier since the snack is pre-popped. 
The popcorn-candy combo also inspired a popcorn-flavored M&M's candy in 2020 that was available for a limited time. Those M&M's had a crispy rice center to mimic the texture of popcorn, and the shell had a sweet and buttery flavor. The packaging was yellow, reminiscent of butter, and the candies even smelled like buttered popcorn. 
But if you're the DIY type of cook, you can make your own version in just a few minutes. All you need for this hack is popcorn kernels, cooking oil, and M&M's. Heat up the oil on the stovetop, add some kernels and M&M's, and shake the pan while the popcorn pops. The hot oil melts the chocolate candies and transfers the color (and sweetness) to the popped corn.