Trader Joe's Fall Items That Will Have You Feeling Cozy In The Kitchen
Nothing spells autumn weather quite like the latest offerings at Trader Joe's. While the change in leaves and drop in temperature will make you glad the hot brutal summers have passed, feel free to turn your kitchen into a cozy hideaway. Thanksgiving may be the season's main course but think of some of these items as an appetizer to tide you over and get you in the fall spirit. 
As one would expect with Trader Joe's latest offerings, there's plenty of pumpkin on display in various different offerings, but for apple fans (no, we're not talking about the electronics company), there are a few items that you may enjoy as well. Both seasonal fruits are the stars of the grocery chain's fall lineup. To set a cozy mood, you can expect plenty of warm drinks, maybe a candle, and items to satisfy that sweet tooth of yours. If you're a big fan of fall's spooky season, there are a couple of haunts to revive your Halloween spirit into a full-swing monster mash. Let's take a look at what Trader Joe's has to offer customers this fall. 
Dry Roasted Maple Almonds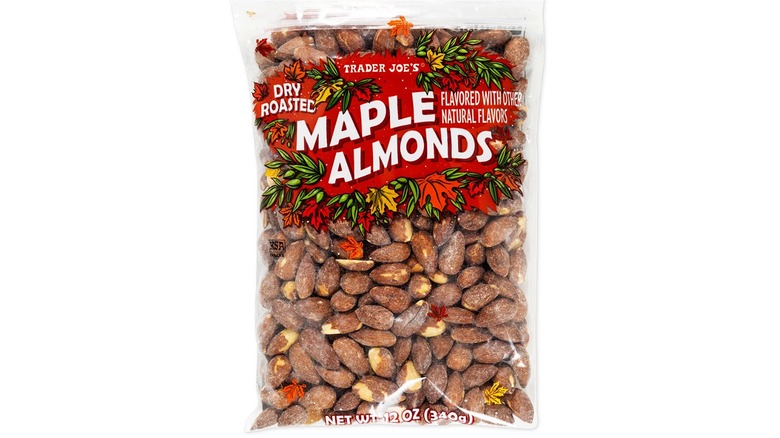 Trader Joe's
Forget chestnuts roasting on open fire. These seasonal almonds are dry-roasted and have a sweet maple glaze. Sure, you can eat them by themselves for a quick boost of energy. But consider combining these nuts with other ingredients. Make a homemade trail mix of nuts and chocolate for your next autumn hike or even toss a few in your yogurt to give it an added crunch. They're on sale for $5.99. 
Pumpkin Spice Cream Liqueur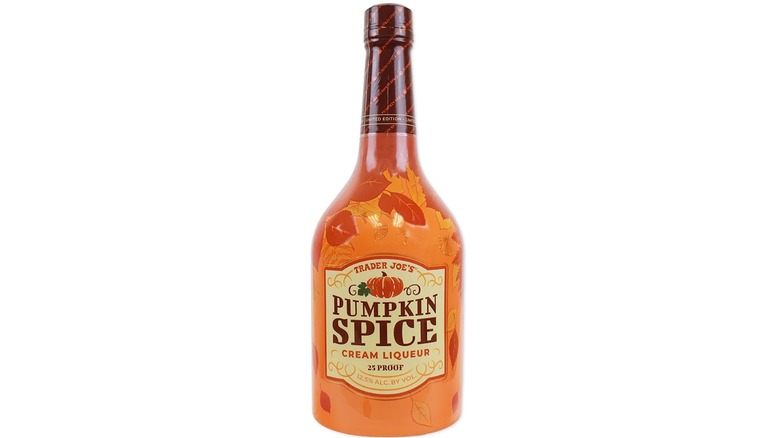 Trader Joe's
While Christmas may be the time to be merry, get a head start on the holiday with this pumpkin spice cream liqueur for $8.99. The liqueur contains 12.5% alcohol and can be drunk straight up, embued with both pumpkin and vanilla overtones. Consider pouring a splash into your coffee for a spiked pick-me-up. It just may be a hit at your next holiday gathering. 
Haunted House Chocolate Cookie Kit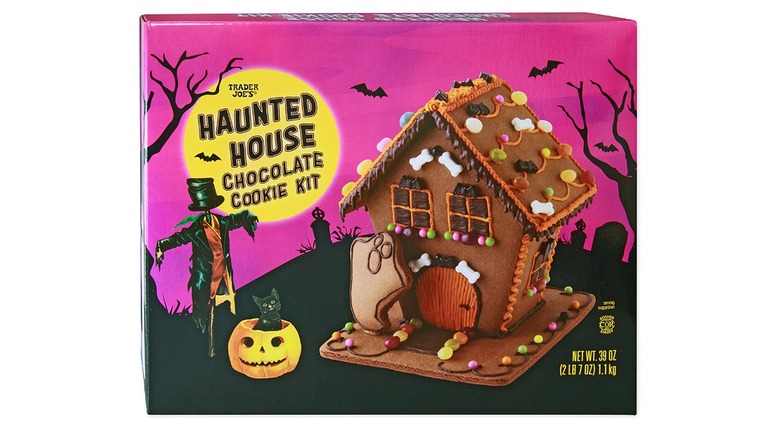 Trader Joe's
With autumn also comes Halloween. Kick the spooky season into full gear by making your very own haunted house. This chocolate cookie kit will be a hit for families of all ages, combining both frights and treats into one small package. Similar to gingerbread kits sold at Christmas, you'll build and decorate the house from cookies and frosting. The haunted house kit is on sale for $9.99. 
Creamy Toscano Cheese Dusted with Cinnamon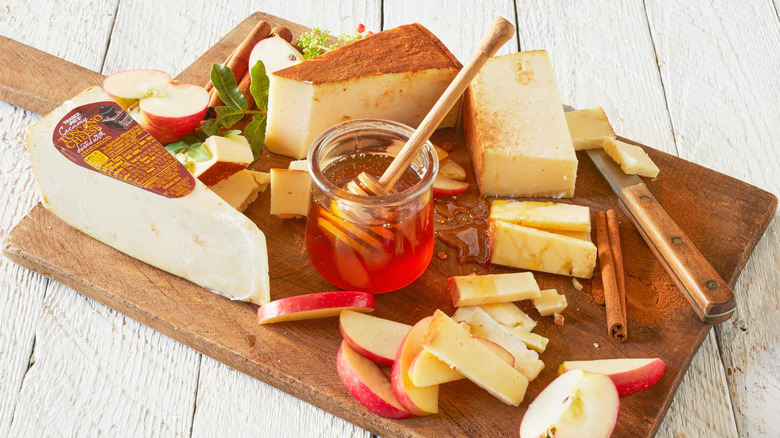 Trader Joe's
Consider Trader Joe's Creamy Toscano Cheese next time you're creating a charcuterie board. Made in Wisconsin, the cheese is lightly dusted in cinnamon making for a slightly nutty but sweet and creamy cheddar. Combine this with some crackers for a light but fulfilling snack. The cheese is priced at $10.99.
Howling Gourds Pumpkin Ale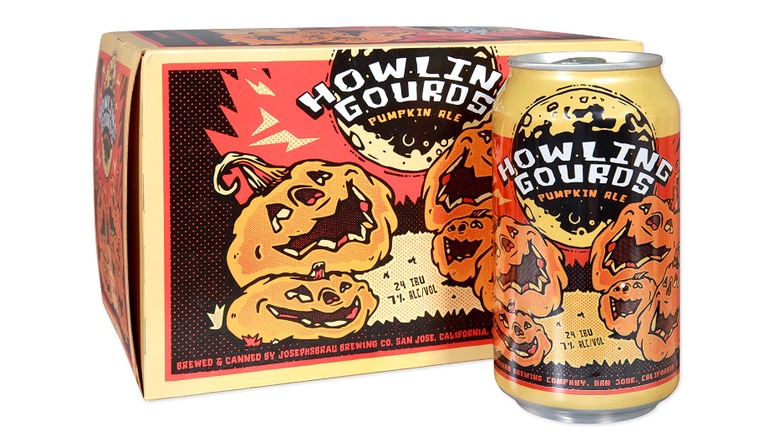 Trader Joe's
If the pumpkin spice liqueur was a bit too creamy for you above, then Howling Gourds Pumpkin Ale may be more your style. With an alcohol percentage of 7%, it's slightly lighter than the liqueur as well. Sold for $7.99, the ale has both a pumpkin and cinnamon flavoring. 
Caramel Apple Dipping Kit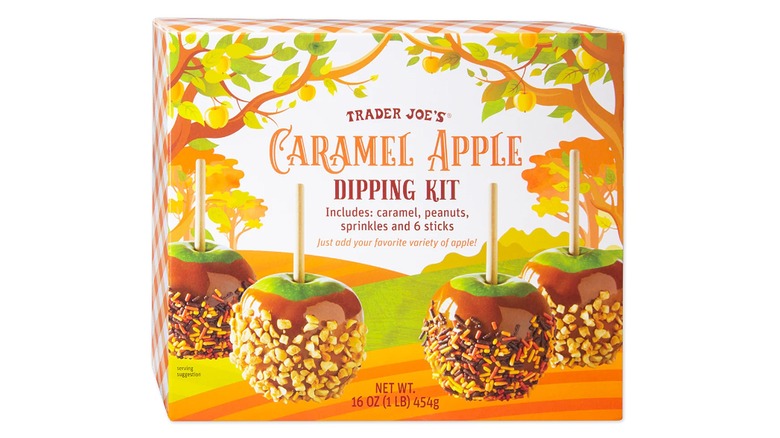 Trader Joe's
Candied and caramel apples are a fall favorite, available at many festivals and carnivals during the autumn months. But, you shouldn't have to go to a fall fest to enjoy the caramel dessert. This caramel apple kit comes with everything you need (minus the apples themselves) to transform those Granny Smiths into a seasonal treat, all for $6.99. 
Mini Spicy Pumpkin Samosas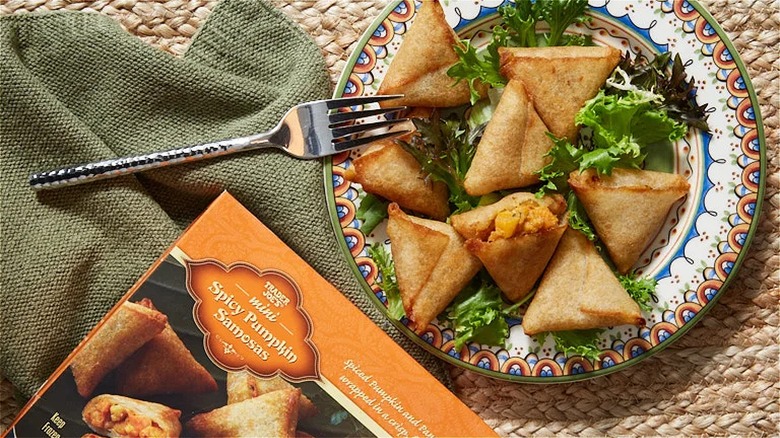 Trader Joe's
An autumn take on a traditional Middle Eastern dish, these Trader Joe's Spicy Pumpkin Samosas may have purists shaking their fists, but the dish provides a new take on the classic recipe. These samosas feature plenty of spice as well as pumpkin and cheese, for $4.29.
Salted Caramel Hot Cocoa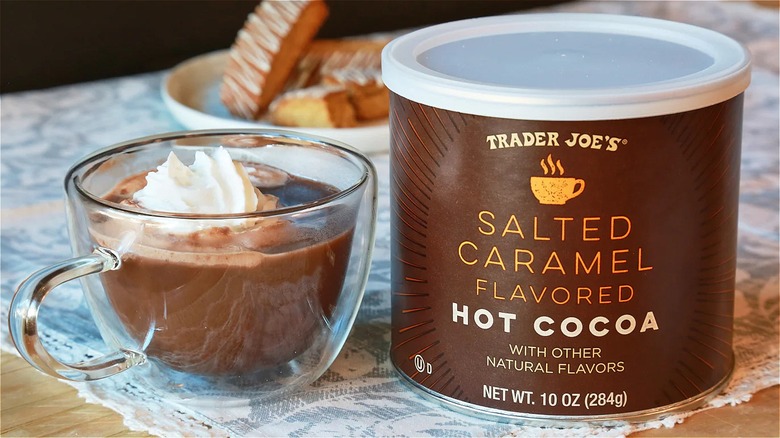 Trader Joe's
Many will seek out a warm drink during the colder months as temperatures start to drop. Snuggle up on the front porch and brew yourself a cup of Salted Caramel Hot Cocoa. For $5.49, the mixture features all of the features you love about hot chocolate with a caramel twist.
Sweet Cinnamon Filled Korean Pancakes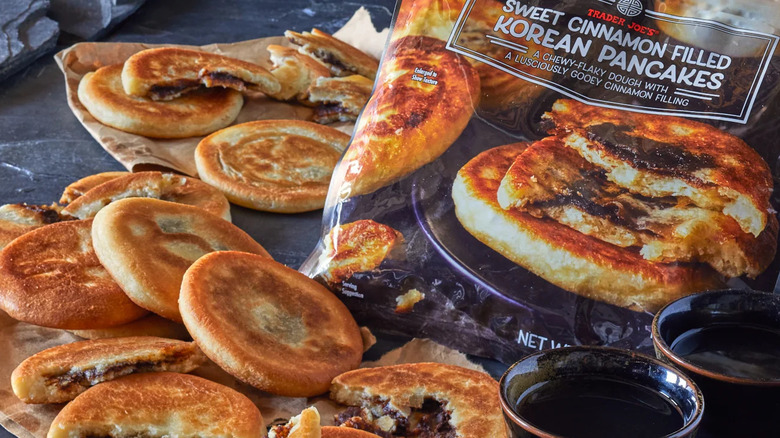 Trader Joe's
Get ready for another autumn twist on a classic recipe. Korean pancakes, also called are served both sweet and savory. Trader Joe's is serving up pancakes filled with cinnamon on the inside and a nice toasty exterior. Get your entire house smelling of cinnamon next time you cook these, for $4.49. 
Trader Joe's Spiced Cider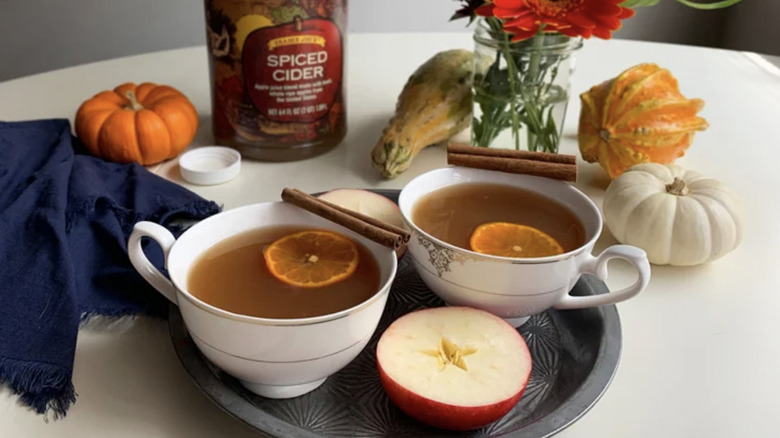 Trader Joe's
Speaking of cinnamon, this Spiced Cider combines many of the traditional spices of fall including cinnamon, allspice, as well as cloves. Don't let its murky color fool you. This spiced cider is mixed with apple juice, making for a flavorful drink whether served iced or warm. The cider is available now for $3.99. 
Butternut Squash Mac & Cheese Bites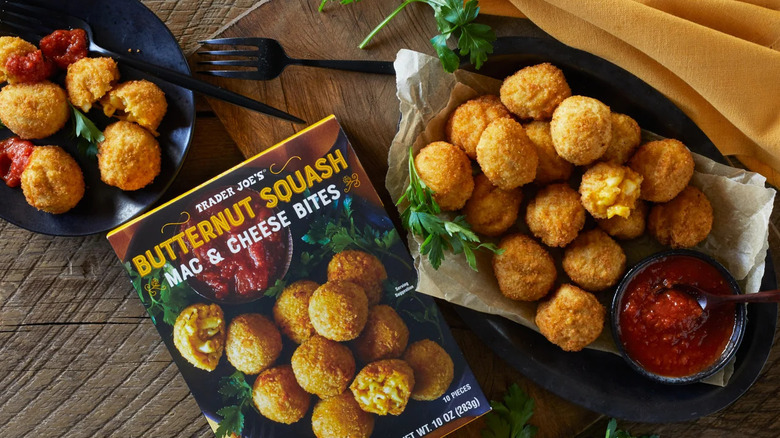 Trader Joe's
Trader Joe's Butternut Squash Mac & Cheese bites will be perfect for your next party or family gathering. They're very easy to make. All you have to do is pop them in the oven, and they're ready to serve. Available in a box of 10, these squash bites sell for $3.99.
Mexican Style Hot Cocoa Melts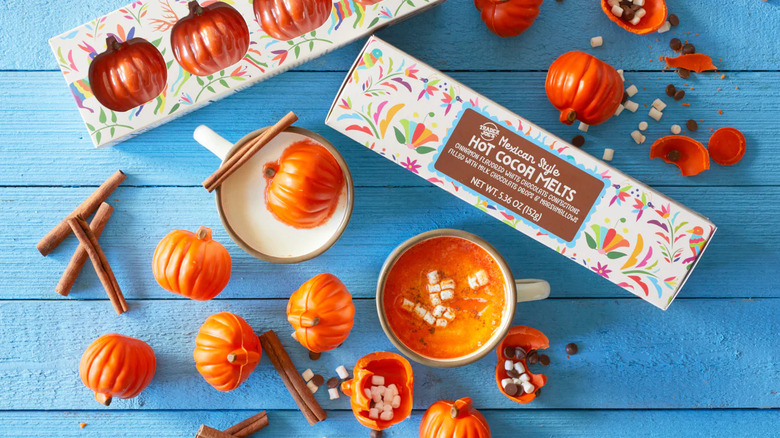 Trader Joe's
If you think your hot chocolate needs a little more pizazz and the salted caramel above wasn't cutting it, consider these Mexican Style Hot Cocoa Melts. Made with Mexican white chocolate, the melts are designed to resemble pumpkins. Drop one into a cup of hot milk and watch your drink change to a brilliant shade of orange. 
Pumpkin Spice Coffee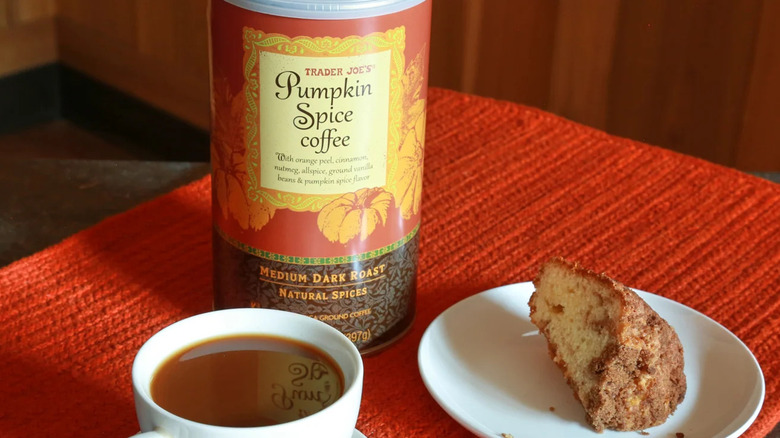 Trader Joe's
There's a reason that Starbucks reportedly sells more than 20 million pumpkin spice lattes a year. The flavoring is popular and a cozy reminder of autumn, but all of those drinks start to add up after a while. Consider staying in and fixing your own pumpkin spice coffee at home for $8.99. 
Fall Harvest Salsa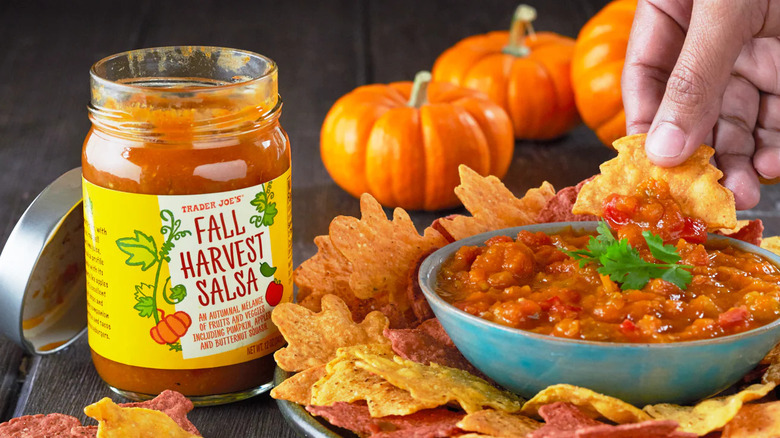 Trader Joe's
You can turn up the heat a different way with this spicy Fall Harvest Salsa. The salsa features several autumn fruits and veggies on display. The mixture is made with tomatillos as well as pumpkin chunks and butternut squash. Grab some tortilla chips and serve them up at your next Halloween party for $3.49.
Pumpkin Cranberry Crisps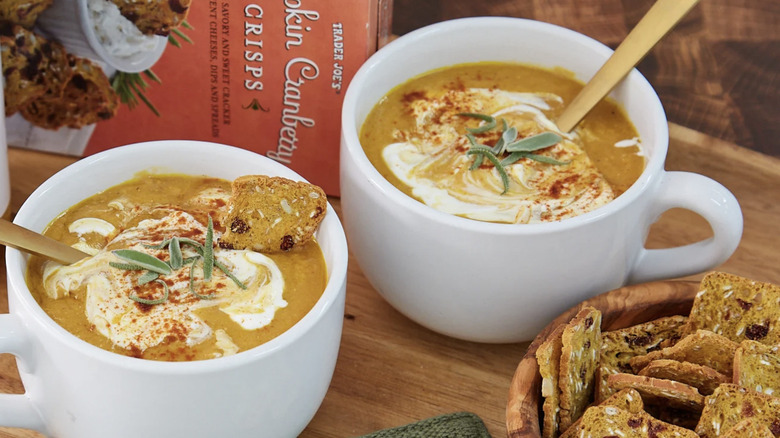 Trader Joe's
Consider pairing these pumpkin cranberry crisps with the cinnamon-dusted cheese above for a fall party platter. They are similar to some of Trader Joe's yearly offerings, Rasin Rosemary Crisp and Fig and Olive Crisps. Made of pumpkin with a hint of cranberry, this snack works great as a dipper for cheese and is available for $3.99.
Autumnal Harvest Creamy Pasta Sauce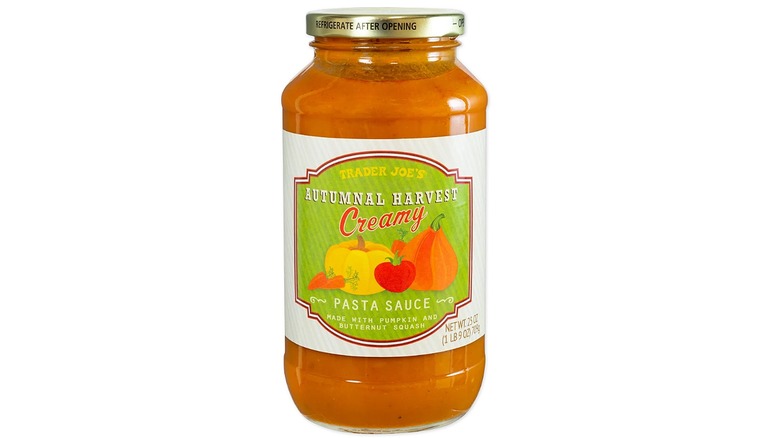 Trader Joe's
You can even zest up your pasta at dinner to feel more cozy with a few seasonal elements. Autumnal Harvest Pasta Sauce combines traditional pasta sauce ingredients like tomatoes with more seasonal variants like pumpkin, butternut squash, and carrots. It makes for a sweeter sauce that's perfect for a variety of pasta noodles. It's currently available for $3.99.
Caramel Apple Mochi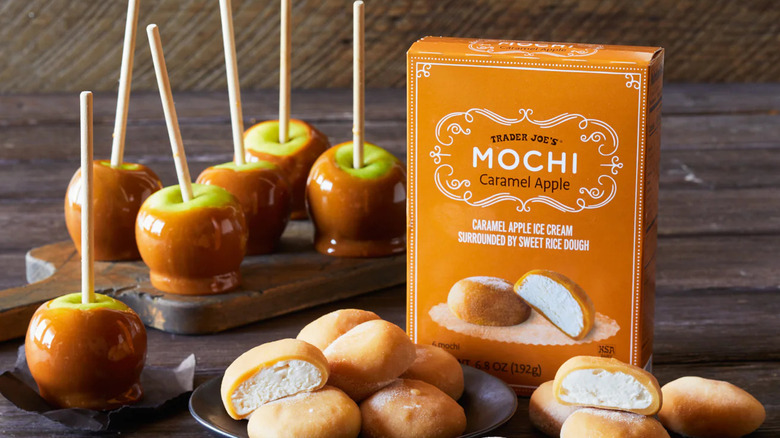 Trader Joe's
Caramel-dipped apples are one of the many traditions of autumn, but caramel can be a bit messy and gets everywhere. Likewise, apples can be a bit tough to chew. Instead, try this mochi caramel apple ice cream, which promises all the flavors of fall in an easier-to-eat frozen dessert. The mochi is currently available for $4.99.
Harvest Blend Herbal Tea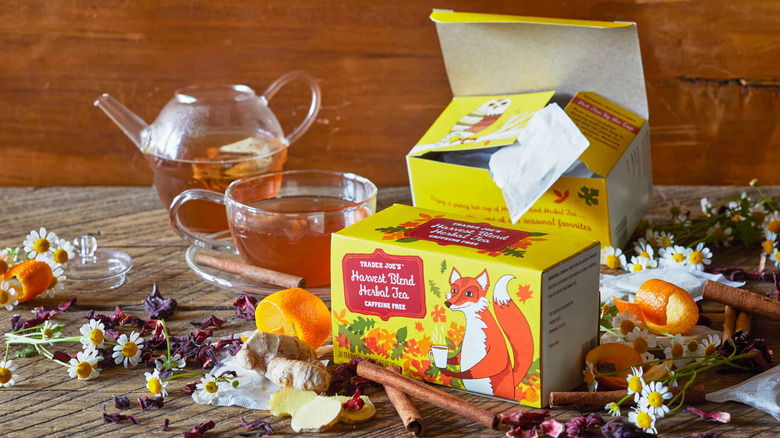 Trader Joe's
If you're searching for a light and refreshing autumn drink, then consider Harvest Blend Herbal Tea. Available for $2.49, the box of Harvest Blend comes with 20 bags of tea. Set the kettle on the stove and enjoy a nice cup of tea as you watch the leaves turn orange and yellow.
Pumpkin Butternut Squash Bisque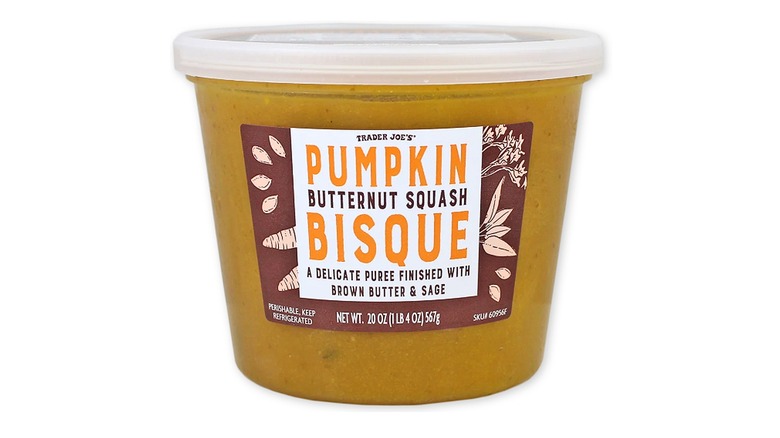 Trader Joe's
Perhaps perfect as an appetizer for the pasta sauce mentioned above, Pumpkin Butternut Squash Bisque is perhaps fall in a cup. The puree combines pumpkin and butternut squash into a nice smooth blend that's great for sipping on through the colder months. It's available for $4.49.
Honeycrisp Apple Scented Candle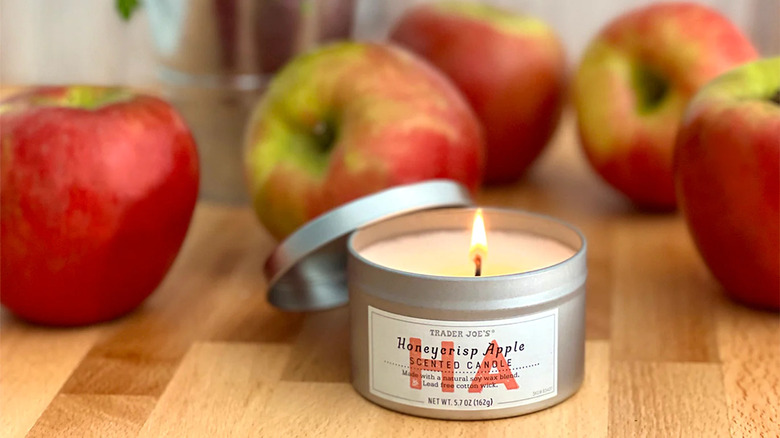 Trader Joe's
Finally, you can have the smells of autumn without ever starting your oven. Aromas can be the ultimate way to set the mood. This Honeycrisp Apple Scented Candle will give your house some atmosphere and conjure images of apple orchards in the process. It's available for $3.99.