Chipotle Adds Carne Asada Quesadilla To Menu, But Only For A While
Carne Asada is returning to the Chipotle menu — this time in quesadilla form. Available for a limited time only in the United States and Canada, the quesadilla can only be ordered via website, app, or a delivery company, such as DoorDash. Like any Chipotle meal, this carne asada wonder is fully customizable. The quesadilla includes Monterey Jack cheese, three chosen sides, and fajita veggies, which can be omitted if desired. And until October 1, anyone who orders the meal through the website or app will receive free delivery.
For those unfamiliar, Carne Asada is thinly cut slices of beef that originated in Mexico. The type of meat used can vary from tenderloin to flank steak, and common seasonings include salt, pepper, cumin, and lime juice, among others. This juicy and tender beef variety is a favorite at Chipotle, a fact that fans of the Tex-Mex company made known loud and clear.
Fan reaction to carne asada's return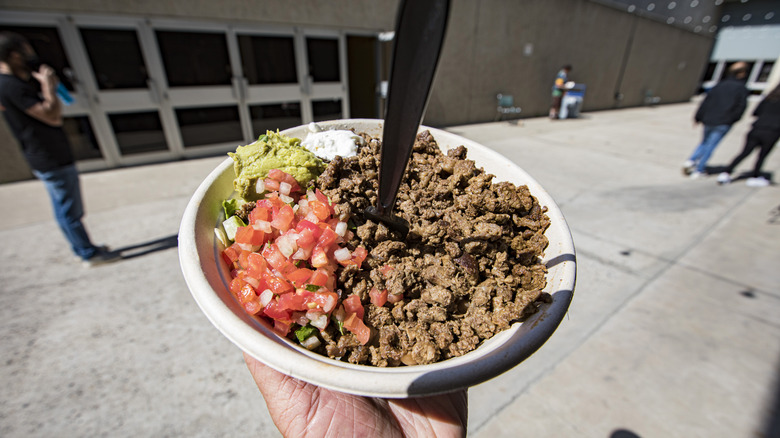 Daniel Knighton/Getty Images
Carne Asada first made its appearance at Chipotle in 2019. During its debut, an estimated 10 million customers ordered the menu option. Of these, many of them have never tried food from the restaurant.
A month ago, a Chipotle employee revealed Carne Asada's return on the r/Chipotle subreddit. "Me and my coworkers are so happy," they wrote. Commenting customers felt the same, as many were delighted to hear the news. "[It's] my favorite meat at Chipotle. [I'm] excited," one fan shared. "This is the best news I've heard in a long time," wrote another.
In the last few weeks, the news quickly spread through tips from sneaky workers and word of mouth. "I was told a few days ago we were going to start selling Carne Asada starting the 12th!!!" an employee wrote on one thread. On another thread, an employee posted a picture of a box of the product at their store. This proves the hype is real, though it's important to note that Carne Asada will only be available for a limited time.