Which Coffeemaker Is For You? Keurig Vs Nespresso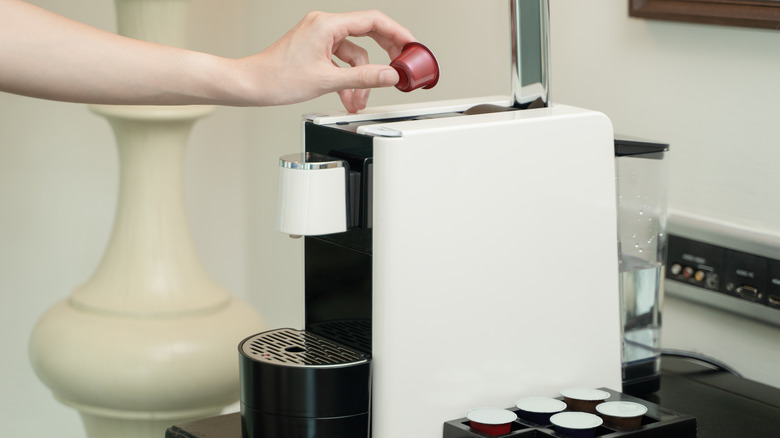 MBLifestyle/Shutterstock
Coffeemakers have come a long way since the ones our parents used to use. Rather than having barebones machines without any frills or digital features, we now have Wi-Fi-connected devices that we can program from our phones and settings that allow us to choose whether we make an iced coffee, an espresso, or a plain old hot brewed coffee.
Keurig and Nespresso are two industry-leading names that we can certainly thank for all the features they've brought to modern coffeemakers. From models that heat up instantly to brew a delicious cup of coffee in mere seconds to appliances that craft carafes as reliably as a single cup, it's never been easier to skip morning coffee runs and enjoy freshly brewed beans from the comfort of home.
But which brand takes the cake — er, coffee — when it comes to results? We dug into the details to uncover the ultimate winner in the battle of Keurig versus Nespresso.
Keurig's line of coffeemakers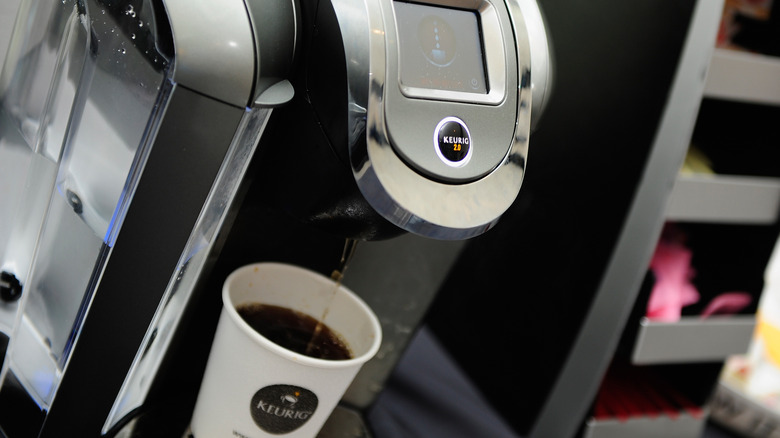 Sergi Alexander/Getty Images
Keurig has been manufacturing its coffeemakers since the 1990s, with its first model made for home use released in the early 2000s. Since then, its lineup has grown to offer some of the most beloved coffeemakers on the planet. Keurig models cater to just about every coffee lover's needs, whether it's a compact design that fits in small spaces, like dorm rooms or studio apartments, or premium machines designed to brew everything from regular coffee to hot lattes.
One of Keurig's most popular models is actually one of its simplest: the K-Express Single Serve Coffee Maker. It features a compact profile but holds up to 42 ounces of water in its reservoir for convenient single-cup brewing. More robust, feature-heavy models include the K-Cafe Special Edition Single Serve Coffee Latte and Cappuccino Maker and the K-Café SMART Single Serve Coffee Maker, both of which let coffee fans brew more diverse coffee drinks at home.
Keurig's lineup also includes duo models with brewing capabilities for both single cups and carafes, models focusing on iced coffee only, and professional brewing systems for the workplace. In other words, there's a Keurig model for just about anyone, whether they enjoy hot or cold coffee or prefer creamier lattes and cappuccinos.
Nespresso's line of coffeemakers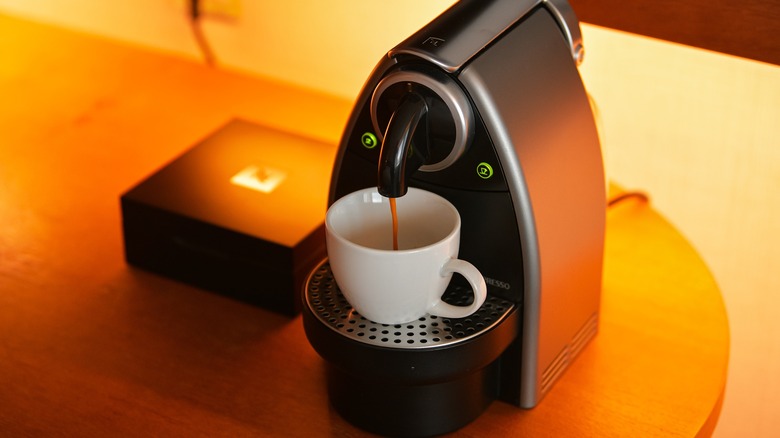 Dragos Asaftei/Shutterstock
While Keurig's coffeemakers were originally designed to brew traditional coffee, Nespresso's models have always leaned toward more artisan coffee drinks. Although you can brew regular coffee using a Nespresso machine, you'll notice when browsing the lineup that these coffeemakers seem a little more upscale, like the ones you might see at your local coffee shop.
Nespresso categorizes its coffeemakers into original espresso machines, which are more barebones and basic, and its Vertuo lineup, which is more tech-focused and created to brew more diverse cups of coffee. The original machines feature 25-second heat-ups, precision brewing technology, and an energy-saving mode. In the Vertuo lineup, you'll find all of the above plus descaling alerts (for cleaning) and a one-touch brewing feature to craft your perfect cup every time.
Because Nespresso targets latte and cappuccino lovers in addition to regular coffee drinkers, most of its machines include a built-in milk frother to make such drinks, while top-of-the-line models, like the Creatista Plus, feature steam pipes for a true cafe experience.
Ease of use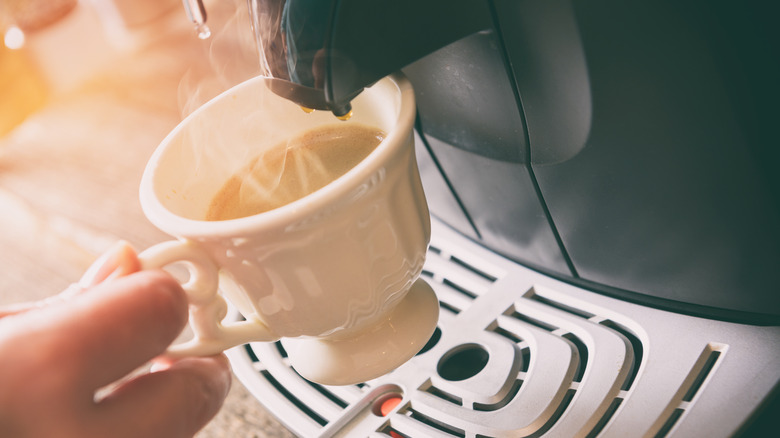 Monika Wisniewska/Shutterstock
To make brewing coffee simple and quick, Keurig and Nespresso focus more on single-cup brewing than carafes, with many of their models featuring a reservoir that holds enough water to make multiple cups. Smaller reservoirs have to be refilled more frequently, which can be cumbersome if you drink multiple cups of coffee each day. In this instance, Keurig edges out Nespresso. While each brand features several models with reservoirs large enough to make four-plus cups of coffee in a row, Nespresso's largest water reservoir is 68 ounces, which is offered on its Creatista Pro. Although large, it doesn't quite match up to Keurig's massive 110-ounce reservoir allotted to its K-2500 model. The same model is also available in a plumbed version, which pipes in a steady stream of water so you never have to remove and refill a reservoir.
As for the actual brewing, both brands deliver a straightforward, uncomplicated process that won't leave you scratching your head, but Nespresso has a slight upper hand. Although some of Nespresso's machines look intimidating, they're impressively easy to use after a couple of times of getting familiar with their features, especially with the automatic one-touch brew technology offered in the Vertuo line. In fact, one Redditor claims that Nespresso is "idiot proof — meaning even I can't mess it up. It does an excellent job of being predictable and consistent."
Which brand's machines offer better coffee quality?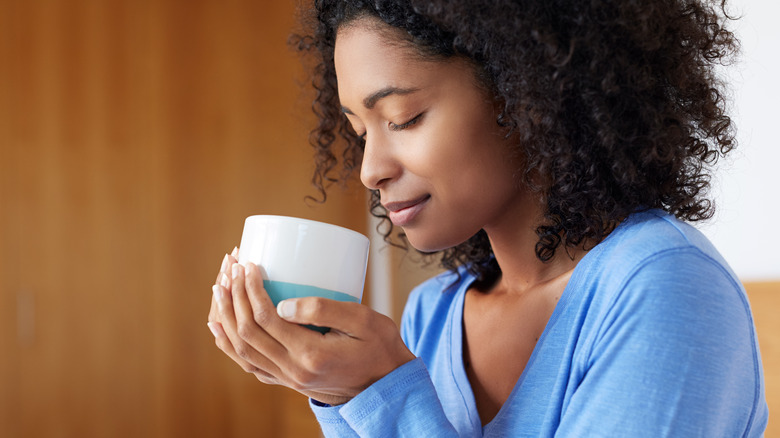 Goodboy Picture Company/Getty Images
When you first drink a cup of coffee from a Keurig, you will probably be impressed by its temperature and flavor. This is especially true if you're not super picky about your coffee. However, reviews from real people who have used both machines resoundingly favor Nespresso when considering the quality of the coffee these brands' machines brew.
Perhaps the biggest complaint of Keurig is that its coffee tastes watered down. One Reddit user explains, "I got a Keurig as a gift a long time ago and used it but didn't really love it. I felt like the coffee was watered down even with the 'strong' feature, but we had fun with all the different flavors. Not quite hotel coffee watered down bad, but it wasn't good." Another Redditor claims, "I am not a real coffee snob, so I am fine with people who have higher standards, but Nespresso, at a minimum, is better than a Keurig."
Other people prefer Nespresso for its ability to create more elevated coffee drinks, thanks to its milk-frothing technology. One Reddit commenter says that, while they don't generally enjoy using a Nespresso for traditional coffee, they prefer it for espressos and other stronger, creamier coffees, adding that "making a bit of frothed milk to go with the strong coffee is a real treat."
Drink varieties for Keurig and Nespresso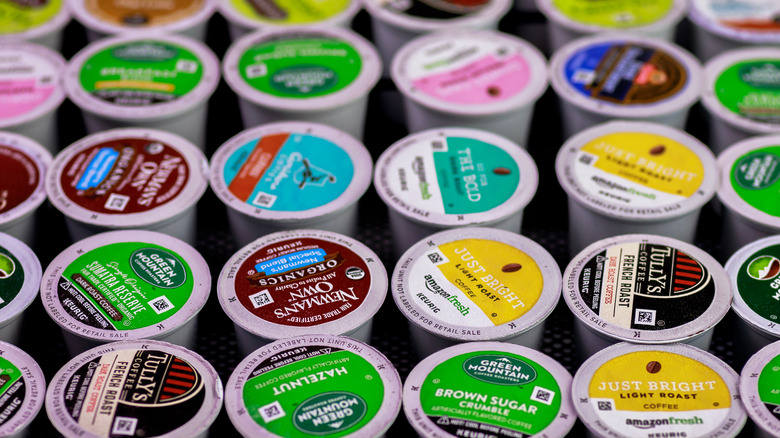 Joice Brinkerhoff/Shutterstock
Generally speaking, a Keurig is a good option for traditional coffee drinkers, while Nespresso is usually the choice for latte and cappuccino drinkers. However, in recent years, Keurig has stepped up to the plate to rival brands like Nespresso by offering more types of coffee drinks for its machines. Newer models can handle a host of K-cups — the name for its single-serve pods — from tea and lattes to iced coffee and chai tea. Several well-known brands, including McDonald's McCafe, Starbucks, and Dunkin', create K-cups specifically for Keurig machines and offer various strengths and flavors to make just about every coffee drinker happy. As a result, you won't be disappointed if you like to switch up your coffee flavors each morning or prefer using your Keurig for coffee in the morning and tea before bedtime.
Nespresso also offers a diverse lineup of capsules in different flavors, like hazelnut, pumpkin pie, and chocolate. The brand also has sub-categories to help customers find their perfect cup, like Ispirazione Italiana with Italian-inspired coffees and World Explorations, which blends flavors from all around the world. After choosing your coffee capsules, you can further customize your coffee with milk and steam, depending on the Nespresso coffeemaker you choose, allowing you to get even more creative with your drink.
If pod variety is what you're after, Keurig wins this battle. However, if you prefer more customization in the actual blending of the drink, Nespresso is a better choice.
Cleaning and maintaining Keurig and Nespresso machines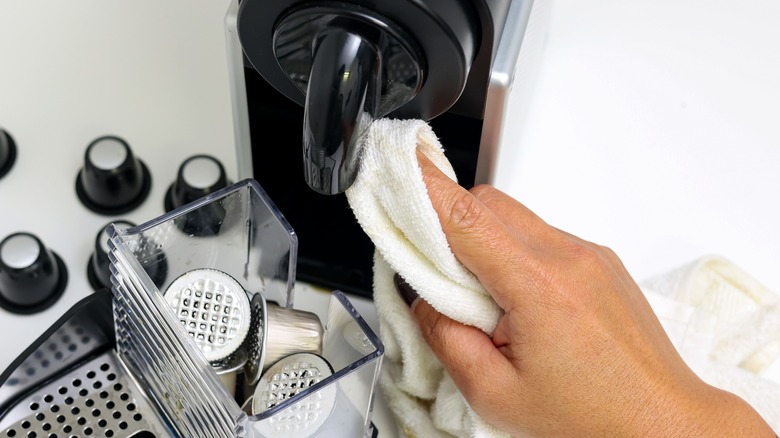 SrideeStudio/Shutterstock
Keurig and Nespresso coffeemakers aren't necessarily easy on the budget, so it might be comforting to know that they can last for years. But it's up to the user to clean and maintain them properly to ensure that they last for their expected lifetime.
Keurig coffeemakers typically have a more straightforward maintenance process. Aside from doing a quick clean daily to keep the water reservoir, pod holder, and cup tray tidy, Keurig suggests descaling its coffeemakers every three to six months to remove buildup that can collect in the units over time. This is a simple process that involves running the descaling solution and rinse pods through the coffeemaker when it's time.
Nespresso coffeemakers also need to be descaled routinely, especially if you notice bitter tastes or slower-than-normal brewing. Basic Nespresso machines require about the same amount of cleaning and maintenance as Keurig coffeemakers. However, the more professional Nespresso systems that include steam wands and milk frothers require more care. Nespresso recommends wiping down steam wands and taking apart milk assemblies after each use to clean them thoroughly, which can be cumbersome if you're looking for a speedy process on busy mornings.
Pricing for the coffeemakers, accessories, and coffee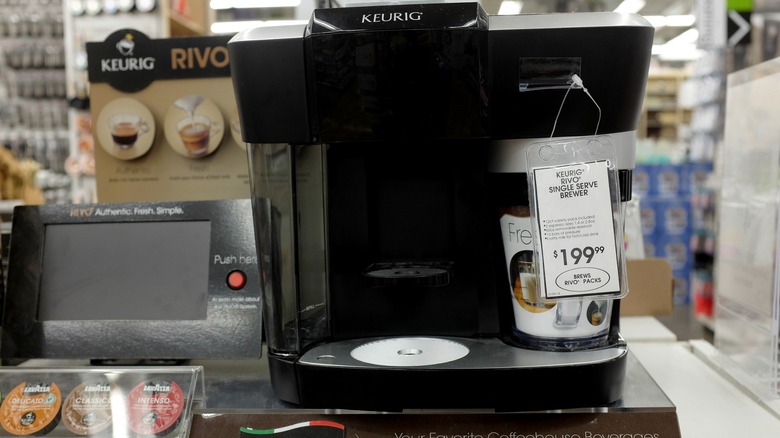 Joe Raedle/Getty
When choosing between Keurig and Nespresso, it's natural to determine which one fits your budget best. But, it's important to consider all pricing factors, not just the one-time cost of buying the coffeemaker. You'll also need to buy coffee pods to continue using your machine and may want to expand its uses with Keurig or Nespresso accessories in the future.
Keurig's coffeemakers range from about $80 to almost $300 for its high-end at-home model. Each box of K-cups costs about $11 for a dozen up to about $60 for a 96-count, with bigger boxes generally bumping the price per K-cup down substantially. As for accessories, Keurig offers several, like descaling solution for $14 per bottle, milk frothers for $30-$90, and K-cup storage solutions for around $25-$100. Of course, aside from descaling products, Keurig's accessories are all optional, so you can always hold off on buying the ones you want until you have some extra cash.
Nespresso coffeemakers are pricier than Keurig's, on average. Nespresso's smallest, most basic machine is the Essenza Mini, which costs $179. Meanwhile, its higher-end machines, like the Vertuo Creatista and the Creatista Pro, retail for $749 and $849, respectively. Its capsules are relatively similar in price as Keurig's for smaller packs, with each capsule costing around $0.80-$1.25, while larger packs generally offer a better discount. If you need a Nespresso milk frother, you'll pay $99-$169, while capsule storage devices range from $30-$60.
Coffeemaker quality and reliability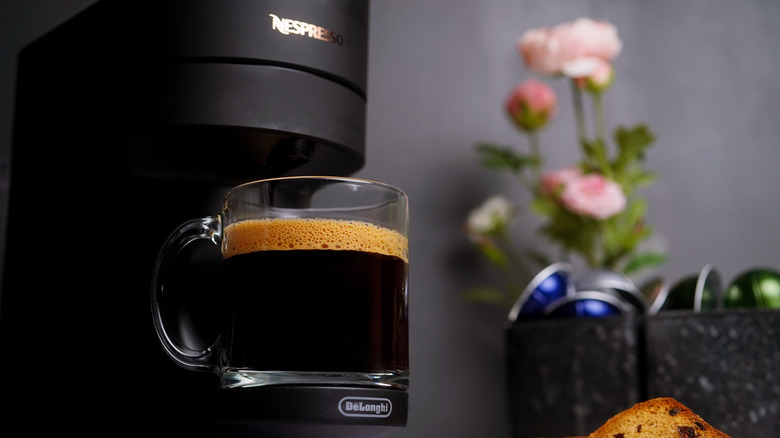 vm2002/Shutterstock
When you invest in a coffeemaker from Keurig or Nespresso, you expect to get your money's worth. The last thing you probably want is to spend $100+ on a coffeemaker every few months because yours stops working in the middle of brewing a cup.
Reliability with both of these machines largely depends on how well you take care of them. Proper cleaning and maintenance according to the suggested schedule for your particular coffeemaker is key. But some machines seem to be crafted for longevity from the start, and based on our research, Keurig generally struggles in this area. For instance, a Wirecutter article searching for the best Keurig ultimately settling on the K-Classic. However, the reviewer stated that, although it was the best machine they tried, they still wouldn't recommend it because of quality issues like a "gurgling noise" and "stream spatters." Additionally, the article also mentions another Wirecutter writer having their K-Mini K15 — another model the reviewer tested — stop working within one year of receiving it.
Several Redditors also claim that they've had nothing but problems with their Keurig coffeemakers. One commenter states that the few Keurig models they've had over the years always stop working, while another Redditor echoes the issue: "Had 3 Keurigs before Nespresso. They always broke within about a year." Meanwhile, another commenter in the same thread states that the Nespresso machine they bought 13 years ago and use daily is still holding strong.
Rewards and subscriptions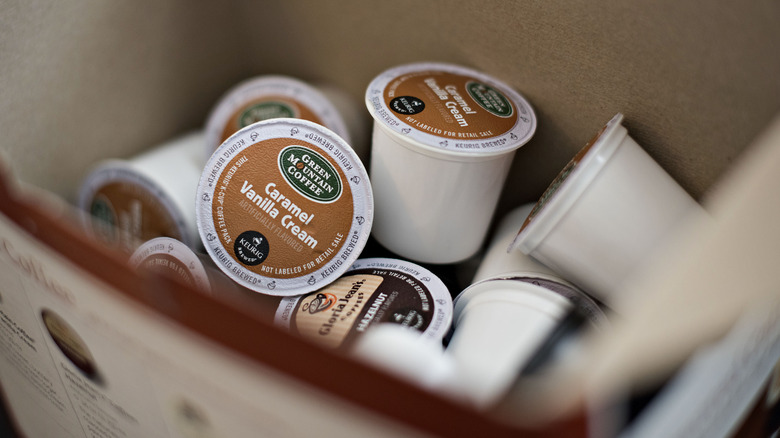 Bloomberg/Getty Images
If you're going to remain loyal to Keurig or Nespresso by buying your coffeemaker, pods, and accessories through your chosen company, why not get rewarded for it? Both companies have subscriptions and rewards to reduce how much you pay for the things you need to enjoy fresh coffee every day.
Keurig recently reinvented its rewards program, now called Keurig Perks. Customers can join for free to receive free shipping on orders over $35, 25% off orders, and reward points for their purchases that turn into free K-cups or accessories. There are also auto-delivery subscriptions, through which Keurig will top you up on your favorite coffees on a schedule you choose while providing up to 25% off your orders. If you have a SMART brewer, you can opt for SMART auto-deliveries, where your brewer lets Keurig know when you need a new shipment of your most used coffee.
Nespresso also offers EasyOrder auto-delivery, which works similarly to Keurig's subscription. Choose your pods, set your schedule, and get deliveries without having to remember to order coffee yourself. When you order at least $75 worth of coffee in your EasyOrder, you'll get a free sleeve of pods. Nespresso's reward system isn't quite as substantial as Keurig's, though, as it only allows small rewards for referrals. Bring your friends and family to Nespresso, and you can get $10 off your next pod order of five or more sleeves, but your code can only be used up to 10 times.
Reusability and recycling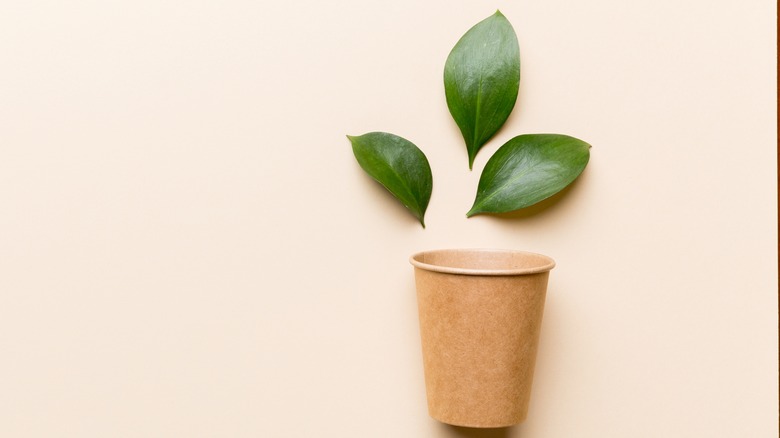 SNeG17/Shutterstock
If sustainability is important to you, then you might wonder how single-serve coffee machines like those from Nespresso and Keurig fit into your lifestyle. Although both companies have made efforts toward having a greener impact, Nespresso's commitment to sustainability is a primary reason why many people choose its machines over Keurig, as evidenced in this Reddit thread.
According to Nespresso, the company's pods are designed with recyclable aluminum so that they can be made into something new rather than end up in landfills. You'll even get a free recycling bag with your orders that holds up to 200 used Nespresso capsules, which you can conveniently drop off at a nearby UPS location to send back to Nespresso.
Keurig has been ramping up its sustainability efforts, too, creating all of its K-cups with recyclable plastic since the end of 2020, according to Keurig. However, Rosie Briggs, Eco-Cycle's community education and engagement manager, tells Brightly that only very few products made from this type of plastic actually get recycled, plus other components must be removed before the cups can be recycled. Keurig's website reminds customers to check with their local recycling communities to ensure that they accept this type of plastic in their recycling facilities. Also, Keurig notes that it's still rolling out its peel-off lids to help make recycling K-cups easier, but there's no specific date for when we can expect all of Keurig's K-cups to make the switch.
Verdict: Is Keurig or Nespresso better for coffee fans?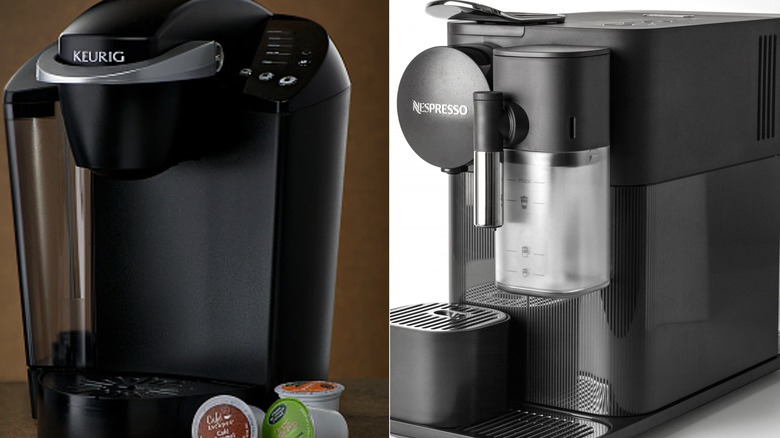 Art_rich/Shutterstock & Aero17/Getty
Let's be real: There's absolutely no loser when comparing Keurig versus Nespresso. However, we can confidently say that, for many coffee lovers, Nespresso likely edges out Keurig. For starters, Nespresso offers more diverse drink creation by letting users customize their coffee with frothed milk and steam on select models. And, judging from the many Reddit reviews we dug through, the quality of the coffee made with Nespresso machines seems to be significantly better than Keurig's, which many describe as watered down. Customers also love that Nespresso pods can be easily and conveniently recycled using the recycling bags you can add to your orders for free.
This isn't to say that Keurig doesn't have its perks. Generally, Keurig machines are more straightforward to clean and maintain, with fewer parts you need to take apart to keep everything clean and functional. The massive choice of flavors and drink types available for K-cups also appeals to people looking for variety. Additionally, Keurig's rewards are tough to beat, offering steep discounts for coffee and accessories.
In short, Keurig is probably your best choice if you're looking for affordability and easy maintenance. However, if you want to enjoy coffee every morning that rivals your favorite cup from your local café and don't mind a heftier investment, opt for Nespresso.