Best Milk Frothers Of 2022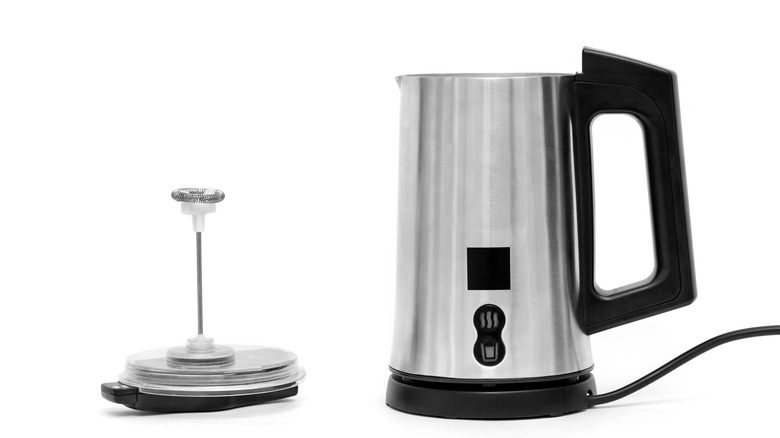 Nataliia Karabin/Shutterstock
We may receive a commission on purchases made from links.
Simply put, a milk frother is a device that whips air into hot or cold milk to create foam which is, in turn, used for lattes, cappuccinos, and other coffee drinks that require milk foam (via TheServingDish). But why froth milk? According to CoffeeAffection, using frothed (or aerated) milk changes the texture of your hot or cold beverage, giving it a creamy, light mouthfeel. (Something that regular, or steamed milk, can't accomplish.)
Personal use milk frothers have come a long way since the first handheld patent was filed in the early 2000s (via Google Patents). What started off as a somewhat flimsy handheld, battery-operated mini whisk has now branched out into a whole family of varietals. In addition to the original traditional hand-held battery-operated version, there are now rechargeable handheld whisks, electric and electric plug-ins, manual plungers, and even frothers you can use with a heating source like fire. But ultimately, all milk frothers will fall under one of three main categories: manual, handheld electric, and automatic (via BrownsCoffee).
How we selected the following milk frothers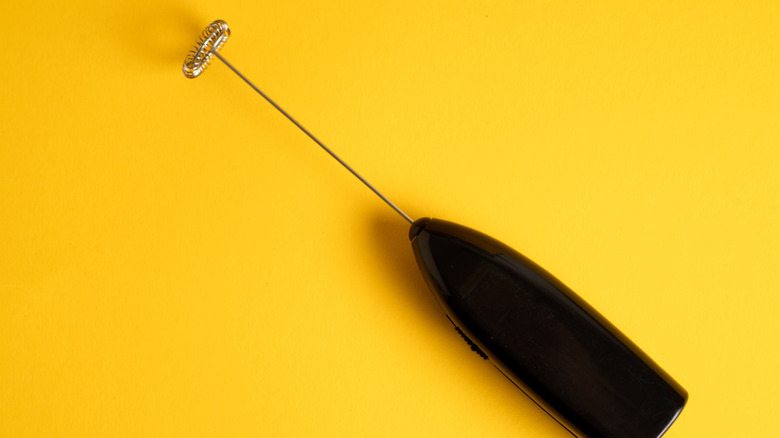 Nita Yuko/Shutterstock
The following milk frothers were selected based off of what the everyday kitchen wizard might look for prior to purchasing. This includes the actual apparatus' ease of use (do you need barista experience or is it a simple push-button?) as well as price (always important), its functionality — does it only serve one purpose or can it also be utilized for mixing eggs, etc? Finally, does it work with more than just one type of milk (or different temperature milks, nondairy milks, etc)? The frother's actual milk and foam capacity were also taken into consideration.
In addition to consumer reviews from online retailers like Amazon, Target, and other established big-box merchants, independent professional websites (with a focus on the coffee and cooking industry) were also sourced for their honest input.
Is there really a reason to have a single-use kitchen gadget like a milk frother in your kitchen (especially if you live in a space-challenged abode)? The answer is ultimately up to you, but luckily the options below will give you important insights into what you want versus what you actually need.
Best overall
The 4-in-1 electric milk frother by Zulay is incredibly quiet and user-friendly. It's made from rust-resistant stainless steel and is available in four different colors (black, white, red, and blue). Zulay's 4-in-1 has four settings, all controlled with one push-button: cold froth, warm milk with thin froth, warm milk with thick froth, and hot milk with medium froth. It can be used to create foam for any coffee-based drink, but also hot chocolate and tea lattes. If you're just needing to warm your beverage, the Zulay 4-in-1 has a 300mL capacity (10 ounces). If you're frothing milk, it has a 150mL (5 ounce) maximum. (Room for milk foam expansion). The Zulay 4-in-1 successfully froths both dairy and non-dairy milks.
While some reviewers mentioned burn out after a short period of time, over-use is always a possibility and can cause a frother to stop working. The Zulay 4-in-1 also comes with a lifetime warranty, which adds to its awesomeness. Customer service is continually cited as excellent. The Zulay 4-in-1 carafe can be detached from the heating element (it's not dishwasher safe), but you still need to be careful to not get the heating circuit wet or else it damage the frother.
As of May 2022, you can purchase the Zulay 4-in-1 electric milk frother from Amazon starting at $40.
Best multifunction
With high marks from at least six different online retail outlets, Instant's Milk Frother, 4-in-1 Electric Milk Steamer is credited with making plentiful foam, regardless of the actual milk or the temperature. This 500W milk frother has four different froth settings: cold foam, light warm foam, thick warm foam, and warming (no foaming). The interior is coated with a non-stick finish, which makes cleaning incredibly easy. The Instant 4-in-1 carafe is made with a cool-touch casing, so you don't have to worry about burning yourself if you don't use the handle to pick it up. Amazon reviewers rate it four and a half stars and above for ease of use, blending power, and ease of cleaning.
As with any product, there is a mention that the Instant 4-in-1 milk frother can suddenly stop working after only a short time frame. That being said, you never know if the product itself is being cleaned and maintained properly, and used according to instructions. It's also important to note that the Instant 4-in-1 milk frother also comes with a one-year warranty. Other reviewers did find that the actual temperature of the finished foamy product leaves much to be desired.
If you really want to live the foamy experience, you can purchase Instant's Milk Frother, 4-in-1 Electric Milk Steamer starting at $39.95 from Amazon.
Best for travel
If you frequently find yourself on the road but prefer to avoid spending an exorbitant amount of money on your latte fix — as of April 2022, the cost of a Grande latte at Starbucks is $3.65 (via RealMenuPrices) — then the PowerLix Handheld might be for you. This battery-operated handheld frother takes only a mere 15 seconds to foam both hot or cold milk, as reported by DontWasteYourMoney, and comes in 16 different colors (including but not limited to basic white, blue, and red, but more chromatic hues like unicorn and bubblegum). PowerLix's handheld frother sports an ergonomic design that gives users a better grip, with the power button near the top for easier access. What's even better is that it has a lifetime warranty.
With over 60,700 favorable reviews on Amazon (giving it a 4.5 rating), and a 9.3 out of 10on BestViewsReviews.com, PowerLix's blending power (19000 rpm), customer support, and overall performance are what deem this a positive purchasing experience.
That being said, this handheld frother doesn't include the required two AA batteries — which is a bit of a bummer — and while it's advertised as being able to mix any sort of liquid or food, some reviewers note that eggs prove to be an issue.
As of May 2022, you can buy this versatile handheld frother from Amazon starting at $15.95.
Best rechargeable
One of the great things about FoodVille's rechargeable milk frother is that it's rechargeable, and also uses a rechargeable battery. That means you don't scalp two batteries from your TV remote when it begins to lose power. This handheld blender is similar to its PowerLix competitor, so it could also be considered a good compact travel option.
Reviewers on Amazon love the fact that FoodVille's rechargeable milk frother has three operating speeds (19000rpm, 21000rpm, and 23000rpm) and includes two different whisks. The faster the speed, the more dense and fluffy the milk will be. That being said, some consumers mention that the whisks don't always stay in, but the FoodVille brand is credited with fantastic customer support, which is always a refreshing thing to hear. BestviewReviews rates it a 9.6 out of 10 overall (based off of over 1,160 testers), with high 9s in 8 out of 10 categories.
Amazon sells the FoodVille rechargeable milk frother staring at $18.99, which is way less than what you'd be spending on replacement batteries.
Best for latte art
What really makes the AEVO automatic milk frother stand out from its fellow frothers is that the pitcher isn't unwieldy or unmanageable to handle. It's small, lightweight, and detachable. The fact that AEVO's automatic milk frother has a very prominent pointed spout (as opposed to a rounded, uniform edge) makes it easy to control your pour. This is pretty important for making good latte art (via EraofWe).
AEVO's automatic frother comes with four different heating and frothing modes, and also includes a magnetic lid to keep your leftover milk (or hot chocolate) from getting cold. The automatic shut-off function will prevent scalding milk (because if you've ever tasted burnt milk, you know how that can ruin your day). Customers claim that because the steamer pot is detachable and dishwasher safe, it's really easy to clean. Those of you who prefer non-dairy or low-fat milk will want to steer clear of AEVO's automatic frother. Different outlets, including the manufacturer's website, state that it only works on whole milk or milk that's 3% or more. Another mild turn-off is that, according to this response from the vendor, you're also going to have to purchase a whole new frother if something breaks or goes missing.
The AEVO automatic milk frother is perfect for honing your latte art skills and can be purchased at Amazon starting at $64.99.
Best stove top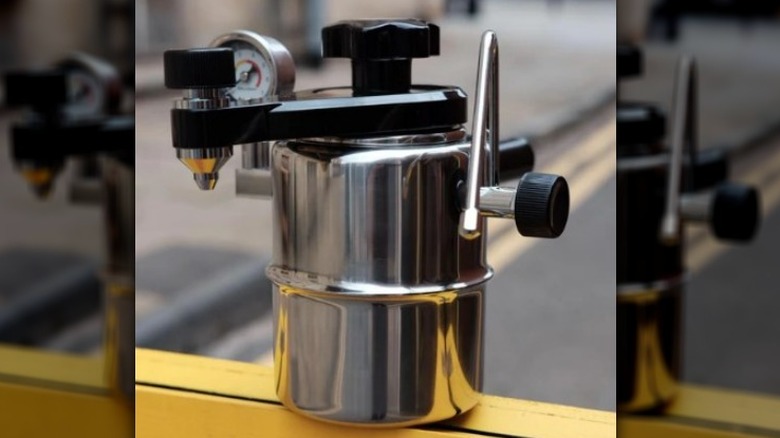 Bellman Coffee
This isn't actually a milk frother, it's a milk steamer. The Stainless Steel Stove top, by Bellman (called the Bellman SS stove top), uses a functional steamer wand, similar to what you'd find on a true espresso machine, to steam milk. This portable steamer is not for the faint of heart and requires more precision and knowledge to operate. This is because the body of the actual steamer uses on an open heat source, like a gas or electric cooking range or campfire, to create pressure inside the chamber itself. With the turn of a nozzle, the steam flows from the stainless steel wand, very much like an espresso machine.
One reviewer says to start with pre-heated water to minimize the horribly long three-minute wait, but that it's basically espresso's awesome best friend. Others remark that it works just as well as a true machine.
Keep in mind that if you have an induction burner, you'll need to pass on this little gadget. The Bellman SS is made with stainless steel alloy — alloy is a mixture of metals (via KitchenAmbition), which means the iron content isn't traceable. While some alloys do work with induction, it's reported that the Bellamn SS will not. It also, for obvious reasons, gets incredibly hot on the outside, so you'll need to exercise caution when handling it.
Practice your barista skills with the Bellman SS stove top, starting at $226 on Amazon.
Best manual
The Ninja easy milk frother is part of the Ninja Coffee Bar. It's a manual, plunger-style frother that is lightweight, compact (about 8 inches tall), and incredibly user-friendly. Users also appreciate the versatility of the Ninja easy milk frother, because it works with both dairy and non-dairy, as well as hot and cold milk. The beaker is made with microwave-safe glass, so you can enjoy heated micro-foam whenever you feel like it. 
Some individuals claim that the Ninja easy frother is easily broken and not easy to clean, but that seems to possibly stem from mishandling (or improper cleaning), which happens more often than not. The incorrect (and relatively common) method of cleaning the metal plunger is with a sponge. This can actually damage the whisk and plunger components and render them useless. For cleaning, it's best to do a vinegar and hot water soak to loosen any residual or debris (via BeanieCoffee). Another incredibly minor point is that sometimes the rubber seal pops out, according to the folks at MilkFrotherTop.com. With over 9,000 reviews, the Ninja easy milk frother is rated 4.8 out of 5 on Amazon. 
You're not going to be gambling too much when you buy one of these awesome frothers, because it's set at a very affordable price point.
At the time of this writing, you can purchase a Ninja easy milk frother starting at $18 on Amazon.
Best for time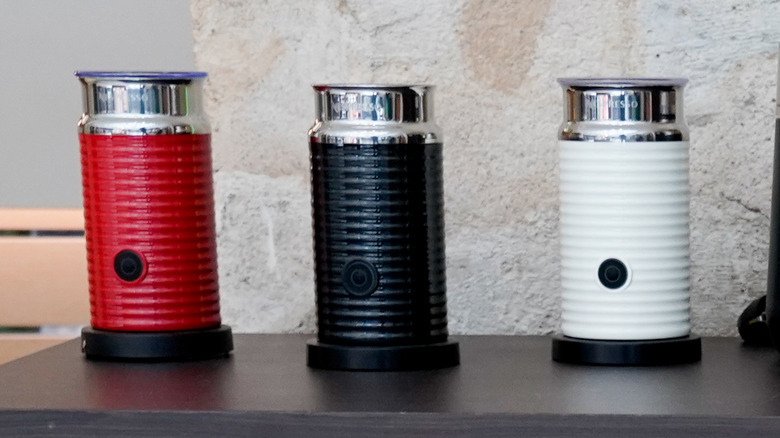 sylv1rob1/Shutterstock
The Nespresso Aeroccino3 is incredibly quiet and fast, using push-button operation to produce frothy milk (hot or cold) in just under two minutes. You push the button once for hot milk. Hold the button for two seconds and it's frothing cold milk. It's compact and is equipped with an auto-shut off feature to prevent any potential milk-related accidents. While the Nespresso Aeroccino3 creates only 4 ounces of milk foam per go, it can heat up to 8 ounces of liquid (if you're just looking for a hot drink). It works with both dairy and non-dairy, though the froth-factor seems to truly be dependent on the brand and type of non-dairy milk being used, as reported by this satisfied reviewer. 
While this individual wasn't that happy with the Nespresso Aeroccino3, they did mention that customer support was great. Another happy customer ran into an issue and customer support was readily available to troubleshoot and solve the problem. Reviewers at Best Buy give it 4.6 out of 5 stars, citing that it creates foam that is a consistent density, is simple to use, and easy to clean. However, a few individuals weren't impressed with the quality of the foam the Nespresso Aeroccino3 produces. (Hey, you can't please everyone.)
You can buy the Nespresso Aeroccino3 starting at $85 on Amazon, available in black only.
Best splurge
This electric milk frother doesn't come cheap, but the perks massively outweigh the price tag. The Smeg Retro milk frother has six preset programs to choose from: hot light and hot dense, cold light and dense, hot milk, and hot chocolate. (Yes, a button designated solely for hot chocolate. Awesome.) It has a manual setting, which allows you to take control mid-programmable froth, and shuts off automatically once it reaches a pre-programmed temperature. While BrewCoffeeHome notes that this frother works best with dairy, it still froths non-dairy milks. Reviewers on Food52, Delish, and Amazon also talk about the use of non-dairy and the Smeg Retro's excellent frothing capabilities.
One minor grievance is that the base is a little bulky and the durability is questionable as it's made of plastic. Ultimately, the Smeg Retro milk frother is a great investment piece that excels in not only large amounts of frothed milk, but whipping up tasty hot chocolate. So if you have the moolah and love hot chocolate just as much as you love lattes (or want to experiment with making mochas), then this one's for you.
As of May 2022, Smeg Retro milk frother is available in six different colors and can be purchased starting at $229 on Amazon.
Best electric
The Bodum Bistro electric milk frother is sleek and compact (about the size of a spice grinder) and is available in a black finish. It froths 1 cup of milk in about one minute. The Bodum Bistro electric is great as an "intro to froth" because it has one setting only, and froths both dairy and non-dairy milks. Reviewers love the fact that this frother is also equipped with an auto shut-off function, which turns the heating element off when the milk inside reaches 158 F. It also has super convenient cord storage in the base. Foam lovers also appreciate the non-stick interior, which makes the Bodum Bistro electric super simple to clean.
Unfortunately, some testers have noted that their Bodum Bistro electric suddenly stops working. This could be a number of factors, from an actual issue with the frother itself, to accidental misuse. The website DreamyHome mentions that while the reasons your frother may not be working aren't always obvious, there are usually two main culprits: residual is interfering with the electronics, or the wand is misaligned. Another minor objection is that the auto shut-off feature doesn't actually turn the entire gizmo off (only the frothing stops). (But that's not much of a learning curve — it is, after all, toted as the best for beginners).
The Bodum Bistro electric can be purchased starting at $30.49 on Amazon.
Best for capacity
There are those that like milk foam. And then there are those who really, really like milk foam. As in, "would you like some espresso with your milk foam?" That's where Maestri House's electric milk frother excels, because it has a 21-ounce capacity. That means you could serve up more than just a few lattes or hot chocolates in one go. Maestri House's milk frother is touch button activated and has a memory setting that remembers whatever you previously made. It has three froth density settings: Low (thin foam), medium (latte-esque), and high (mountainous). There are also four different temperature settings (room temperature, 120 F, 140 F, and 160 F). The Maestri House milk frother is incredibly user-friendly and customizable. Want cold milk froth with high peaks for a hot chocolate? Kids love that.
The detachable pitcher is dishwasher safe, easy to clean, and also scratch resistant. Some customers are a bit concerned about durability, since the Maestri House milk frother has a plastic base. The company's customer service is incredibly proactive. As Real Baking With Rose notes, the one main issue is that there is no way to hold the whisk while you're pouring, so you need to either remove it or push it down with your finger. The Maestri House milk frother is rated 4.7 on Amazon, with high marks in blending power, usability, ease of cleaning, and overall value.
At the time of this writing, you can purchase the foam dominating Maestri House milk frother starting at $91.99 on Amazon.