Live Like The Real Housewives Of NYC With Pringles' Caviar Pairing Kit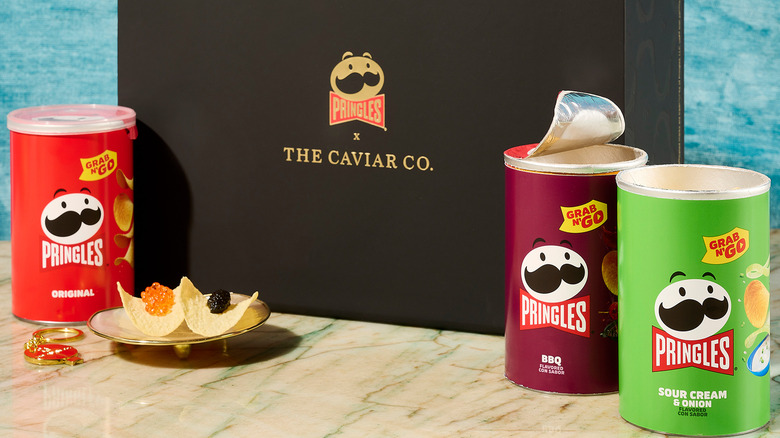 Pringles/Caviar Co.
Season 14, Episode 2 of "The Real Housewives of New York City" proved to be a culinary revelation for many viewers as Erin Lichy played host at her Hamptons home. Caviar caterers added the fish eggs to veggies, blinis, and — most strikingly — Pringles. You may not be heading to the Hamptons for a girls' weekend with the Real Housewives of New York City, but that doesn't mean you can't snack as well as they do.
After searches for Pringles and Caviar hit over 10 billion views on TikTok, Pringles and The Caviar Co. decided to team up to create the Crisps and Caviar Collection, so anyone can partake in the newest social media trend. The online shop opened today for those curious and eager to check out the various combinations.
According to PR Newswire, the collection includes three pairings with different flavor combinations. Each kit contains a gold keychain, two spoons, crème fraîche, and a Pringles Mr. P bow tie serving plate. The lowest price point is the Smoky Shores for $49, which includes sour cream and onion chips and smoked trout roe caviar. Salt of the Sea pairs the Original crisps with the classic white sturgeon caviar, all for $110. But for $30 more, you can purchase both kits, aptly called the Crisps and Caviar Flight, which also includes BBQ chips. A limited amount of each will be available daily for purchase — and once they sell out, folks have to wait until the following day.
The kits' milder flavors are great for first-timers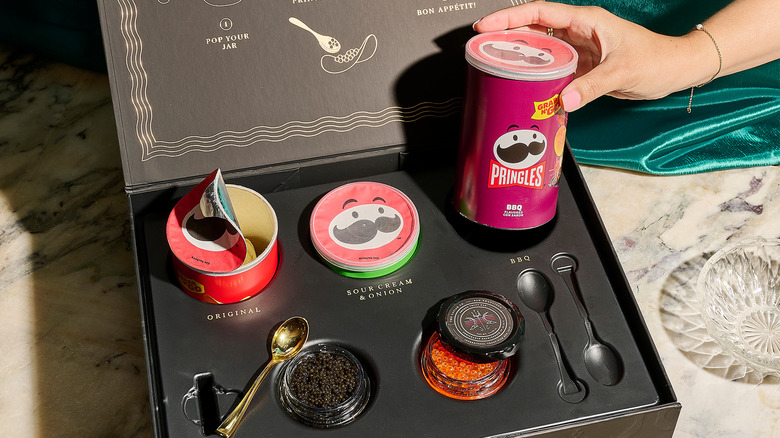 Pringles/Caviar Co.
Smoky Shores, the least expensive offering, contains trout roe (eggs) instead of caviar. Trout roe is similar to sturgeon caviar and eaten the same way, but the eggs are golden orange in color and larger than the sturgeon ones. While the flavor is usually less fishy than caviar, Smoky Shores' trout roe is described as smoked.
The Salt of the Sea kit is made from the eggs of white sturgeon, which are often found between Alaska and Baja, California, in North America. Usually described as buttery or nutty, they're often suggested as a good starting point for those unfamiliar with Caviar, because it's milder in flavor.
Caviar has long been associated with wealth and exclusivity, with one type — eggs from the beluga sturgeon — costing as much as $3,500 per pound, whereas Pringles are available from gas stations to grocery stores for between $2 and $3 a can. While some "The Real Housewives of New York City" viewers weren't down with the combination of potato chips and caviar, others thought it made complete sense. "Anyone who can afford caviar on the regular knows that it's incredible paired with anything potatoes including chips!" commented one Redditor. This is Pringles and The Caviar Co.'s second collaboration, with the companies joining to serve chips, sour cream, and kaluga hybrid caviar at a Coachella party earlier this year.