The Untold Truth Of Pringles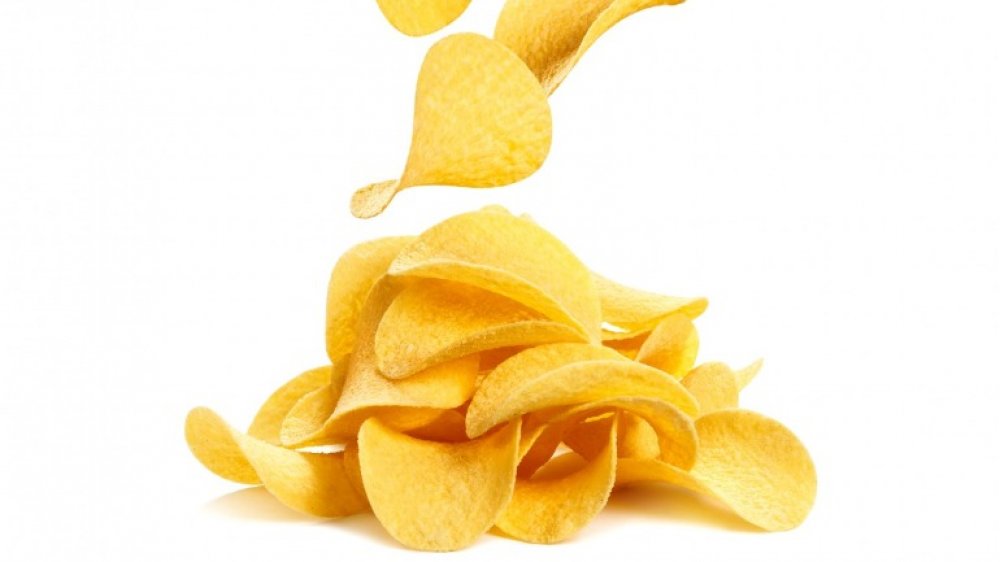 Shutterstock
If you were a clever snack food inventor and you needed to find the perfect chip that didn't break, and which held a uniform flavor, taste, and look, you'd probably look to Pringles as the perfect example of what a food company could engineer if it had the right tools and the right technology.
The father of Pringles was an organic chemist named Fred Baur who actually spent two years experimenting with saddle-shaped chips fashioned from fried dough, and created a tube-shaped can that could be used to store the chips. Baur even used supercomputers (and they were a big deal back in 1956) to work out how to fit the chips into their new cylindrical, aluminum-coated home so they wouldn't break (via Snack History).
But while Baur was a genius at creating the chip's shape and the can that would hold it, he couldn't do anything about the way it tasted. Another researcher named Alexander Liepa took over and managed to put the zing in the product, and it is Liepa's name that appears on Pringle's patent, where the snack food is described as a potato chip product made from dehydrated cooked potatoes and water, and then fried. Even the Pringles fryer itself wasn't Liepa's creation; it was developed by sci-fi writer Gene Wolfe. 
Still, Baur's association with Pringles didn't end until he passed away, because he was buried the iconic chip tube — his cremated remains were, anyway (via Mental Floss).
Two thirds of Pringles chips are sold outside North America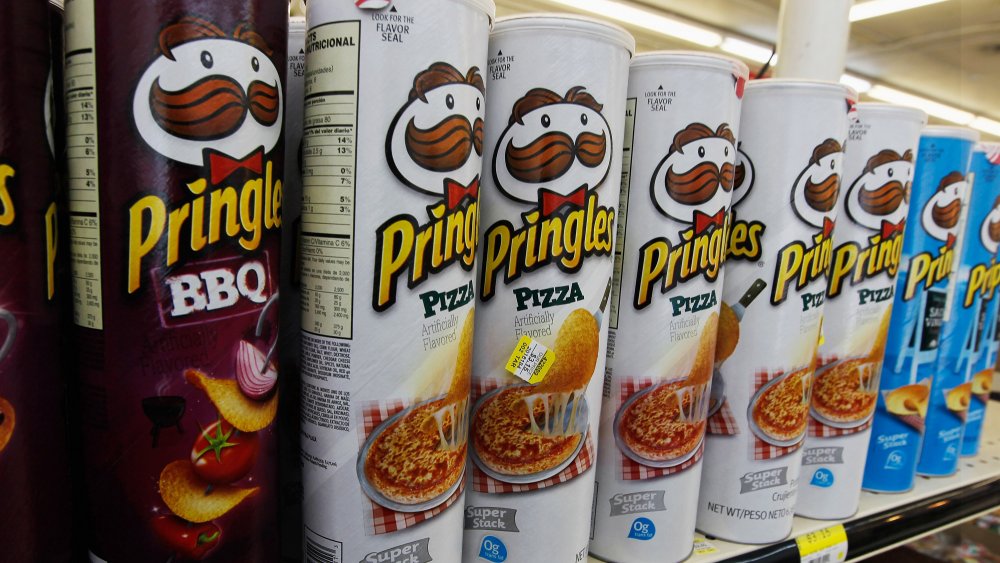 Joe Raedle/Getty Images
Fast forward to the 21st century and Pringles has seemingly taken over the world. Aside from its main factory in Jackson, Tennessee, the iconic potato snack is made in four other factories located in Belgium, Malaysia, Poland, and China. Together, these five factories meet the demand for Pringles across 140 countries, and 100 different flavors (via Potato Pro), including quite a few varieties in the United States alone. Cereal maker Kellogg's bought Pringles from Proctor & Gamble in 2011, after which sales went from $4.8 billion in 2011 to $6.5 billion in 2014. Pringle's appeal is global — over two-thirds of the snack is sold outside of North America.
Pringles may have been traded, grown to become a global brand, and expanded exponentially, but the crisp has stayed loyal to its mascot, Julius Pringle. The character, who has represented Pringles since the 1960s, hasn't changed much since that time. The affable gentleman has had his hair go from black to brown, and he's had his bangs and lips removed, but Julius Pringle is still recognizable as the same mascot that Pringles lovers have known for decades.