Stained Glass Bread Looks Just As Beautiful As We Assume It Tastes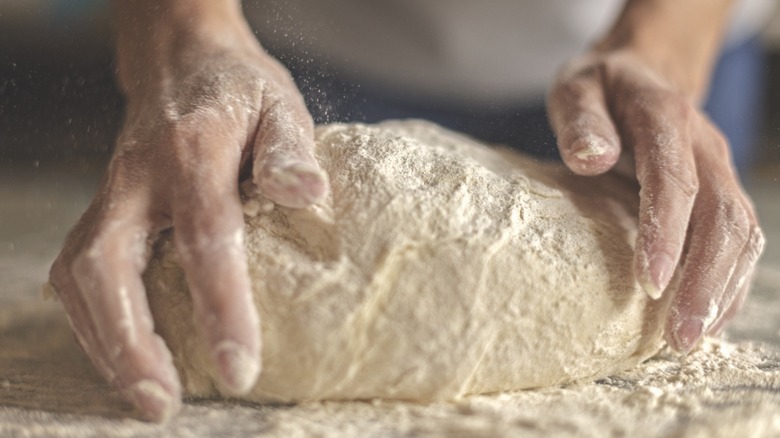 Nimis69/Getty
If you thought that bread couldn't be both delicious and beautiful, think again. One user on TikTok is taking bread from plain to a work of art, creating a colorful loaf that looks more like a stained glass window than a piece of bread when sliced. User @itshollymang's account is filled with videos showing off tasty and sweet creations, like her mulberry tart or chocolate chunk cookies, but recently she's been experimenting with bread.
In a video that now has over 12,000 likes, Holly creates bread that looks like stained glass by coloring different parts of her dough with natural flavors. She uses beetroot powder, dragon fruit juice, acai powder, ube extract, and charcoal powder in varying amounts to create balls of bread dough that range in color from black to bright purple. Next, she rolls these balls into longer tubes and combines them, placing one color inside the other. For this loaf, she surrounds each color with charcoal so that the black acts as the base and allows the other colors to pop. Finally, the tubes are arranged in a loaf pan and baked, and the final product is a colorful stained glass bread.
Can stained glass bread be made at home?
Unfortunately, Holly doesn't provide a recipe for her dough with the video, but her caption reveals that she uses vanilla bean milk bread as a base to which she adds coloring. To try your hand at stained glass bread, start with a milk bread recipe, then add ingredients that will give color to the dough. You could take Holly's suggestions and use powders like charcoal or beetroot. Or, matcha tea, pomegranate juice, or spices like saffron and turmeric are effective and natural ways to color your food. Because these are natural colorings, you might have to experiment with different amounts to get the color you want — the baking process also seems to dull down the vividness a bit. 
@itshollymang

i just wanted to see if i could make bread look like stained glass again. this batch uses vanilla bean milk bread dough as the base, colored with beet root powder, açaí powder, red fleshed dragonfruit juice, ube extract and charcoal powder*. the dragonfruit and açaí baked up a little more brown than i would have liked, love how the beet root and ube came out. no recipe for *gestures wildly* all of this, but i have one for the vanilla bean milk bread dough i use as the base, get it at patreon.com/itsholly; search for "fruit sando" for the recipe. *charcoal powder can inhibit the absorption of some medications. there's not enough in here to do that but do your own research before using if that's a concern.
Users in the comments section are rightfully mesmerized by how beautiful the final loaf product is, with one writing that it's "so unique, wonderfully done." But others are questioning how the bread tastes. With each of the colorings Holly uses comes an associated flavor, so that's definitely something to keep in the back of your mind if you're going to try this at home. For a simpler and potentially more brightly colored loaf of bread, you could just use traditional, store-bought food coloring, which would also eliminate any extra flavors that could overpower the milk bread.