Ina Garten's Authenticity Has Instagram Raining Hearts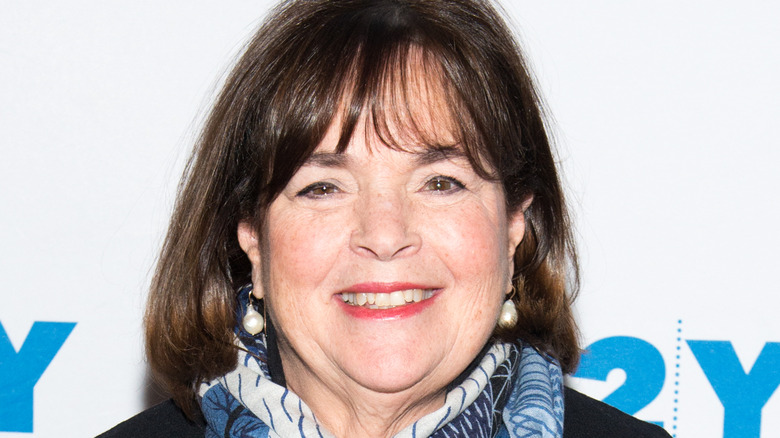 Noam Galai/Getty Images
There are few celebrity chefs who seem quite as down to earth as Ina Garten does. The "Barefoot Contessa" host has always made cooking look easy, and she's brought a casual, day-to-day good humor to her life as a chef. Between her relatable relationship with her husband, Jeffrey, and her now-classic "if you can't summon the flames directly from hell, store-bought is fine" meme, her authenticity has made her an internet darling. It's no wonder, then, that her Instagram account is such a big hit. Garten's account has more than four million followers, and she frequently shares delicious-looking food photos, recipes, and sweet moments from her life outside of the kitchen.
While Garten's cooking content is certainly always a fan-favorite, her most recent Instagram post is all about her personality, and her followers are loving it. On September 21, Garten took to Instagram to share a photo of herself with curlers in her hair. The photo is basically her own version of a TikTok GRWM (get ready with me) video; she's got her sunglasses on, little makeup, and her famous denim shirt in her hands on a hanger. She seems to be in the process of getting all dolled up, which is a state that many stars likely wouldn't willingly show themselves in. Still, Garten isn't afraid to be herself, and she's got her smile on while showing off her work-in-progress hair. Her many fans let her know how much they loved the picture.
Ina Garten even responded to the positive feedback
Ina Garten captioned the photo — "Just another day at the office!" — and fans commenting on her Instagram post let her know just how much they appreciated her humor and honesty. One commenter said, "Well, I may not have your cooking skills, but I have your rollers!" and another added, "Ina Garten, I hope you know how very much pleasure, smiles, cheers, and joy you bring to all of us ... You smile and we smile." One fan summed up the appeal by saying, "Love the dose of reality! You could not be any cuter." There's always someone with a helpful tip on Instagram, and somebody chimed in with the suggestion that Garten use the rollers to hold whisks or spatulas. Perhaps part of the appeal is that Garten joined the conversation, taking the time to respond to many of the comments with thanks and hearts.
Garten's fans know that she's got a serious sense of humor; we all remember her viral Cosmopolitan recipe that had quite a bit of vodka in it. And it's clear that her light-hearted approach to the serious job of being a chef is one of fans' favorite things about her. In just one day, Garten's photo earned over 120,000 likes. It's safe to say that we're all looking forward to seeing her have more fun on social media in the future.