Upgrade Costco's Seasoned Soft Pretzels With An Easy Cheese Sauce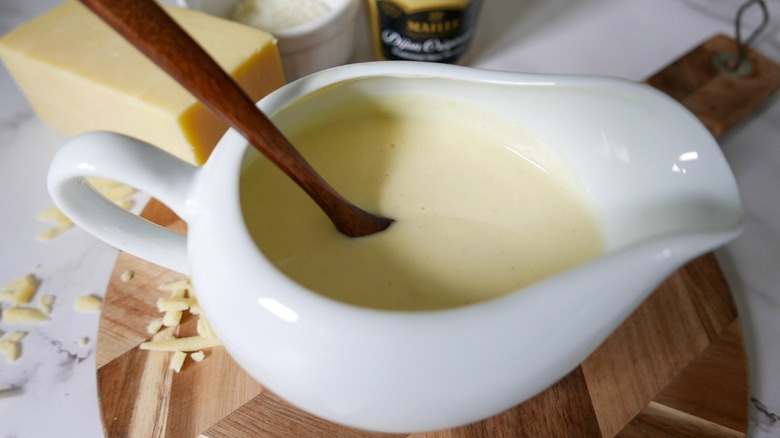 Ting Dalton.Mashed
Available at Costco, pretzels from Eastern Standard Provisions Company are a fan favorite. As revealed in a TikTok video, the soft frozen pretzel pack comes with four Wheelhouse pretzels, eight Turnbuckle sticks, and 22 One-Timer bites. They're simple to make, as they only require seasoning and baking, and they include French toast sugar, three cheese, and pretzel salt. "I could eat these every day and never get sick of them," the original poster wrote.
To hammer home just how popular these pretzels are, a similar pack has a nearly four-star rating on Amazon and a five-star rating on the company website. Reviewers rave that they "bake up nicely" and are "absolutely delicious." TikTok commenters feel the same, though they pointed out one fact that leaves them dissatisfied. "Not having a cheese sauce to dip them in is CRIMINAL," one wrote. Thankfully, we have an easy cheese sauce recipe to solve the problem in a flash.
How to make the cheese sauce
If you want cheese dip to pair with your soft pretzel, you can one quickly while the pretzels are baking. First, you'll need all-purpose flour, milk, Dijon mustard, butter, a garlic clove, shredded cheddar cheese, and shredded parmesan cheese. Then, you should melt the butter in a medium-sized pan and add flour when it's done. After that's complete, stir in the garlic, pour in the milk, and wait for it to boil. Finally, you add both the shredded cheeses and stir the mixture until it's no longer clumpy. For more detailed instructions, check out our easy cheese sauce recipe.
If any cheese sauce remains after enjoying the soft pretzels, you can use the versatile condiment on a range of other foods. It can be used in casseroles, pasta, soup, sandwiches, and on breakfast dishes such as quiche. For Tex-Mex lovers, the cheese can also be used for nachos.