What, Exactly, Is Sourdough Coffee Cake?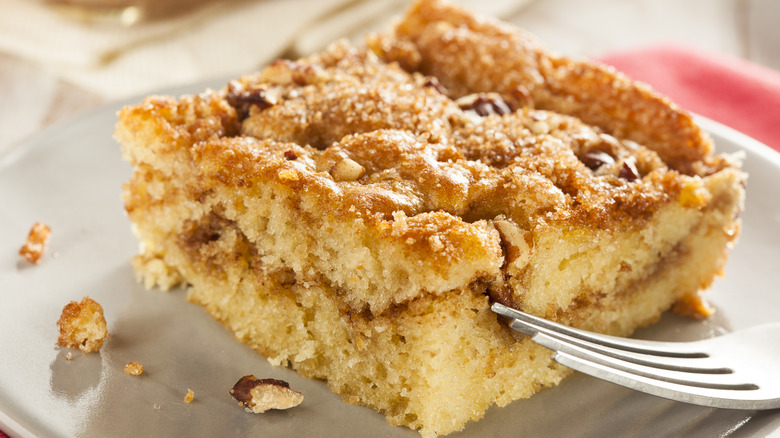 Bhofack2/Getty Images
Coffee cake is a versatile pastry that can be served as a dessert or even eaten for breakfast. When coffee was first brought to Europe in the 17th century, it was a popular drink also used in baking. Thus, the concept of adding coffee to your cake ingredients was born. However, coffee cake is often seen as an evolution since sweet breads and pastries were already quite popular in countries like Germany, Austria, and Denmark. Therefore, variations of "coffee cake" emerged as a sweet treat perfect for pairing with a cup of coffee. While there are many cultural traditions and twists, coffee cake is largely recognized in America today as a sweet sponge cake with a layer of cinnamon sugar in the middle and a sugary crumb topping. 
Sourdough coffee cake has gained traction in recent years, likely due to the increase in sourdough bread baking. Making sourdough bread and cakes takes a little extra time and attention because instead of using yeast, they require a sourdough starter to rise. 
A sourdough starter is a mixture of flour and water that's given time to ferment. When you're ready to bake, you can use a small portion of your starter as a leavening agent. Using sourdough starter in sugary baked goods like coffee cakes creates a rich depth of flavor that balances out the sweetness perfectly.
There are many ways to make coffee cake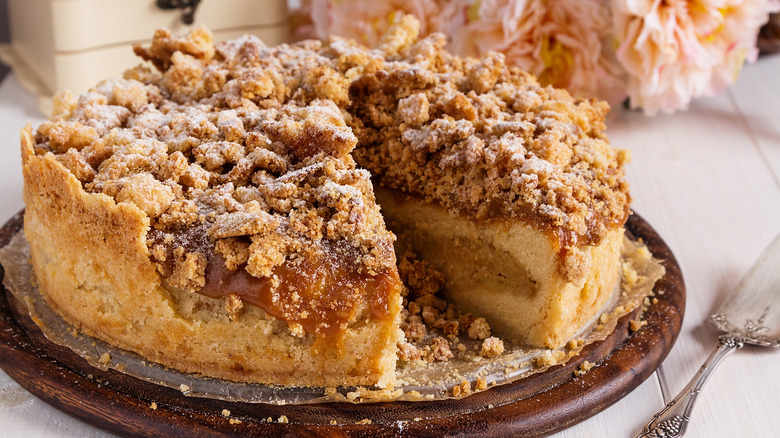 Torriphoto/Getty Images
One TikTok user utilizes sourdough starter discard to make King Arthur's sourdough coffee cake. They even specified in the comment section that sourdough was primarily used for taste and to add moisture to the cake. However, yogurt can also be used since it has live cultures and provides a similar consistency and sour tang to your cake. Some bakers even opt for a sour cream coffee cake recipe, which is a great option if you don't have a sourdough starter on hand.
Making sourdough coffee cake can feel like creating a new version of a classic dessert. Not only is sourdough flavorful but it has also been touted for its gut health benefits, with some people claiming that it's easier to digest. Of course, many changes can be made to sourdough coffee cake for health reasons. Gluten-free, dairy-free, and refined-sugar-free recipes are popular variations. 
Other common additions to sourdough coffee are fruits and nuts. While adding pecans or walnuts to the top of your crumb coating is quite common, modifying the flavor profile of your cake with apples and cinnamon or even lemon and cardamom can create a unique version. One of the great qualities of coffee cake is its versatility and adaptability. Whether you're adding new spices, dried fruit, or sourdough starter, it will still pair deliciously with a cup of coffee.