Disney World Festival Of The Holidays' German Food Is Worth Celebrating
While Christmas cards and snowglobes seem to depict a British Christmas (Victorian in vintage) as the ne plus ultra of holiday tradition, in fact, many of the customs we hold so dear come from Germany. Christmas trees, advent calendars, gingerbread houses, and even candy canes are all German in origin, as are numerous holiday foods, and a small selection of these is front and center at the 2023 Epcot Festival of the Holidays. This food fest starts the day after Thanksgiving and runs through the penultimate day of the year, which is known in plain English as December 30.
The Bavaria Holiday Kitchen, which is located in Epcot's Germany Pavilion, will offer three different food items. The first of these is a pork schnitzel in a mushroom gravy with sides of red cabbage and spätzle. The second one, cheese fondue, could well be more of a Swiss specialty since meat fondue is more popular in Germany. But the two countries at least share a border, so there's that. The bread bowl the fondue comes in, however, actually has roots in Ireland. Even the Linzer cookies served for dessert aren't strictly Germanic, as Linz, the city from which the original Linzer torte takes its name, is in Austria. Still, these various German or German-adjacent dishes will certainly make for a hearty holiday meal.
Epcot's German beverage selection, however, is a little short on non-boozy options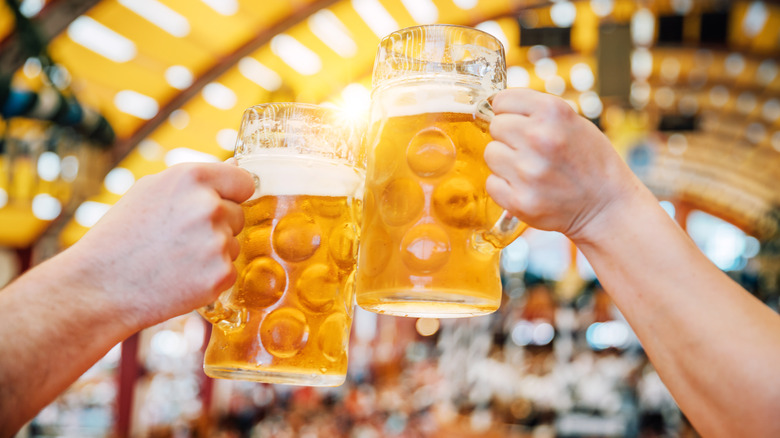 Nikada/Getty Images
One thing that may disappoint visitors to the Epcot Festival of the Holidays is the fact that all of the beverage options at the Bavaria Holiday Kitchen seem to be boozy ones, which is also the case at the American Holiday Table, Char & Chop, and Bubbles & Brine stations. Most feature far more booze than food options — at the Germany Pavilion, while you've only got those three foods to sample that we described above, your beverage choices include several German or German-style beers, German hard cider (apparently it is a thing), riesling, and the holiday mulled wine known as glühwein.
While all this may satisfy guests who are looking to imbibe, anyone who is not of legal drinking age, forbidden to drink for religious or medical reasons, will be driving home from the event, or just does not enjoy alcohol may well be disappointed in Disney. After all, statistics (including Drizly's 2023 Consumer Trend Report) show that interest in nonalcoholic beverages continues to rise, with nearly 25% of consumers who identify as Millennials or Gen Zers drinking these on a regular basis. FYI, Disney, St Pauli makes a non-alcoholic beer, and nonalcoholic gluhwein is also commercially available, so maybe one or both of these might make a great addition to next year's holiday festivations.