The Taco Bell Hotel: Here's What's On The Menu At The Pop-Up Resort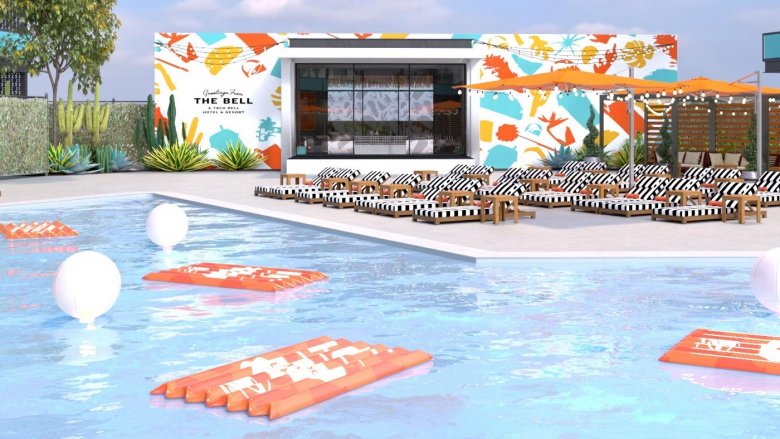 Taco Bell
In May 2019, Taco Bell got the Internet buzzing with its announcement that The Bell: A Taco Bell Hotel and Resort would be popping up in Palm Springs, California. The press release promised that "everything from guest rooms to breakfast and poolside cocktails will be infused with a Taco Bell twist" at this "destination inspired by tacos," but didn't give up any more information on the planned eats, other than to say that it "will deliver beloved iconic flavors and introduce new menu surprises only available at the hotel."
When reservations for the five-day August pop-up opened in June, they sold out in two minutes flat, proving that guests didn't really care what they were eating, so long as they were eating it at The Bell. But the wait is over, and while we might not be able to enjoy these dishes at the "tacoasis" ourselves, we can still drool over what these lucky guests will be noshing on poolside.
The impressive menu at The Bell was created by chefs Rene Pisciotti (the evil genius behind Nacho Fries) and Josh Han, and it was no small feat. Pisciotti told People that the process was "daunting and exhausting," and says he has between 100 and 150 draft menus for the event, explaining, "...every hour of every day I go in and make a small tweak here, a small tweak there." 
So what made the cut? 
According to the press release, the menu will feature "iconic Taco Bell favorites, yet-to-be-released test items, and an unexpected take on a resort poolside menu." Classics like Doritos Locos Tacos and bean burritos will be available, but it's the new dishes that really pique our interest. Pisciotti says that two of his favorite creations to make the menu are the Avocado Toast-ada, which is "served on local multigrain toast with avocado, breakfast radish, chipotle seasoned sorghum and diablo puffs" (a sort of vegan chicharron made with Taco Bell's diablo sauce, of course), and the Fire Chip Chilaquiles, a twist on the classic Mexican dish that uses Taco Bell's Fire Chips in place of plain ol' tortillas. 
There's also the drool-worthy Toasted Cheddar Club that skips the bread in favor of a cheddar Chalupa shell (obviously). The sandwich comes piled high with "hand-breaded crispy chicken, jalapeño bacon, avocado, sharp cheddar, lettuce, tomato and aioli," and is served with Nacho Fries. And to wash it all down guests will sip on a Baja Blast Birthday Freeze — a twist on the Mountain Dew Baja Blast, made to celebrate the drink's 15th anniversary. The big question is, will that come in cocktail form?
As for room service, that will be breakfast only, but will feature a build-your-own breakfast taco bar complete with all the fixings. From morning to night, it sounds like the guests at The Bell will be indulging in some seriously upgraded (and seriously delicious) Taco Bell grub.