Taco Bell Hacks You Need To Know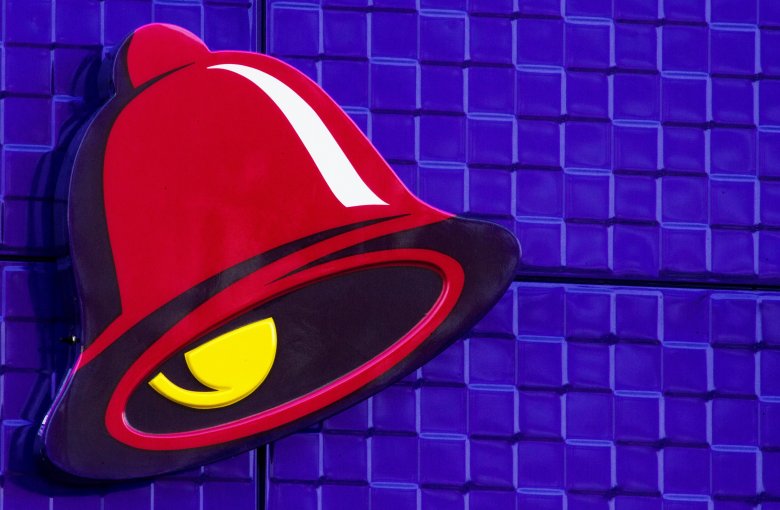 Getty Images
Taco Bell is well-known for its quirky and distinctive product names — think chalupa or doubledilla — that sound vaguely Mexican, but are really a hybridization of cheap American fast food and actual Mexican cuisine. And as silly as a quesalupa sounds, if you're a Taco Bell fan, odds are pretty good that you're going to like it anyway. So what if we told you that you can take your next Taco Bell binge even further? You'll be happy to know there are a variety of ways to customize and hack the standard Taco Bell menu to some super delicious ends. Start with menu items you've always known existed, add a few extra touches, and end up with a mind-blowing mouthful of deliciousness that can only be achieved by the Bell. Some of them may require you show up at the end of breakfast hours to increase your chances of mixing breakfast items with regular menu items, but isn't scheduling an early lunch worth the flavor you'll get in return? Here are some of the hacks that every Taco Bell aficionado needs to know. 
Loaded baked potato burrito
Taco Bell officially got in on the breakfast game back in early 2014, joining fast food juggernaut McDonald's as a provider of quick morning eats. And with the introduction of breakfast nationwide came the introduction of something else to the menu: bacon. And this pork product, beloved by carnivores and omnivores alike, doesn't have to stay in the breakfast lane. So naturally, this hack should make its way onto your Taco Bell bucket list. 
There's no wrong way to start, so we'll default to what seems the most basic. Order a cheesy potato burrito, but have them sub out the ground beef for bacon. Lots and lots of bacon. Then double the cheese, and boom, you have the loaded baked potato burrito. Serve with the sauce of your choice, be it fire or diablo, and enjoy.
Sweet breakfast crunchwrap
Speaking of breakfast, Taco Bell has a variety of options ranging from the bargain priced mini skillet bowl to the gluttonous grande scrambler. And if you're feeling especially cavalier, there's the breakfast crunchwrap combo, which consists of a breakfast crunchwrap (with bacon), a two-pack of Cinnabon delights, and a medium beverage. That's a filling way to begin your day for sure!
If you're already eating it as a combo, why not go whole hog and smoosh it all together? Use this hack and have the crunchwrap prepared with the Cinnabon delights inside. The result is a delicious, bacon forward, sweet and savory combination of pleasing textures. Your cholesterol may increase on the spot, but it's worth it for the all-out indulgence. 
Cinnamon cheese twists
The cinnamon twists you can get at Taco Bell are an Americanized riff on churros, a classic Spanish dessert (or snack) comprised of light, fried dough served hot with cinnamon and sugar. And while they're meant to be eaten as ordered, it's always fun to experiment with different flavor combinations. Aren't we grateful to the first person to dunk Wendy's fries in a frosty? 
For this hack, which is pretty simple, just order a side of nacho cheese sauce with your cinnamon twists, and voilà! You now have cinnamon cheese twists, a dipping snack that combines sweet and savory flavors, as well as crunchy and gooey textures. Obviously the nutritional content isn't going to be healthy or good for you, but if you wanted nutritious, you'd be ordering other items.
Tostada quesadilla
Taco Bell is a great place to eat if you're on a tight budget and need some protein. They have a tasty variety of items on their dollar menu, including the cheesy bean and rice burrito, and two kinds of breakfast tacos. Additionally, there are also items on the menu that can marry very well together.
Perhaps the best pairing on the dollar menu is that of the mini chicken quesadilla and the spicy tostada. One is cheesy and grilled, while the other is crunchy and packs a punch, so why not pair them in one delicious bite? Follow this simple hack and you can — simply break a tostada into two pieces, and tuck each half into a mini chicken quesadilla (so you'll need two of those). That's a very filling meal for $3, and the least expensive textural pleasure on the menu.
Brunch nachos
Nachos are a staple of American game day food because frankly, they're just delicious. How can you go wrong when chips and cheese are involved? Nachos are also easily customizable by nature, so it's inevitable that there's a tasty way to hack the standard nacho offerings at Taco Bell. 
This one starts with one of the humble dollar menu offerings — triple layer nachos — and turns them into brunch nachos. When you're ordering, ask to have the red sauce omitted. Then, ask to have the three cheese blend added. At the same time, order a mini skillet, a side of guacamole, and if you're down, some hash browns. Once you have everything on your tray, spread both the guac and the contents of the mini skillet on top of the nachos. Crumble the hash browns over the top, and you've got brunch.
Chicken bacon ranch gordita crunch
If ever there was a classic American flavor profile, chicken with ranch and bacon is a serious contender for the top spot. It's found in salads, sandwiches, and all manner of snack foods. It helps that chicken is a super versatile protein that absorbs any flavor you pair with it. And bacon and ranch are both assertive and complimentary, so it's no wonder they all marry so well together. 
You can hack the Taco Bell menu pretty easily to attain this trifecta of yum, especially since the Doritos taco shells are on the menu. Start by ordering a Doritos cheesy gordita crunch, subbing out the beef for chicken. Then, sub out the standard nacho cheese shell for a cool ranch shell. Top it off with bacon, and there you have it!  
Overloaded potato soft taco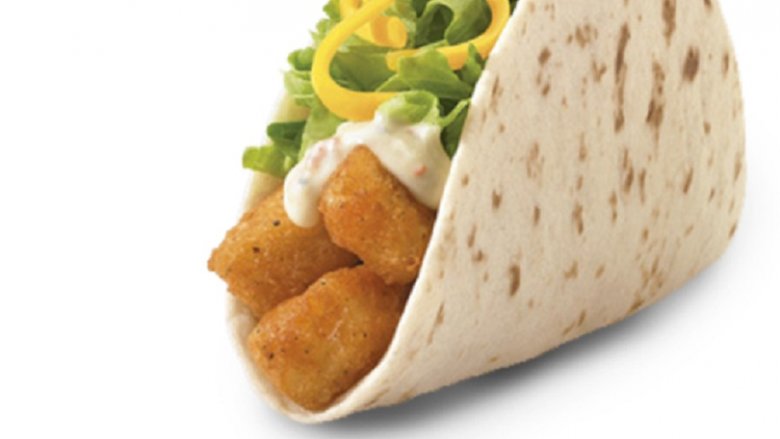 Taco Bell
The humble potato, with it's lack of flavor and inexpensive price tag, is a great candidate for frying. You can impart flavor and attain a desirable texture with a little skill and a lot of butter. Or, you can head over to Taco Bell and have someone else make it for you.
If you're feeling especially hungry for some fried spud, hack yourself an overloaded potato soft taco — it's pretty easy. Start by ordering a basic spicy potato soft taco, subbing out the plain lettuce for romaine. Then, add three items: premium seasoned rice, pico de gallo, and guacamole. The result is a flavorful, plant-based flavor bomb with some awesome textural elements. Top it off with fire sauce for an extra kick.