How To Get Free Food Near You In August 2019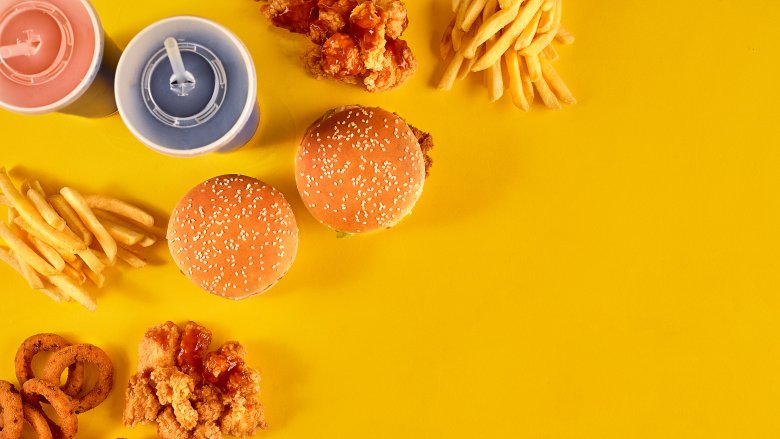 Shutterstock
August can be a melancholy month. Although summer is still in full swing, by now we're seeing those dreaded "back to school" signs popping up everywhere, and it's kind of a bummer even if you've been out of school for more than a few years. What's more, August manages to somehow combine what seem like some of the hottest days of summer with the constant reminder that the season is actually drawing to a close, leaving us with that FOMO feeling. Did we get enough beach time? Did we visit all the outdoor cafes and beer gardens? Did we manage to hit every last fair and festival? Have we made the most of every minute of our soon-to-be-over summer?
Sheesh, stressful. But you know what isn't stressful? Free food. We're here to make sure that whatever summer delights you may have missed out on, freebies from your favorite fast food chains will not be among them. Snack away your stress, and do it for free! (Well... perhaps buy one, get one free.) Check back throughout the month of August 2019, as we'll be updating it regularly as the free food deals just keep on coming. And the best part is, you can indulge all you like without having to worry about getting in shape for beach season. Before you know it, we'll be back to hiding any late-summer pudge under fall sweaters, so at least there's that.
Here's where to get free food in August 2019:
Starbucks
The deal: Free shot of Nitro Cold Brew at all Starbucks locations that offer the drink
The date: August 2, 2019 (but only "while supplies last")
Various restaurants (via DoorDash)
The deal: Subscribers of DashPass (DoorDash's monthly subscription service) will receive freebies when ordering from various restaurants. On Monday, August 5, get a free slice of Very Cherry Ghirardelli Chocolate Cheesecake from The Cheesecake Factory (with code DASHPASS1). On Tuesday, August 6 get free chips and salsa from Chipotle (with code DASHPASS2). On Wednesday, August 7 get a free medium Frosty from Wendy's (with code DASHPASS3). On Thursday, August 8 get a free Original Pretzel from Auntie Anne's (with code DASHPASS4). On Friday, August 9 get a free Impossible Whopper from Burger King (with code DASHPASS5).
The date: August 5-9, 2019
A&W Restaurants
The deal: Free small root beer float, no purchase necessary
The date: August 6, 2019 (aka National Root Beer Float Day), from 2 p.m. to 8 p.m.
Wienerschnitzel
The deal: Free root beer float with any purchase (coupon required)
The date: August 6, 2019
BurgerFi
The deal: Get a free small custard in honor of National Custard Day by downloading the app and signing up for a free rewards membership
The date: August 8, 2019
Noodles and Company
The deal: Upgrade your entree to zucchini noodles (zoodles) at no extra charge, in honor of National Zucchini Day
The date: August 8, 2019
Wendy's
The deal: Free six-piece spicy chicken nuggets when you use code SPICYNUGGS with your DoorDash order
The date: August 12-19
McDonald's
The deal: Buy one, get one for $1 on a Quarter Pounder with Cheese, Big Mac, Filet-O-Fish, or 10-piece Chicken McNuggets (mix and match)
The date: Starting August 13, 2019, for a limited time
Carl's Jr.
The deal: Free Beyond Famous Star burger with purchase of a large drink when you say "Beyond Upgrade" when ordering
The date: August 15, 2019
Wendy's
The deal: Free Baconator Fries with any purchase through the mobile app
The date: Through August 18, 2019
White Castle
The deal: Celebrate the 15th anniversary of Harold & Kumar Go To White Castle by getting 10 free sliders with delivery purchase through Uber Eats
The date: Through August 31, 2019
McDonald's
The deal: Free McCafe beverage after purchase of five through the mobile app
The date: Through September 1, 2019
Burger King
The deal: Buy one, get one free Whopper with coupon
The date: Coupon expires September 15, 2019
Wendy's
The deal: Free Jr. Bacon Cheeseburger with any purchase through the mobile app
The date: Through September 24, 2019