Subway Jumps On The Plant-Based Meat Bandwagon With New Sandwich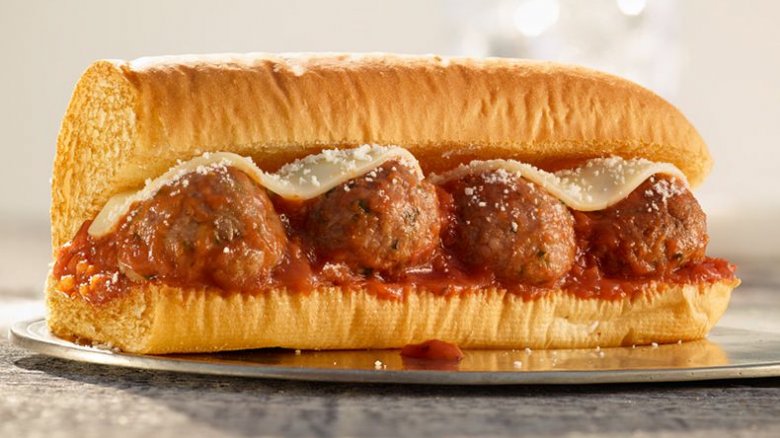 Subway
From Burger King's Impossible Whopper to Del Taco's Beyond Meat crumbles, more and more fast food chains have been adding plant-based meat options to their menus. Now, according to a company press release on August 8, Subway is hopping on the bandwagon, too, with their new, limited-time only Beyond Meatball Marinara sub.
For the past few years, Subway's business has been lagging, and some surmise that the company is hoping that a partnership with the trendy Beyond Meat company can turn things around (via CNBC). The maker of plant-based meat alternatives has seen impressive growth since its IPO in May, and has already partnered up with fast food chains like Dunkin', Del Taco, and Tim Hortons. 
Subway is the company's latest partnership, and the sandwich they've created, complete with the first-ever Beyond Meat meatballs, sounds pretty tasty. Starting for a limited time in September in 685 stores across the U.S. and Canada, customers can order a vegetarian spin on the chain's classic Meatball Marinara sub. The new Beyond Meatball Marinara sub, which features plant-based meatballs "drenched" in marinara (Subway's word, not ours), are then topped with provolone and grated Parmesan cheese, and toasted until the cheese is melted and the bread is crispy.
For vegan diners, making the Subway Beyond Meatball Marinara sub vegan is easy. Choose one of the chain's egg, dairy, and cheese-free breads, like classic Hearty Italian, 9-Grain Wheat, or plain Italian, then simply ask your Sandwich Artist to skip the cheese (via PETA) — the marinara is already vegan, according to Subway's ingredient list. You can even add as many of the veggie toppings as you want to your vegan Beyond Meatball Marinara sub for extra flavor and nutrition. 
Subway's only current vegetarian sandwich option is the Caprese sub, while vegan diners can feast on a cheese-free Veggie Delite — not exactly a mecca for the meat-free crowd. Some locations also carry veggie patties, but according to in-the-know Redditors, not all of them are vegan, so be sure to ask. 
Can the Beyond Meatball Marinara save Subway from its slump? Only time will tell, but with sales of plant-based foods up by 11 percent in the past year, their partnership with Beyond Meat could certainly help (via CNN).