Chick-Fil-A Knockoffs Just Landed At Sam's Club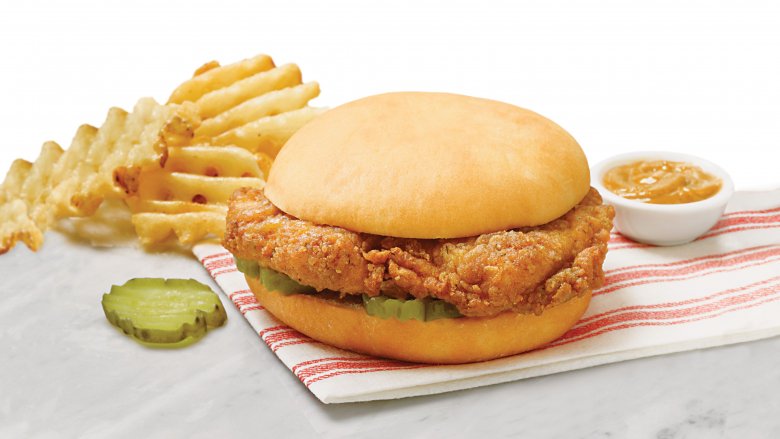 Sam's Club
Chick-fil-A is one of the most popular restaurants in the United States, but like many eateries, they're not open 24-7 — and they're not even open every day of the week. And if you don't happen to have one nearby, you can't simply just hop on over there when you're hungry. What's a Chick-fil-A fan to do, then, when the craving for an original chicken sandwich and their unique waffle fries strikes? 
Happily, there is some good news on that front. Sam's Club, which debuted bag of nuggets in their frozen section that tasted remarkably like Chick-fil-A nuggets last August, has outdone itself once again, much to everyone's delight. Sam's now has two brand new offerings for the CFA fan — a chicken sandwich and waffle fries(!) that taste almost as good as the real deal. These Chick-fil-A knockoffs can be found in your local Sam's Club freezer, and while one is here to stay, the other is only available for a limited time. If you like Chick-fil-A, you'll want to head over to the warehouse store ASAP to stock up and let the retailer know you'd like them to hang around. 
In the Sam's Club frozen section, you can find this treasure called Member's Mark Southern Style Chicken Sandwich. At $16 for a bag of 10, you can now heat up a decent Chick-fil-A copycat chicken sandwich right in the comfort of your home, bun and all (no pickles included) for just $1.60 a sandwich. To compare, rolling through your local Chick-fil-A drive thru and ordering an original chicken sandwich will cost around $4.
The reviews, so far, say that while this sandwich isn't quite as good as the real deal, it's an excellent alternative, which should make any CFA fan happy. One reviewer writes, "These are FANTASTIC for someone who loves Chick-fil-A chicken sandwiches. I hope Sam's keeps these and the waffle fries! They are perfect for my kids after school! My family loves Chick-fil-A so this was a hit!"
To prepare one of these frozen sandwiches, all you have to do is open one end of the wrapper for venting purposes and microwave for 80 to 90 seconds on high. Let it hang out in its wrapper for another minute after the beeping stops, remove from wrapper, and enjoy (don't forget to add a few pickle slices, though, for a true copycat).
No true CFA meal experience is complete without waffle fries, and you can find these delightful Chick-fil-A copycats in the frozen section, too. Called Member's Mark Southern Style Waffle Fries, you can get a 4-pound bag for around $5 — again, an amazing steal when compared to the price of the real thing at your favorite drive-thru restaurant. At Chick-fil-A, a small order of waffle fries will set you back around $2, so if you buy a few orders of those, you've already spent more than $5, and you won't have four pounds of waffle fries to eat, either. 
The reviews for the waffle fries are starting to trickle in as well. One particular reviewer for the fries writes, "Just like the restaurant we all know and love. Very easy to make and taste just like the real thing at an amazing price!"
The frozen waffle fries take longer to make than the 90-seconds-in-the-microwave sandwiches do, but it's worth it. Conventional oven cooking will take anywhere from 20 to 28 minutes, depending on how much of a bag you're making. However, you can also use a convection oven for around 16 to 18 minutes, or fix them in an air fryer for 12 to 13 minutes.
If you're wanting some nuggets to go with your fries instead of a chicken sandwich, you can still grab the Sam's Club CFA copycat nugs in their freezers today. At 10 bucks for a 3-pound package, it's still an incredible deal, price-wise. Both the nuggets and sandwiches include that hint of dill flavor, which helps give them that distinctive CFA taste. 
Both of these newer items are available right now at your local Sam's Club, but keep in mind that the copycat waffle fries are only available for a "limited time." A Sam's Club representative told Elite Daily, though, that if there is enough consumer demand, they might be around for even longer, so head out and stock up so they know that it's what the people want.