How To Make A Chick-Fil-A Chicken Sandwich That Tastes Just Like The Real Thing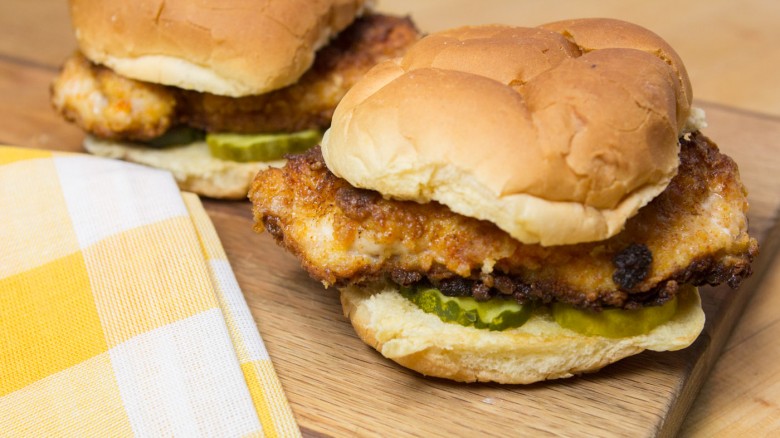 Prep time: 90 minutes. Cook time: 10 minutes. Servings: 2 sandwiches.
With headquarters in the southern city of Atlanta, the insanely popular Chick-fil-A is well-known for its delectable chicken sandwiches. Since its founding in 1946 by Truett Cathy, the restaurant has expanded to over 2,000 locations across the United States, making it easier to get your hands on their famous crispy-on-the-outside, juicy-on-the-inside chicken sandwich.
Let's get right to the chicken sandwich then. It's a simple thing of pure perfection if you think about it. A toasted, lightly buttered hamburger bun that's slightly sweet, impeccably seasoned chicken breast breaded and cooked to a crisp platonic ideal, and dill pickle chips. While these components don't seem like much of a big deal on their own, together they create a kind of explosive sandwich magic.
How to recreate the magic at home? While I love Chick-fil-A's chicken sandwich and its countless glorious qualities—from its zesty, salty seasonings to the chicken's impossibly crisp, craggy crust to the mildly sweet bun and sharp pickles—I can't stand to wait in the outrageously long lines at the New York City location. As such, I had to figure out a way to copy this irresistible sandwich in my own home. And so the kitchen experiments began. When it comes to recreating restaurant foods, I believe in sharing the love, so here are my takeaways about how to make a Chick-fil-A-inspired chicken sandwich without leaving home!
For moist chicken cutlets, brining is non-negotiable. Ideally, yes, you want to leave the chicken in the brining liquid overnight, but if you're only making two sandwiches, I say go with an hour tops. A wet-dry flour mixture for dredging lends the meat a thick breaded layer that'll hold up to frying and result in a crispy crust. Instead of messy deep-frying, here you can achieve similarly delicious results with pan-frying. Sandwich your copycat chicken between toasted and buttered buns along with pickle chips and enjoy ASAP.
Ingredients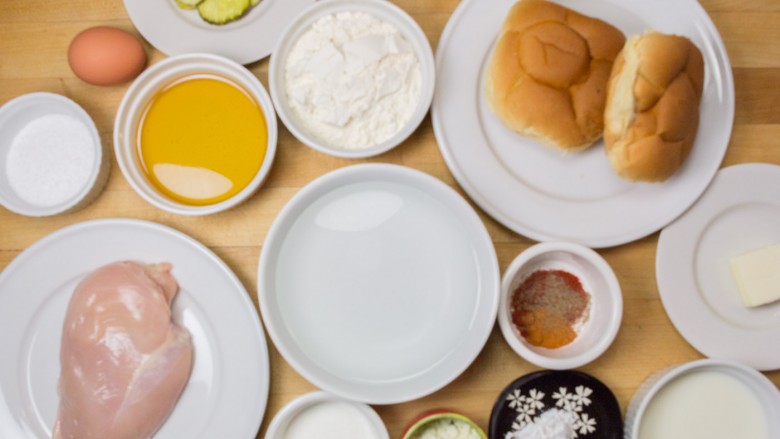 Shopping list
3 tablespoons plus ¼ teaspoon kosher salt, divided
2 tablespoons plus 1 teaspoon granulated sugar, divided
2 cups water
1 boneless, skinless chicken breast
1 teaspoon paprika
¼ teaspoon cayenne pepper
freshly ground black pepper
½ cup whole milk
1 large egg
¾ cup all-purpose flour
1 tablespoon milk powder
½ teaspoon baking powder
½ cup peanut oil
2 hamburger buns
1 tablespoon unsalted butter
4 to 6 dill pickle chips
Equipment
Prepare and brine chicken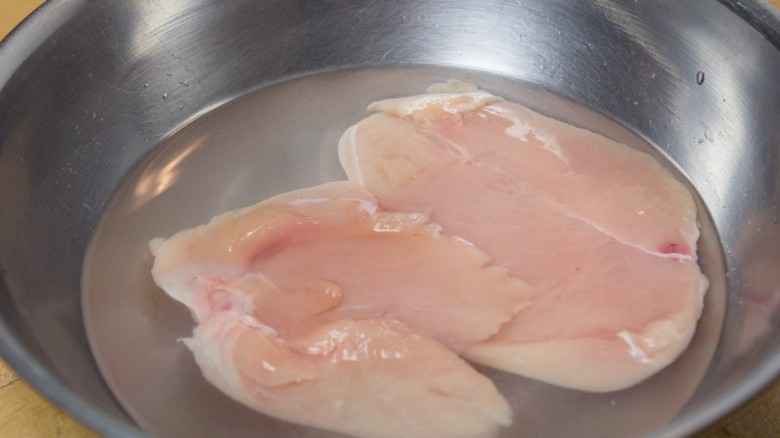 Place the chicken breast on a cutting board and with one hand on top of it, carefully slice horizontally to create two chicken cutlets. In a medium shallow bowl, whisk together 3 tablespoons kosher salt, 2 tablespoons sugar, and water until combined. Add the chicken and toss to coat. Set aside for at least 1 hour.
(Some copycatters swear by using pickle juice in the brine. You can certainly try this and should keep doing it if you like it better, but according to the ingredients listed on Chick-fil-A's website for the sandwich, pickle juice is not used in the brine.)
Prepare dredging station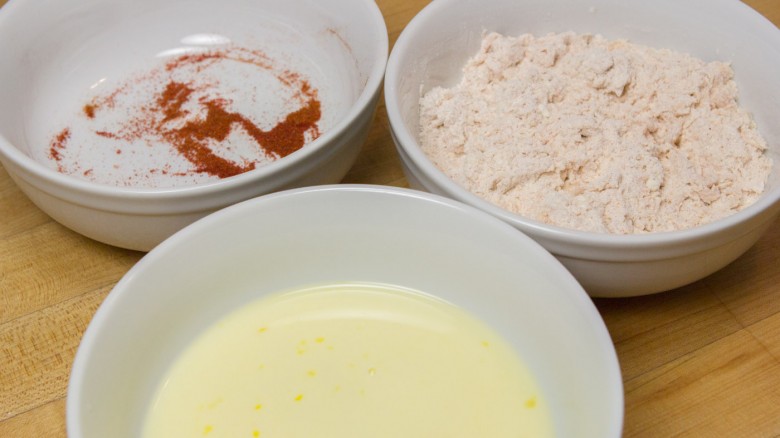 In a small bowl, stir together the paprika, cayenne pepper, and as much black pepper as desired. In a separate medium bowl, whisk together the milk and egg until combined. In a third medium bowl, stir together the flour, milk powder, baking powder, about 1 tablespoon of the spice mixture, remaining ¼ teaspoon kosher salt, and remaining 1 teaspoon sugar until combined. Add 1 to 2 tablespoons of the milk mixture and using your fingertips, rub together until the flour mixture is slightly moist.
Pan-fry chicken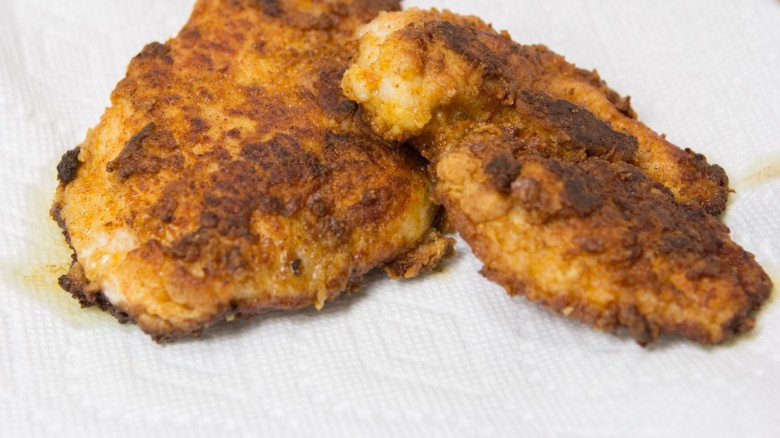 Heat the peanut oil in a large pan over medium-high heat. Remove the chicken from the brine, pat the cutlets dry with a paper towel, and season all over the remaining spice mixture. Dip the chicken in the milk mixture, then dredge it in the flour mixture, shaking off any excess. When the oil is shimmering and the pan is hot, carefully lower the chicken pieces into the oil and fry until golden and crisp on the bottoms, 4-5 minutes. Flip the cutlets and fry until crispy all over 3-4 minutes more. Transfer to a paper towel-lined plate to drain.
Toast buns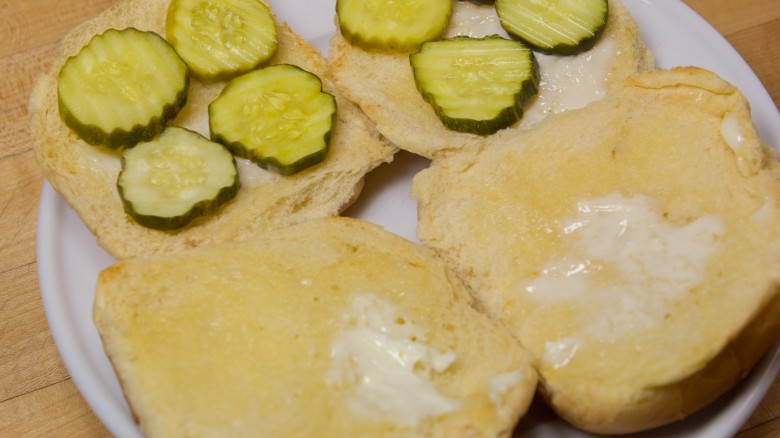 While the chicken fries, halve the buns if necessary and place cut-side down in a medium pan over medium heat. Toast until lightly golden, about 2 minutes. Slather with butter, dividing evenly. Add dill pickle chips to the bottom buns, dividing evenly.
Assemble chicken sandwiches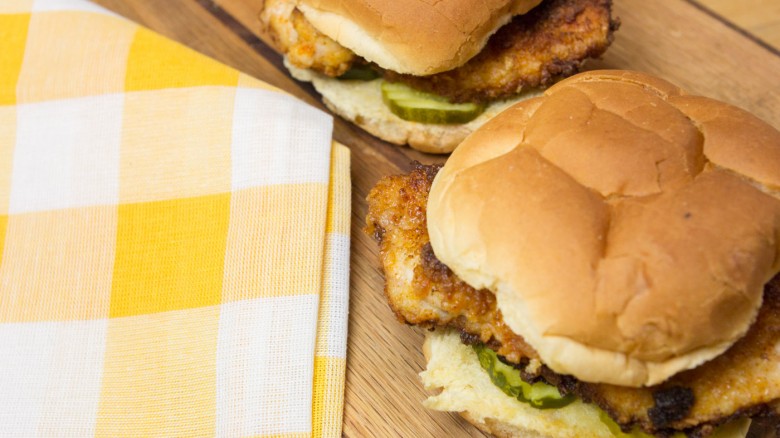 Add the chicken cutlets to the bottom buns, finish with the bun tops, and enjoy chicken sandwich bliss.