Here's What Meghan Markle's 38th Birthday Cake Looked Like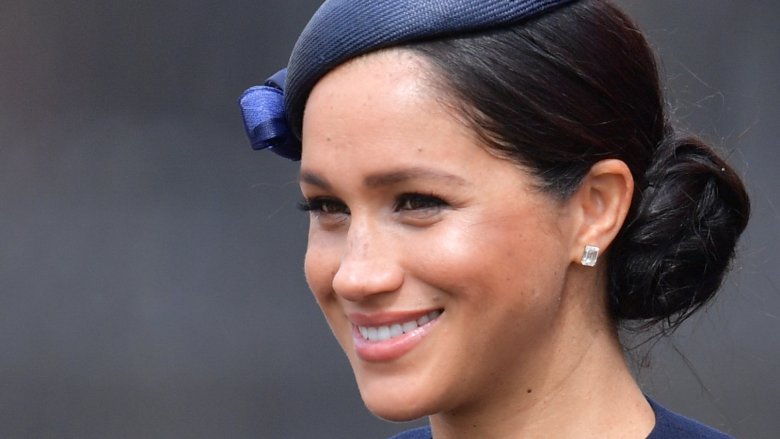 Daniel Leal-olivas/Getty Images
Meghan Markle, the Duchess of Sussex, recently had her 38th birthday, and she celebrated with (what else?) cake. We finally got a glimpse of Markle's gorgeous birthday cake, and it looks both extravagant and simple all at once, which shouldn't come as a surprise considering Markle's casual but sophisticated personal style (via Good Morning America). 
Thanks to Omid Scobie, a royal correspondent who tweeted out a picture of the cake, we know that the carrot layer cake featured minimalist "naked" frosting, with a crown of dried spiced orange slices, sprigs of fresh rosemary, gooseberries, pepitas, and what looks like crumbled pieces of cake or cookie (via Bravo's The Feast). Last but not least, "Happy Birthday Meghan" is inscribed on top of the cake in scrolling cursive written in dark brown icing. Thank goodness cake isn't one of the foods the new royal is prohibited from eating.
The cake wasn't baked by anyone at the royal palace, but instead by London-area Luminary Bakery, which Markle recently featured in the "Forces of Change" September issue of British Vogue that she guest-edited. 
Luminary Bakery is more than just a bakery. While they do sell cakes and other sweets, the bakery's main focus is on training and mentoring disadvantaged women so they can gain skills that will aid them in finding future employment and housing, from teaching them to bake to providing a community atmosphere that helps them make connections with others and build a social support system. 
So far the bakery has graduated about 60 women from their program, 10 of whom later opened up their own businesses. 
Markle was so impressed by their work that she included them in her issue of British Vogue, sending them a note that read in part, "...The work you do, what you represent to the community, the spirit of the women there- you all embody what it means to be 'forces for change.'" (via Twitter).