Starbucks Unveils First New Pumpkin Drink Since The PSL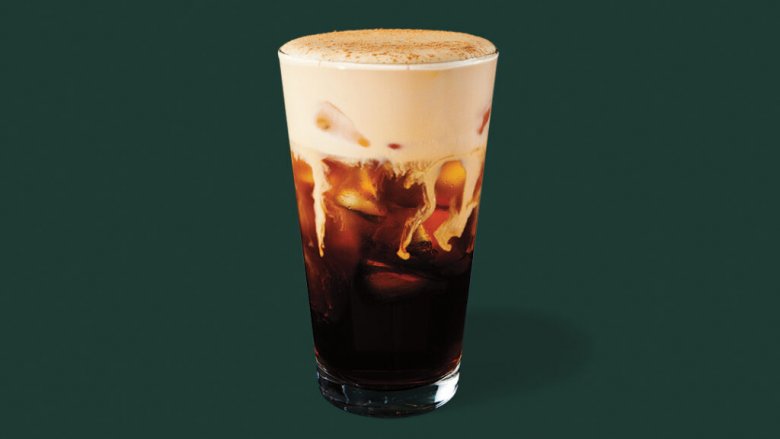 Starbucks
Fall intensifies this year for pumpkin-loving Starbucks customers in the U.S. and Canada as the company has announced the launch of the first new pumpkin-based drink since they rolled out their famous Pumpkin Spice Latte in 2003 (via CNBC). On Tuesday, August 27, you can not only order a PSL at your local Sbux, but you can grab a brand new pumpkin delight called the Pumpkin Cream Cold Brew. Fall is (un)officially here, folks.
Starbucks has served up over 424 million PSLs in the U.S. (via Starbucks) over the last 16 years, and the Starbucks Research & Development team worked really hard to put together a cold brew beverage that could do the brand justice. It took 10 tries, but they finally settled on the perfect blend of Starbucks Cold Brew and vanilla, topped off with pumpkin cold cream foam with a sprinkling of pumpkin spice topping. 
While Starbucks is the go-to coffee spot for hot beverages for many people, cold drinks have become a lot more popular as of late. Currently a whopping 50 percent of beverage orders are for cold drinks, which is up from 37 percent in 2013. It's not just limited to their regular cold brew, either. You can also get iced coffee, Frappuccinos, iced tea, Refreshers, and even more. This Pumpkin Cream Cold Brew is just another delight for those who love pumpkin but aren't looking for a hot drink quite yet — you know, since it's still August.
"With customer excitement for PSL sweeping the nation each fall, we wanted to create a new beverage that combines two of our customers' favorite things, pumpkin spices and cold brew," said Matthew Thornton from Starbucks beverage R&D team. "With each sip of Pumpkin Cream Cold Brew, you'll enjoy the familiar, creamy, flavor of pumpkin spice followed by a refreshing taste of cold brew, for a cool beverage that will have you wishing it was fall all year long."
If you're ready for fall flavors, you can get your pumpkin spice on tomorrow — and this time, you'll have a new drink to try out.