KFC Joins The Plant-Based Meat Craze With Beyond Fried Chicken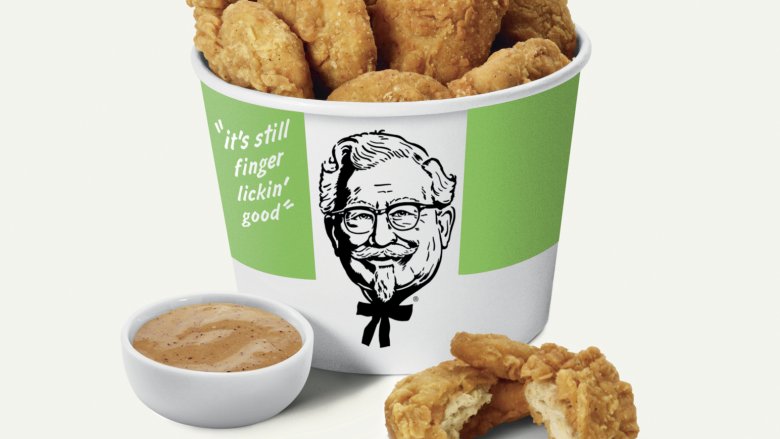 Beyond Meat
On August 27, there will be something brand new at KFC: plant-based chicken. A single Atlanta restaurant, near Sun Trust Park, will start serving Beyond Fried Chicken this Tuesday (via Forbes). The plant-based chicken is a collaboration between KFC and Beyond Meat, and while plant-based beef has already started to appear elsewhere (hello, Burger King), KFC becomes the first quick-service restaurant to offer plant-based menu items on the chicken side. 
Customers will be able to order Beyond Fried Chicken as either nuggets (along with dipping sauces) or as boneless wings, which are tossed in one of three flavors — Nashville Hot, Buffalo, or Honey BBQ. There are also options to include Beyond Fried Chicken as part of a meal, such as six- or 12-piece nugget combo meals, which include a side and a drink ($6.49 and $8.49, respectively). You can also grab a four-piece pack of nuggets for $1.99. Boneless wings come in either a six- or 12-piece package at $1 per wing. 
The plant-based food market has grown recently, as the Plant Based Foods Association notes that retail sales of this type of food has grown 11 percent in the last year and has a market value of $4.5 billion. Also, plant-based food sales have increased by 31 percent in the last two years, and that growth is not expected to stall out. 
While this "test" is limited to a single restaurant, KFC's president Kevin Hochman notes that testing sites will likely expand. They're hoping to draw in a couple of specific types of customers — those who used to enjoy KFC but have since stopped eating meat, and also those who still eat meat but are seeking to add more meat alternatives into their diet. 
"KFC is an iconic part of American culture and a brand that I, like so many consumers, grew up with," Ethan Brown, founder and CEO, Beyond Meat said in a press release. "To be able to bring Beyond Fried Chicken, in all of its KFC-inspired deliciousness to market, speaks to our collective ability to meet the consumer where they are and accompany them on their journey. My only regret is not being able to see the legendary Colonel himself enjoy this important moment."