The Reason Why Matt Stonie Started Competitive Eating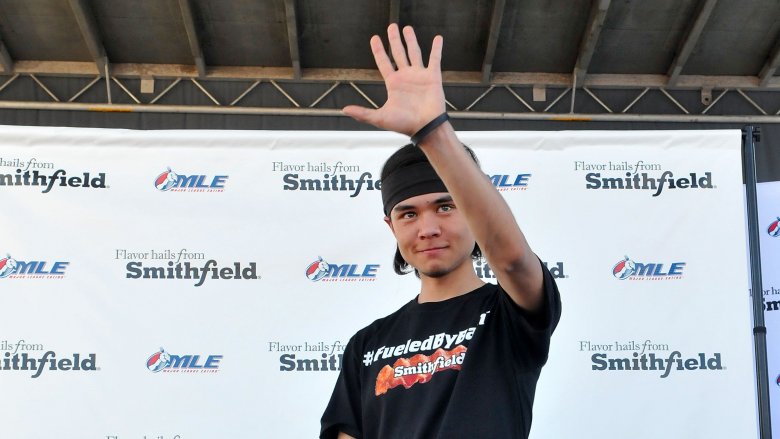 Gerardo Mora/Getty Images
In an AMA post on Reddit, Matt Stonie admits that he first entered the competitive eating world to simply make a buck. Back in 2010, there was a lobster roll eating contest in Hampton Beach, New Hampshire. The first prize was $1,000, so Stonie entered. It only took 10 minutes — and the California native was not only $1,000 richer, but he was eager to do it all over again. "I won by a quarter of a lobster roll," he told ESPN, and thought that maybe he could do this. It looks like he was right.
How good of a competitive eater is Matt Stonie?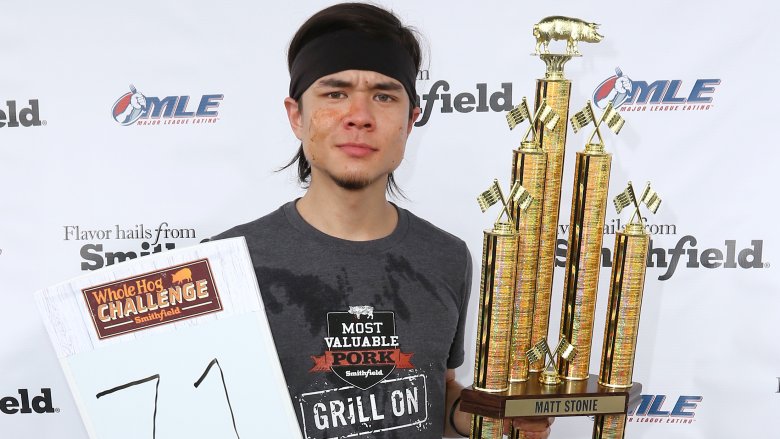 John Parra/Getty Images
Stonie's first real eating competition dates back to 2013. According to his website, Stonie downed 10.5 pounds of frozen yogurt in just six minutes. Talk about a brain freeze! The frozen yogurt competition was the first of its kind at the Phantom Gourmet Food Festival (via Patch). Stonie's nauseatingly impressive eating habits, though, didn't stop there. Since then, he has added multiple other records to his name. Stonie has consumed 85 MoonPies in eight minutes, 113 pancakes in the same amount of time, and has also downed an entire McDonald's happy meal (including the drink) in just 15.22 seconds. Not to mention, Stonie came out on top of the annual Nathan's Famous hot dog eating contest in 2015. He swallowed 62 hot dogs, upsetting fellow competitive eater Joey Chestnut, who had the pleasure of holding the title for eight consecutive years prior (via Bleacher Report).
Matt Stonie's training techniques for competitive eating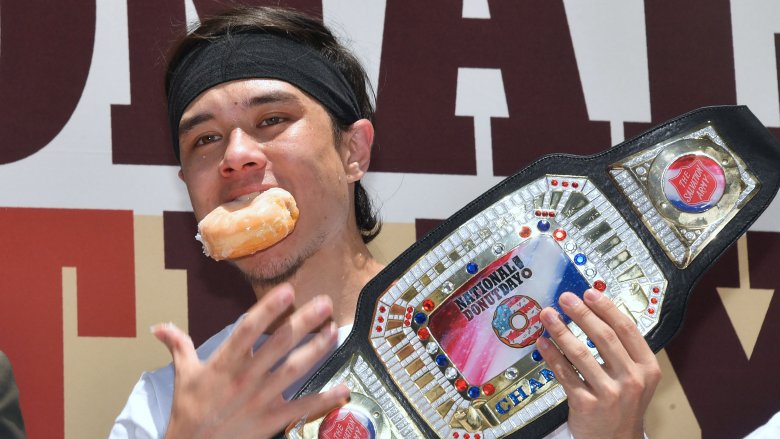 Frederic J. Brown/Getty Images
Stonie's competitive eating success isn't just pure luck. He spends a lot of time preparing prior to each competition. In order to perform best, Stonie notes that he takes into consideration the flavor and texture of the food he's about to eat. He works on his pacing and timing prior to the event and puts himself on a liquid diet as the event draws closer in order to make room for what he's about to pack into his stomach. Every detail is laid out, from how to bite the food and when to drink water. "We are professionals, we aren't just average Joes who have big appetites," he says on his website. "We've calculated our techniques and approaches to these contests, we've trained our bodies and worked for what we've accomplished." 
What is next for competitive eater Matt Stonie?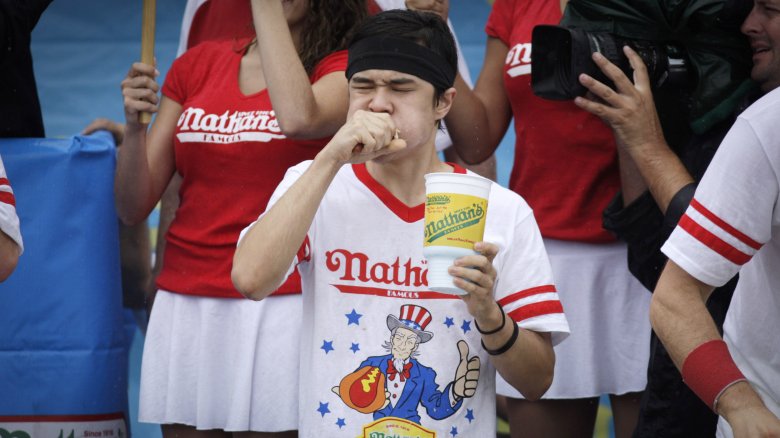 Kena Betancur/Getty Images
With competitive eating records racking up, it seems that Stonie has found his calling, but despite the hundreds of thousands of calories he's consumed over the years and the hours of meticulous preparation, there may be other avenues he'd like to pursue. When asked in his AMA Reddit post what his future holds, Stonie says the first thing that comes to mind is music. "I've always loved to perform for others," he says, "Hopefully I can pursue that in some form someday." According to his website, Stonie may also be interested in a career in nutrition. He attends Mission College in Santa Clara, California with plans to become a dietitian — an interesting career choice for a competitive eater.