Here's How Much Money Competitive Eaters Really Make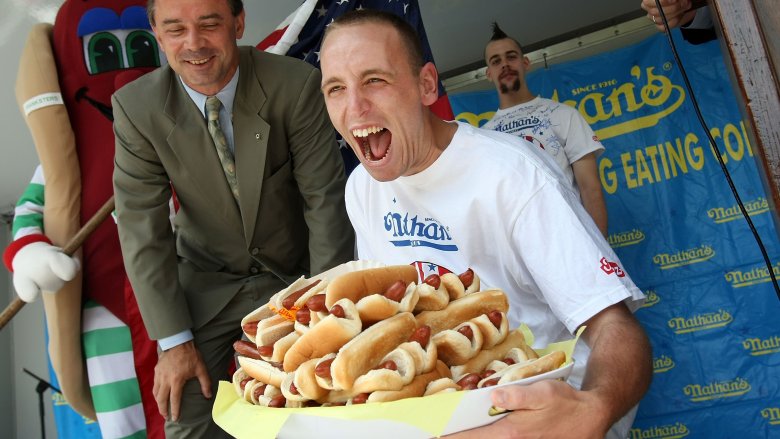 Mario Tama/Getty Images
Can you eat 62 hot dogs in a matter of minutes? If so, then you just might have what it takes to make a career out of gluttony. Competitive eaters might not garner the same sort of acclaim as professional ballplayers, but they can certainly make a professional athlete's salary — if they're good enough. When it comes to the world of competitive eating, there's more than one way to make a buck, but making a career of it isn't easy. 
Joey Chestnut, Takeru Kobayashi, and Matt Stonie are arguably the most famous competitive eaters in the world right now, and it's not uncommon to see them chowing down side-by-side at contests like the famous Nathan's Hot Dog Eating Contest in Coney Island, New York. The New York Post reported that since 2004, Joey Chestnut has earned $600,000 from winning eating contests, and that's before one factors in his endorsement deals such as his own line of hot dog condiments. Sporting News estimates Chestnut to be worth around $800,000 when all is said and done.  
Competitive eaters have other ways of earning money, too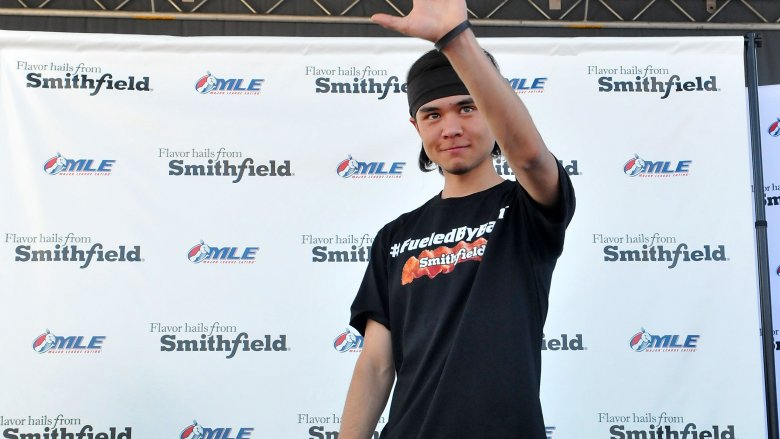 Gerardo Mora/Getty Images
Chestnut's greatest hot dog-eating competitor, Takeru Kobayashi, has a reported net worth of $3 million dollars that he's acquired through contests as well as endorsements since first turning heads at the 2001 Glutton Bowl. 
Winning eating contests is just one way to make bank through competitive eating though. Take eating sensation Matt Stonie for example. He's won fewer contests than both Chestnut and Kobayashi, but still has a net worth of $3 million in 2019, according to Naibuzz. Stonie has amassed this fortune largely through his popular YouTube channel and its 9.4 million subscribers. YouTube videos like his "10min Cup Noodle Challenge" garner millions of views within days of release, and the advertising dollars paid out could earn an estimated $6,000 a day for Stonie. 
It can be hard to earn money as a competitive eater, though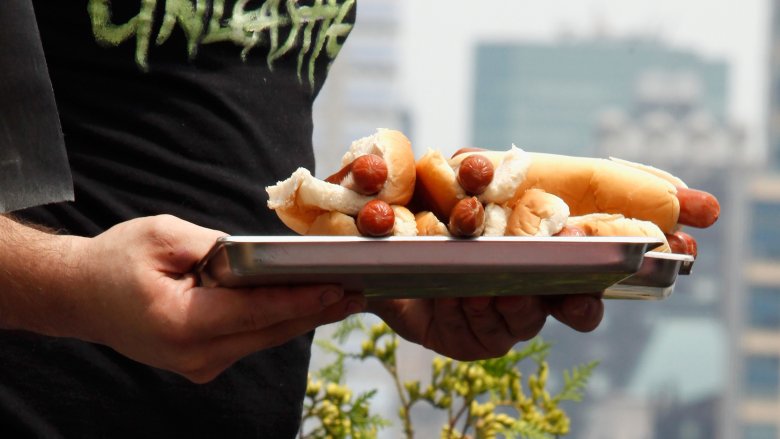 Cindy Ord/Getty Images
Of course, most competitive eaters aren't getting the endorsement deals or prize money of Stonie, Chestnut, or Kobayashi — and the latter two almost always claim the $10,000 prize in the Nathan's contest. The good news is that there are plenty of competitive eating contests around the United States, with Forbes estimating that $400,000 to $500,000 in prize money is up for grabs on the pro circuit. Eaters at the World Taco Eating Championship, for example, will be competing for a first place prize of $2,500 (via Major League Eating). It's a pretty big drop from coming in first to finishing sixth though, and that prize is only $100. 
Winning isn't everything in the world of competitive eating either. One competitive eater in a Reddit AMA session said they regularly get hired by restaurants to participate in eating contests and get paid even if they lose. However, even with 91 wins under their belt, they're still not getting rich from eating. "For now, I do have a real money-paying job," they said before adding, "I definitely can't live on what I make as a professional eater."
Hey, it's a long way to the top if you want to make your fortune eating chicken wings.