Trader Joe's Frozen Foods You'll Wish You Knew About Sooner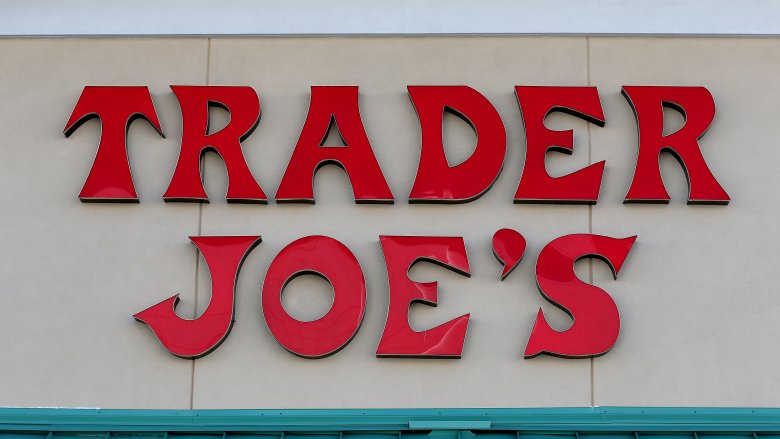 Joe Raedle/Getty Images
Trader Joe's has more than 488 locations in the USA alone, and it's become many peoples' go-to for convenient, affordable, and truly delicious food. 
Trader Joe's has lots of ready-made foods that make preparing dinner on busy nights much easier, from bagged salads to pre-made sushi and heat-and-eat soups. But one of our favorite places to scout for breakfast, lunch, dinner, and dessert is the Trader Joe's frozen aisle. 
That's where you'll find everything from breakfast pastries to frozen vegetables, meal starters like frozen rice dishes to entrees you'd never attempt to make from scratch. It's a treasure trove of foods both indulgent and healthy, offering something for all types of diets, from vegetarian, to low-carb, to purely carnivorous. 
Most of these meals cook up quickly, meaning you can stock your freezer full and have dinner within 30 minutes most nights of the week. You'll also save a ton of money on takeout, so you can save your coin for something more exciting than food — maybe one of the dozens of new streaming platforms that are coming out, so you have something to watch while you nosh! 
Trader Joe's Almond Croissants
Waking up in the mornings isn't always easy, but with a warm almond croissant in your hand and a steaming mug of coffee, things are a lot more tolerable. Making croissants, however, is a days-long process, and not a lot of people have that much time to invest in their breakfast. Thankfully, Trader Joe's has a solution. 
Trader Joe's Almond Croissants come frozen, in a box of four. To make them, you let one or more sit, covered, at room temperature overnight, so the dough can thaw and rise. In the morning, you pop the croissants into the oven, and a few minutes later you've got breakfast. 
These croissants are far better than the bland kind you can get from your grocery store bakery. They're buttery, flaky, and oozing with a marzipan-like almond paste and slivered almonds. You do have to be careful to make sure the sweet almond mixture doesn't burn, so try cooking these on a silpat or sheet of parchment paper, on a light-colored or glass metal pan, for best results. 
Trader Joe's Vegetable Masala Burger
There are two types of people in this world: those who eat veggie burgers on a regular basis, and those who think that they just don't live up to the hype. 
Trader Joe's Vegetable Masala Burgers just might change the second group's minds. 
Unlike other, blander burgers, these are laced through with warming masala spices (think cumin and coriander), and have chunks of veggies, like peas, corn, and green beans, in them for texture, and they've ranked near the top in taste tests of grocery store veggie burgers. 
The burgers are mostly made from potato, and when you cook them in a skillet they get nicely crispy on the outside while staying moist and tender within. Don't be afraid to use a little extra oil in the pan so they crisp up — compared to beef burgers, these are lower in fat, and could use some help in the pan. 
Serve them like regular burgers, on a bun with ketchup, lettuce, and tomato, or get creative. We like eating them in a pita pocket stuffed with tomatoes, raita, some fresh leafy greens, hot sauce, and a squeeze of lemon. 
Trader Joe's Chicken Cilantro Mini Wontons
Trader Joe's Chicken Cilantro Mini Wontons bear a striking resemblance to Bibigo's chicken and cilantro mini wontons, and that's a very good thing. 
The wontons can be steamed and eaten as-is, but we like preparing them in the same manner as potstickers: crisp them up in some hot oil, then add a few tablespoons of water and cover the pan. Lower the heat and let the wontons steam until cooked through, and voila!
If you're feeling lazy, you can even microwave them, though as you might expect they're better when cooked on the stove top. 
There's a recipe for dipping sauce on the back of the wonton package, though they're equally good simply drizzled with some chinkiang black vinegar, sesame oil, and soy sauce. 
You can also add the mini wontons to soup. Make your broth, then add the wontons and some quick-cooking veggies (think thinly sliced bok choy, slivered onions, and sliced mushrooms, or Trader Joe's Asian Stir Fry Veggies), letting them simmer until the wontons and veggies are cooked through. Add some crispy wonton strips, and you've got dinner.
Trader Joe's Chimichurri Rice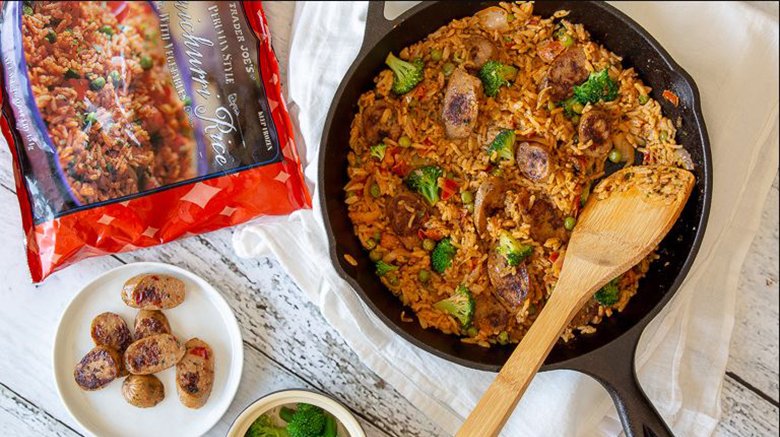 Trader Joe's
Between the rinsing, soaking, and cooking, making rice can take up a lot more time than we're prepared to spend on a weeknight. Frozen rice solves a lot those problems. The rice comes pre-cooked, and all you have to do is dump it in a skillet and heat it through. 
Trader Joe's Chimichurri Rice makes cooking a satisfying rice dish even easier than buying plain frozen rice. The rice is seasoned with Peruvian chimichurri sauce, a fragrant, herbaceous sauce made with cilantro and panca pepper paste. The rice is also flavored with shallots and lime juice, and it's dotted with peas, onions, tomatoes, and little bits of creme fraiche that melt into the rice when it cooks, so you get the occasional creamy bite. 
The rice is a suitable weeknight vegetarian entree, but you can also use it as a side dish for the rest of your meal, or even turn it into a stir fry. Trader Joe"s recommends adding their Jalapeño Chicken Sausage and broccoli florets to the rice for a hearty one-skillet meal. 
Trader Joe's Light Ice Cream
In 2019, the frozen aisle became the home to a new type of treat — light ice cream. In fact, Halo Top, a low-cal, high-protein ice cream brand, became the bestselling pint at grocery stores around the nation, which might be why, the same year, Trader Joe's introduced it's Light Ice Cream.
There are two flavors to choose from: Joe-Joe's Cookies & Cream Light Ice Cream, which pairs Trader Joe's famous sandwich cookies with a vanilla ice cream base, and which comes in at 310 calories per pint, with a whopping 20 grams of protein. 
The second flavor, which reviewers seem to prefer, is the Trader Joe's Chocolate Peanut Butter Light Ice Cream. This one has a few more calories (370), but also more protein (23 grams). It's made with milk chocolate ice cream that's swirled through with salted peanut butter. 
One benefit of choosing Trader Joe's Light Ice Cream over Halo Top? The kind from Trader Joe's isn't sweetened with erythritol, which can cause some people to experience gas and bloating. Both Trader Joe's flavors are also kosher-certified. 
Trader Joe's Broccoli and Kale Pizza Crust
Making traditional pizza crust from scratch takes a lot of time, and it's also full of simple carbs and isn't gluten-free. Vegetable-based pizza crust is a popular new alternative, but making that from scratch presents many of the same problems, and who really wants to make pizza crust from scratch when they're craving a quick weeknight meal? 
Enter Trader Joe's Broccoli and Kale Pizza Crust. 
Unlike Trader Joe's cauliflower pizza crust, the broccoli version definitely has a distinct vegetal flavor, but one that plays well with tomato sauce, cheese, and other toppings (unless you don't like broccoli, in which case, it might not be for you). 
The broccoli kale pizza crust has a short ingredient list, made of mostly broccoli and black kale, with corn flour, olive oil, and salt holding the mix together and giving it some seasoning. 
This veggie-based pizza crust is healthier than traditional pizza dough, too. While the crust from a slice of traditional pizza can have up to 182 calories, 34 grams of carbs, and 1131 mg of sodium, Trader Joe's Broccoli & Kale Pizza Crust has 70 calories, 15 grams of carbs, and 230 mg of sodium per slice. 
Trader Joe's Cauliflower Gnocchi
Gnocchi is a classic Italian dish, made from potatoes and flour, sometimes from ricotta, and other times, even has butternut squash thrown into the mix. But making it yourself can be a pain — the dough is sticky and can be hard to work with — and most versions are loaded with carbs, not ideal for those living in a keto/paleo obsessed world. 
Luckily, we have Trader Joe's. They saved us from this conundrum by introducing frozen Cauliflower Gnocchi. 
The gnocchi are made with cauliflower, the vegetable of the moment, along with cassava flour, potato starch, olive oil, and salt. 
You can boil them, but according to Trader Joe's the easiest way to cook the cauliflower gnocchi is to saute them and crisp them up in a skillet, so they get nicely golden brown on the outside and stay tender and slightly chewy on the inside, like the real thing. Boiling can make them a little bit mushy. 
The cauliflower gnocchi isn't exactly low-carb (22g), but it has about half the carbs of traditional potato gnocchi (48g). It's fast enough for a weeknight, fancy enough for a date night, and way less expensive than going out to an Italian dinner. 
Trader Joe's Mango Sticky Rice Spring Rolls
One of our favorite parts of eating Thai food is getting dessert: sweet coconut-infused sticky rice topped by slices of tropical mango. 
But when we're craving the same dessert at home, there's no need to turn on the rice cooker or head to the store on the hunt for the perfect mango, because now, we can get our fix with Trader Joe's Mango Sticky Rice Spring Rolls ($2.99). 
The spring rolls come frozen, with five to a bag, and you cook them either by baking them or pan-frying them. 
Each spring roll features a golden, crispy wrapper filled with tender rice that's cooked in freshly-pressed coconut milk, then mixed with pieces of Nam Dok Mai mangoes, a silky and fragrant variety that's famous in Thailand. The rolls are so delicious, they were even named one of Trader Joe's 50th Anniversary Best Products. 
They're delicious on their own, but for a real treat, try serving them alongside a scoop of vanilla ice cream. The juxtaposition of the steaming hot spring roll and the cool ice cream, the coconut milk, vanilla, and mango flavors coming together in harmony, is unbeatable. 
Trader Joe's Mandarin Orange Chicken
Have you ever wondered, nestled among the Cornbread Crisps, Unexpected Cheddar, and Speculoos Cookie Butter, what the most popular Trader Joe's product of all time is? Look no further than the freezer aisle, where Trader Joe's Mandarin Orange Chicken has held that title for years now. 
 Trader Joe's Mandarin Orange Chicken was introduced in 2004, and it's still a favorite. They even have a vegan version now for those who don't eat meat. But our favorite is the classic. 
It tastes just as good as delivery, but is ready in a fraction of the time it takes for food to reach your doorstep. Bake the chicken pieces, heat the sauce up in a hot pan, then stir them together until the tangy-sweet sauce clings to each and every crispy chicken morsel. 
There are a million ways to use it. You can serve it with Trader Joe's Riced Cauliflower Stir Fry and some steamed broccoli, serve it on a tray with toothpicks for a mouthwatering party treat, or add it to a wrap with a scoop of Trader Joe's Sesame Crunch Chopped Salad Kit for a flavorful lunch.
Trader Joe's Eggplant Cutlets
Homemade eggplant Parmesan made from scratch or served at your favorite Italian red sauce joint is a thing of beauty, but setting up a breading station, salting your eggplant slices, and dealing with all the messy splattering oil when you fry the slices to a crisp is a bit much for all but the most dedicated cooks. 
There's an easier, and just as tasty alternative: Trader Joe's Eggplant Cutlets. 
The frozen cutlets can be baked in the oven or pan fried until golden brown and crispy. Even in the oven, they get pretty crisp on the outside, especially if you use a generous amount of cooking spray. 
Once they're cooked, you can do a number of things with the cutlets. Stack them with marinara sauce, mozzarella cheese, and basil to make eggplant Parm, which you can either serve with pasta or on a roll to make a tasty sub. Tuck them in a pita pocket with garlic sauce, greens, and tomatoes for a quick and healthy vegetarian lunch, chop them up and use them as a pizza topping, or use the eggplant cutlets as a veggie burger replacement. 
Trader Joe's Chocolate Lava Cakes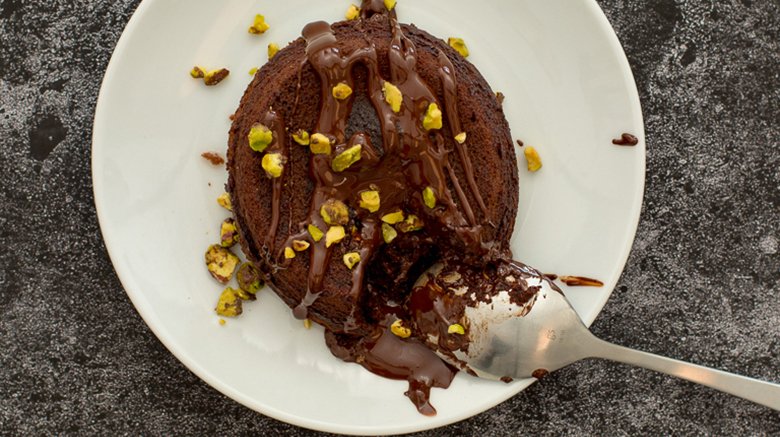 Trader Joe's
Making dinner from scratch is a tasty romantic gesture, but by the time you're done cooking the sink is filled with dishes, you're feeling dead on your feet, and making dessert is probably the last thing that you want to deal with. 
No worries! Head to the freezer aisle at Trader Joe's and pick up dessert. Their Chocolate Lava Cakes come two to a package, offering just enough sweetness to finish off your meal without anything going to waste. 
Each cake is moist and deeply chocolatey. When you warm them up, the chocolate in the center melts, so when you dig in a flood of hot fudge comes pouring out. 
These cakes are quite rich, so try serving them with some vanilla ice cream, whipped cream, or fresh berries to lighten things up. 
Alternatively, you can lean in to the decadence and use Trader Joe's recipe for chocolate pistachio lava cakes. All you have to do is drizzle hot fudge sauce over the cooked lava cakes, then finish it all off with a sprinkle of chopped pistachios. 
Trader Joe's Black Bean & Cheese Taquitos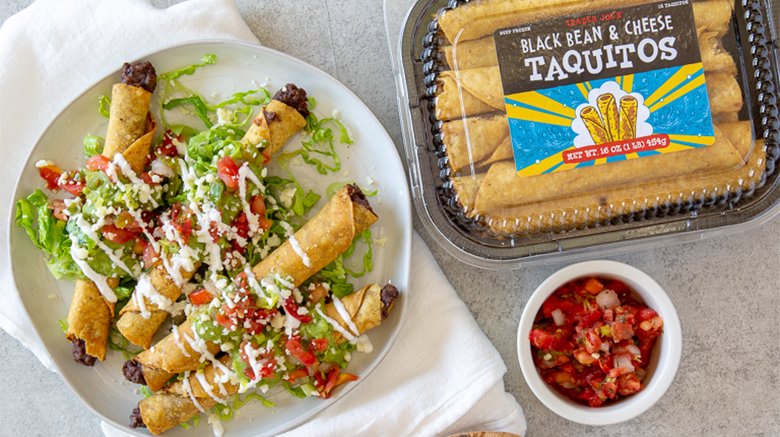 Trader Joe's
We don't like wasting space in our freezer, so versatility is everything. That's just one of the things that make Trader Joe's Black Bean & Cheese Taquitos so convenient. 
You can heat them up and serve with rice, beans, salsa, and diced avocado and eat them for dinner, or you could make them up before having friends over and enjoy them as a movie-night snack. If you want them to feed even more people, try cutting each one in half after it's cooked, then sticking them with toothpicks and serving with warmed up queso. 
We wouldn't go so far as to say that these taquitos are healthy, but they are vegetarian, and black beans are a nutritious source of protein, complex carbohydrates, and fiber. You can't say the same for the mystery meat you find in some other frozen foods. 
For best results, you'll want to bake these up in the toaster oven or oven. In the microwave they can get soggy. 
Trader Joe's Pastry Bites With Feta Cheese and Caramelized Onions
Classy evenings involving wine, cocktails, and great conversation usually also require some upscale eats, but making fancy appetizers can be expensive and time consuming. That's why we're always excited when we find a frozen convenience food that actually tastes good enough to serve to company. 
Trader Joe's Pastry Bites with Feta Cheese and Caramelized Onions fit that bill. Not only are they relatively inexpensive, they also cook up in just 20 minutes. 
These little puff pastry cups are filled with sweet caramelized onions and salty sheep's milk feta. The balance of sweetness and tang makes it an excellent choice for wine pairings. Try a high-acidity wine like Sauvignon Blanc or Pouilly-Fumé to balance the feta, or opt for an off-dry Riesling that will match the flavors of both the cheese and the caramelized onions. 
That being said, no one's stopping you from heating these puff pastry cups up to snack on in your PJ's while watching the latest season of your favorite streaming show.