Celebs React To Popeyes' Chicken Sandwich
It's been a week since the Popeyes chicken sandwich returned to menus nationwide after running out in August, but the hype doesn't seem to be dying down. For the last seven days, Popeyes has been dominating headlines, with news outlets dissecting exactly what makes the chicken sandwich so delicious, reporting on the stabbing death of a customer who cut in line, and revealing what Justin Bieber really thinks of it. 
Of course, what celebrities think of current trends shouldn't make any difference — at the end of the day it's your opinion that matters and nobody else's — but in our celeb-obsessed culture, obviously we're curious to know if our tastes align with the likes of Bieber, NFL player Deshaun Watson, Desus and Mero, and other stars. 
It turns out that if you've fallen head over heels for the Popeyes chicken sandwich, though, one of these celebs' opinions is going to rub you the wrong way.
Here's what celebs think of Popeyes' chicken sandwich
The masses have collectively oohed and aahed over Popeyes' chicken sandwich, and the reviews are consistent — it handily beats out the competition, including archrival Chick-fil-A. For the most part, the celebs that have tried it agree with the hype. 
Holly Robinson Peete, who smartly sent her son out to wait in the hour-and-a-half line to procure one, deemed it "extremely good." Houston Texans player Deshaun Watson credited the spicy Popeyes chicken sandwich for allowing him to play in last Sunday's game even with a brutal eye injury. When asked by NFL Network's Melissa Stark about it after the game, he replied, "I'll tell you the key. The key is, it was the Popeyes spicy chicken sandwiches that I ate this week that helped the eye..." (via Business Insider). Now that's one magical sandwich. 
Showtime's comedy duo Desus and Mero had no problem using dark humor in their review of the Popeyes chicken sandwich, alluding to the unfortunate stabbing death earlier in the week. Desus, after taking a bite, said, "It's good, it's good. I wouldn't stab someone over it..." But after his second bite, he changed his mind, admitting, "Actually, no, I would stab someone over this." Mero agreed, saying, "When the spicy hits, that's when it's like, yeah, I'll kill you." 
Justin Bieber has an unpopular opinion about Popeyes' chicken sandwich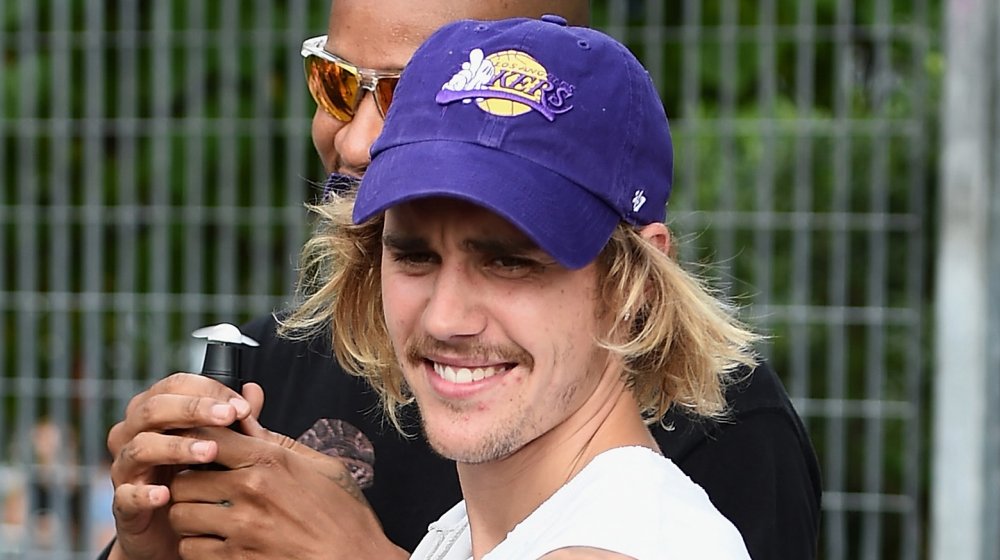 Theo Wargo/Getty Images
But Justin Bieber does not agree. He took to his Instagram stories to give his opinion on the Popeyes chicken sandwich, and ruffled plenty of feathers with his review (via BuzzFeed). "All this hype on the Popeyes chicken sandwich, let me see what we got here," he said. The verdict after his first bite? "It's good but it's not worth the hype." And just like that, it was Justin Bieber dominating the Popeyes headlines for what most consider an incorrect opinion. 
There's no such thing as bad publicity, though, and no matter what celebs are saying, we have a feeling that Popeyes is just happy to be in the news and winning the chicken sandwich war — at least for the time being.