Argument Over Popeyes Chicken Sandwich Ends In Death
We've been closely following the coverage of the Popeyes chicken sandwich, which caused social media wars and a national shortage. Finally, the sandwich has made its triumphant return, but we never expected the fervor around a fast food sandwich to become so hot that someone would actually get stabbed over it. That's exactly what happened after an argument erupted in line between two Popeyes customers waiting to get their hands on the legendary sandwich (via CNN). 
We've seen wild behavior at fast food restaurants before. Who could forget the hysteria caused by McDonald's reintroducing their Szechuan sauce, or the ongoing passion people feel for the chain's McRib?
Even so, the very last thing we associate with a spicy, crispy chicken sandwich is murder.
Why someone was stabbed at Popeyes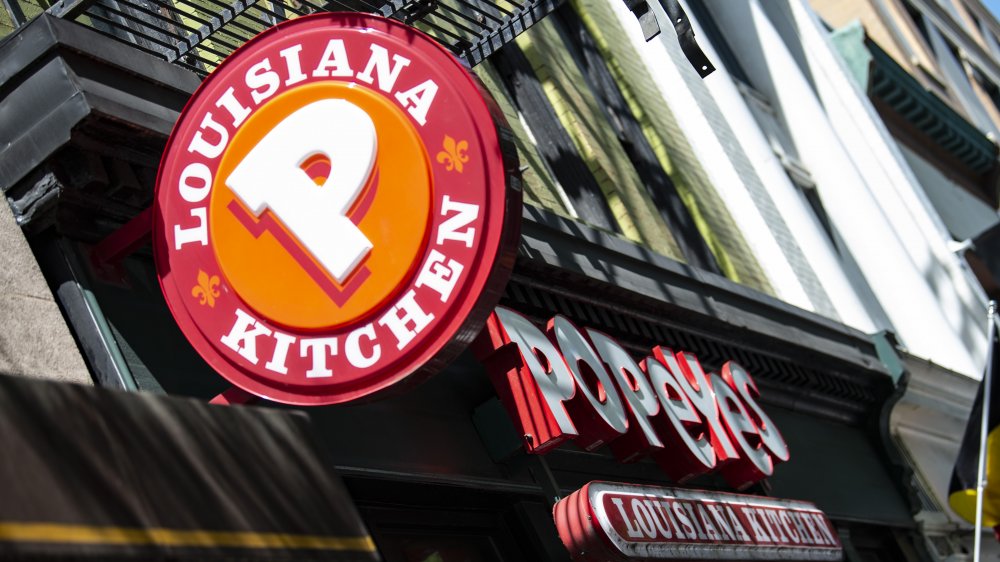 Eric Baradat/Getty Images
Apparently, the victim of the stabbing was a 28-year-old man named Kevin Tyrell Davis, who was waiting in line to order one of the chain's chicken sandwiches at a Popeyes in Maryland. The sandwich returned to stores on Sunday, November 3 (via The New York Times).
While in line, Davis and another man waiting in line got into an argument. Their fight intensified, and the two went outside, which is when the stabbing occurred. 
Police say that the argument broke out after Davis cut in line for the chicken sandwich, and when Davis reached the counter, he was approached by the man who ultimately stabbed him in the upper body. 
Davis was stabbed was transported to a hospital, but he was already dead. In the meantime, the suspect fled. He's currently on the loose. Cops are searching for the attacker, along with a woman who was accompanying him, for more information.  
A Popeyes spokesperson has responded to the incident, saying, "We do not yet know whether this was the result of a dispute over one of our products or something unrelated, but there is no reason for someone to lose their life on a Monday night in a parking lot. Our thoughts are with the victim's family and friends and we are fully cooperating with local authorities."