This Is Why Shake Shack's Burgers Are So Delicious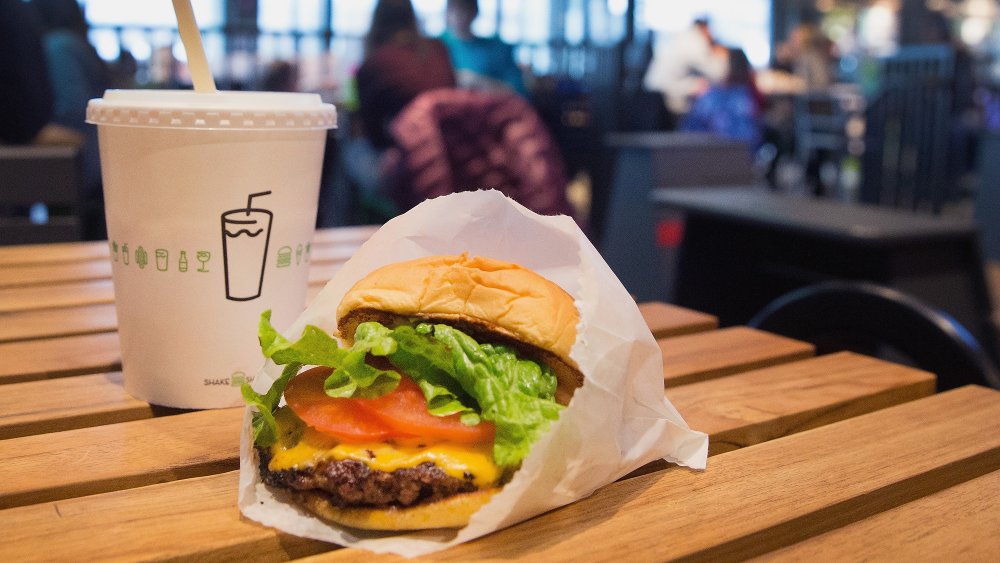 Scott Olson/Getty Images
It's pretty amazing when you consider that at the dawn of the millennium, Shake Shack was just a little cart in a New York City park and is now a publicly-traded company worth millions with hundreds of locations (via The Motley Fool). The hamburger stand is certainly no longer little, and people around the globe are crowding into its stores to see what the big deal is with those mouth-watering burgers (and why those burgers are so often the top choice of those who visit one of their locations). 
You can certainly try and replicate that perfect Shake Shack burger at home, but there's nothing quite like the real thing. Shake Shack has a special way of making their burgers stand out from the crowded fast food burger market, and here's how they do it.  
A proper patty is key to that distinct Shake Shack flavor
Known as the "ShackBurger," it's the signature burger of Shake Shack and what founder Danny Meyer has built his burger empire on. If you happen to be eating at the original Shake Shack in Madison Square Park, you'll be getting a burger patty made with a blend of sirloin and chuck from butcher Pat LaFrieda (via The Daily Beast). "We're looking for good fat content," culinary director Mark Rosati told Business Insider (via YouTube). "For us that's somewhere around 20/80 (fat/meat). Once the burger patty is formed, a cook puts it on the griddle, adds some salt and pepper, and then smashes it down into the griddle, creating a nice, beautiful even sear that's going to add a lot of flavor for us," Rosati explained. 
Once one side of the burger is cooked, a spatula is used to lift the burger up carefully so that the patty's brown crust doesn't stick to the griddle on the flip. This crust is essential for holding in the juices and flavor of the beef. After a slice of American cheese is perfectly melted, the burger is taken off the grill for its awaiting bun. 
A potato bun makes all the difference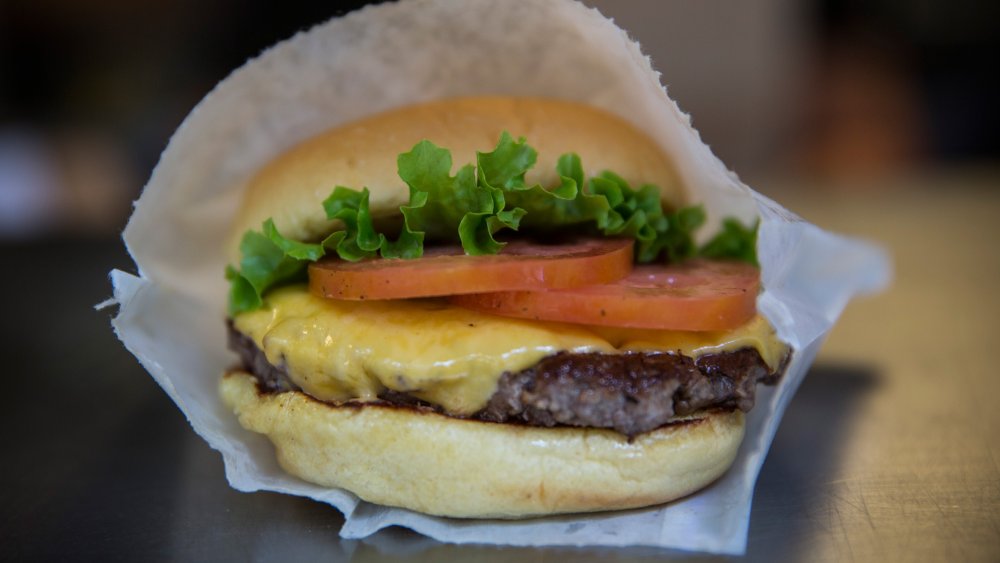 Andrew Burton/Getty Images
So, about that bun. The New York Post reports that Martin's potato buns are the preferred bun of choice for Shake Shack. The bun is brushed with a little butter and then toasted "so the inside gets a little bit of crunch on it," Rosati said. This provides some great contrast with the soft interior of the bun. The standard burger toppings of lettuce and tomato are added, and that ShackBurger is nearly ready to go. 
Of course, it wouldn't be a ShackBurger without that special sauce, which Eater suspects is a blend of mayo, Dijon mustard, ketchup, pickle brine, and cayenne pepper. All of these things might seem pretty simple, but as Shake Shack has proven, they can equal seriously big and delicious results.