What You Need To Know About The New Disney-Themed Ice Cream
Brace yourselves, Disney/Pixar fans and ice cream lovers (have we covered, like, 99 percent of the human race here?), your new favorite dessert has arrived in grocery store freezers: ice cream flavors created to celebrate childhood movie classics Monsters Inc. and The Incredibles.
This is hardly Disney's first venture into themed ice creams. A 2003 blog entry from Jim Hill Media announces two then just-released Finding Nemo flavors from Edy's/Dreyer's — Mint Cookie Crush and Fish'n'Chips (the latter of which consisted of chocolate fish in a vanilla/cookie dough base). The blog also reminisces about other early '00s flavors, including Toy Story 2's Chunky Toy Funilla and Infinity Divinity, 102 Dalmatians' Vanilla & Chocolate Dalmatian Sensation, Treasure Planet's Galactic Chocolate & Vanilla Treasure, and, from Monsters, Inc.'s original release, Cookies and Screams and another flavor called Monster's DeLight. 
More recent Edy's/Dreyer's tie-ins, according to the Disney Food Blog, have included Toy Story 4's Chocolate Peanut Butter Prize Winner and Carnival Churro Cravings as well as Frozen 2's Magical Mint Snowflake and ChocOLAF Fudge Swirl.
Did you miss any or all of these? Tragic, we know. But now's your chance to make up for lost opportunities — Edy's/Dreyer's has re-released Monsters Inc.'s Cookies and Screams along with an Incredibles 2-inspired Jack-Jack Cookie Crumble.
What are these new Disney ice cream flavors like?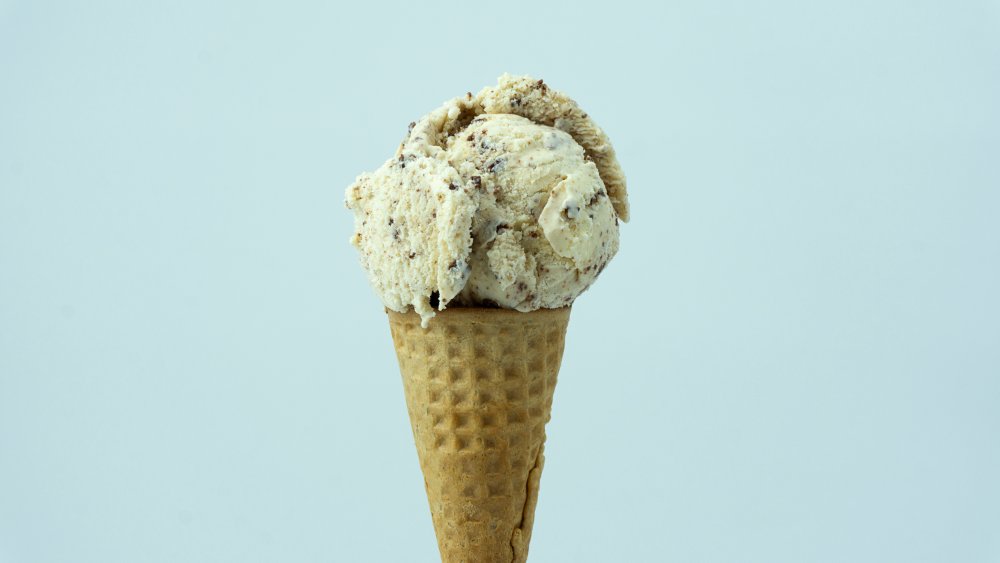 Shutterstock
Cookies and Screams, which, according to the Jim Hill Media blog, appears to have been an original early millennium flavor, isn't just your basic cookies and cream. Instagrammer Candyhunting scored a tub at Meijer, and described the contents as "vanilla light ice cream, chocolate cookie pieces, a fudge swirl, and chocolatey Mike and Sulley pieces." Sweet! And just in time for the new Monsters, Inc. TV series to drop.
The Jack-Jack Cookie Crumble is an obvious homage to the littlest Incredible's love of chocolate chip cookies, although it evidently doesn't use either chocolate chips or chocolate chip cookie crumbs. Instead, Candyhunting's Instagram post characterizes this flavor as "chocolate and vanilla light ice cream, a chocolate cookie swirl, and chocolatey mask pieces." Still, it sounds pretty tasty, although what's up with this "light ice cream" stuff? Does it really cut down the calories that much, considering the cookie and candy mix-ins?
Well, we're not going to quibble. Although the movies that inspired these latest ice cream treats are evergreen favorites, there's no word on how long the flavors themselves are going to stick around, and they may sell out quickly. Best grab a few cartons now and settle in for a midwinter movie-watching binge.