KFC Chicken & Donuts Sandwich: What You Need To Know Before Ordering
If you like the sensation of eating something crisp, sweet, and savory at the same time, have we got a treat for you.
KFC is offering what one taster has called a "near-perfect" sandwich (via Business Insider) and which another described as simply "mmmmmmmm" (via Chicago Tribune) — the KFC Chicken & Donuts sandwich. The new dish is what it sounds like — a piece of Extra Crispy chicken sandwiched between two crisp glazed doughnuts, which take the place of a bun (via Orange County Register).
The company is delighted about its latest salvo in America's chicken sandwich wars, and with the rave reviews the dish has received so far, they ought to be. "Chicken & Donuts is the newest fried chicken trend we're bringing to all of America, but not just any donut would do," Andrea Zahumensky, chief marketing officer of KFC U.S says (via PR Newswire). "Only a donut that's glazed-to-order and served piping hot every single time can stand next to our hand-breaded fried chicken. It's a finger lickin' good dish filled with glaze and glory."
The KFC Chicken & Donuts first appeared in September 2019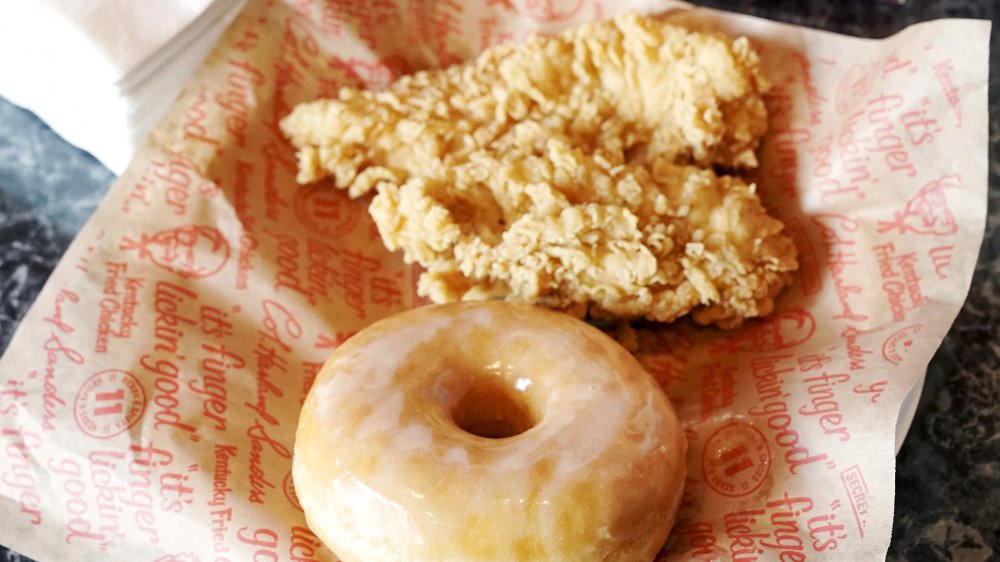 Erik Voake/Getty Images
This isn't the first time America's caught a glimpse of KFC's latest crispy crusader. The sandwich first debuted in KFC back in September for a limited time, which is when some tasters got a preview of what was in store. As the Chicago Tribune says, the doughnuts tasted the way a Krispy Kreme donut would, but it was a bit more dense. And while it described the sandwich as tasting of a mixture of "guilt, and regret, and sadness." The Chicago Tribune also emphasized that the concoction, in fact, tastes pretty good.
According to the nutrition calculator from KFC (select Limited Time Offer, then Chicken & Donuts), the sandwich isn't exactly the most nutritious meal on the block — but with two entire donuts, are you surprised? The sandwich contains 1100 calories and 65 grams of fat, as well as 1310 mg of sodium. 
The offer is priced at between $5.49 to $7.99, the KFC chicken and donut combo will come in several basket options too, with bone-in chicken, or with Extra Crispy tenders and a donut on the side. 
Act fast, though — according to the Orange County Register, this delectable menu item will only be available until March 16 — or while supplies last.