You Should Never Get Tacos At Chipotle. Here's Why
When it comes to Chipotle, people either seem to love it or, like plenty of Redditors, think it's overrated. Sure, the company has seen its share of ups and downs, but nobody can deny that they were one of the brands that ushered in the fast casual trend (via The Washington Post). People love their burritos and burrito bowls, and even their queso is trying to make a comeback. 
Let's take a minute to talk about Chipotle's tacos though, and why they might not be the best option if you want the most bang for your buck. Yes, it seems a little odd to tell folks to avoid the tacos at a Tex-Mex place, but trust us on this one. 
Nobody knows the Chipotle menu better than the employees who are on the frontline, slicing, scooping, and rolling orders day in and day out. When it comes to what not to order, Chipotle's tacos might just be at the top of that list. It's not that they're necessarily bad — they're made with the same ingredients as everything else on the menu, after all. It's that they're sort of a ripoff.
Chipotle's burritos have the tacos beat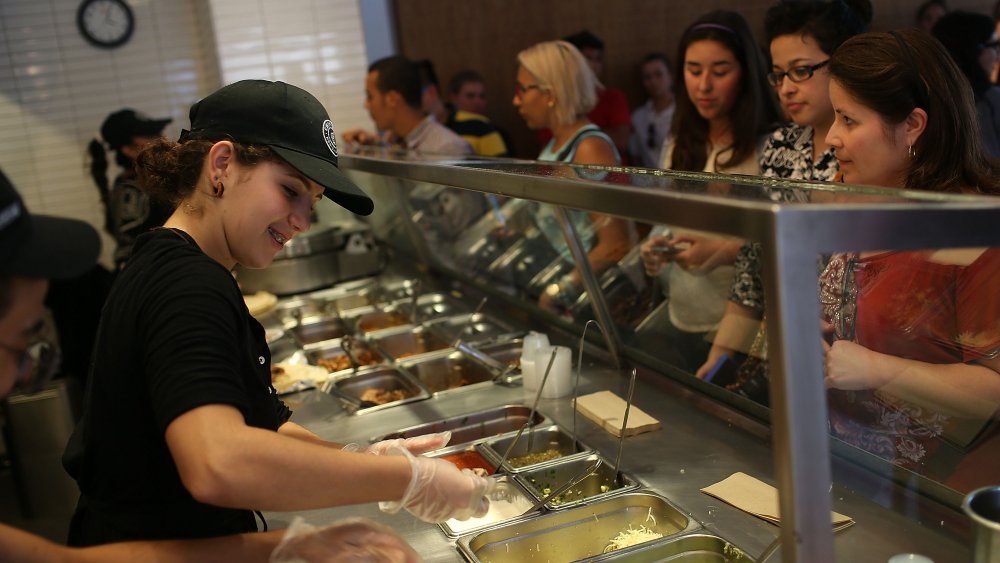 Joe Raedle/Getty Images
"I used to work at Chipotle, and never ever ever order the tacos," a former employee said on Reddit. "You get less than half the regular portions." If you're craving tacos, maybe you should have gone to Taco Bell.
According to Fast Food Menu Prices, three chicken tacos will cost you the same as a regular chicken burrito — $6.50. If you don't want all the calories of a burrito, yes, the tacos will probably have fewer calories, but there's also a better option out there.  
Go for a burrito bowl and ask for hard or soft tortillas on the side. You'll be able to stuff the tacos with as much or as little filling as you want and if you don't finish your meal you don't have to worry about the tortillas getting soggy later on. Plus, the former employee also revealed a Chipotle secret: You might even get those tortillas for free. Score!