Who Actually Makes Kirkland Rum?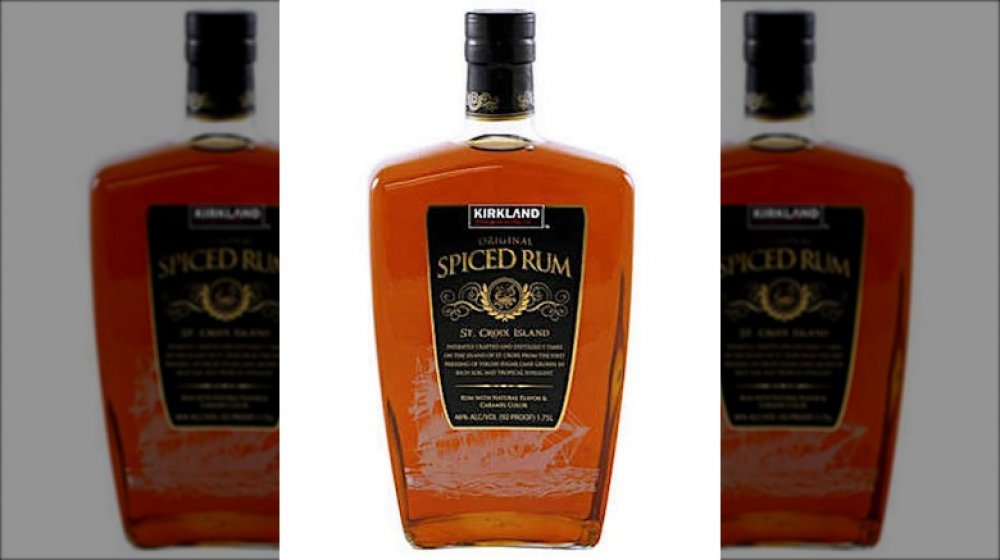 Costco
Costco's Kirkland brand offers one of the best selections of economically priced alcohol regardless of whether you are on a budget or just spending sensibly. One of the brand's offerings that is climbing in popularity is its Kirkland Spiced Rum. But have you ever wonder who actually makes it? Costco started their private Kirkland label in 1995, as they wanted to offer great quality at a price that was affordable. And it appears they've been successful. In 2019 alone, Costco made $39 billion in revenue with their Kirkland products which accounted for one-fourth of all sales (via Motley Fool).
A private label product like Kirkland Spiced Rum is made by a contract or third-party manufacturer, according to Shopify, but if you do a little bit of research as to who their partner(s) might be in creating their signature rum, the answer is not so elementary. In fact, it can be downright confusing. There are theories and rumors abound. Delish asserts that it could possibly be Jim Beam. Proof66 notes that Kirkland Spiced Rum is produced out of the LeVecke Corporation of California, "a company who imports, blends, and bottles several different varieties of rum." And the Kirkland Spiced Rum bottle label itself reads: "Patiently crafted and distilled 5 times on the island of St. Croix."
No matter who makes it, Kirkland rum makes a great pina colada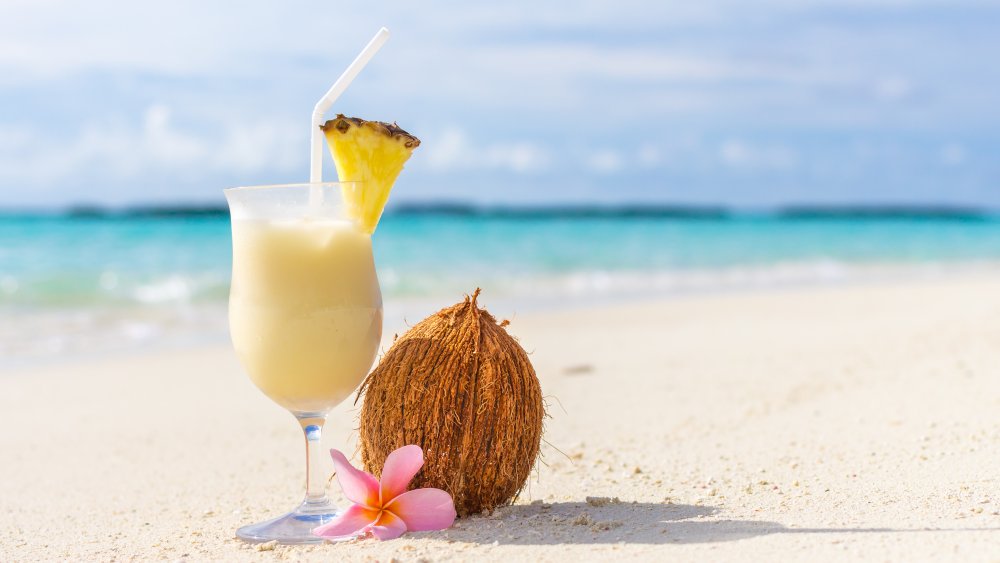 Shutterstock
Lee Breslouer of Thrillist believes the Kirkland Spiced Rum label offers the real clue as to who actually makes the rum, and notes that "St. Croix narrows it down to two distillers: Cruzan or Captain Morgan," who both call the island home. According to an Associated Press article, the Cruzan distillery is "...owned by Beam Suntory, the Japanese-owned, Chicago-based booze conglomerate of which Jim Beam is just one component." Captain Morgan is part of the Diageo family which produces adult alcoholic beverages like Don Julio, Tanqueray, and Guinness to name a few.
So who actually makes Kirkland rum? Maybe all of these theories hold an element of the truth? The Internet really does make this like a great game of Clue in unraveling the mystery. Jeff Ellingson of Best Tasting Spirits contends Kirkland Spiced Rum is indeed distilled in St. Croix, after which,"The rum is shipped to California where Levecke Corporation adds natural flavors and caramel color before bottling at 92 proof in a 1.75L bottle." Thrillist's Lee Breslouer also accepts this theory. Whoever makes it, Kirkland Spiced Rum is great in a piña colada.