The Secret Menu Items You Can Order At Hardee's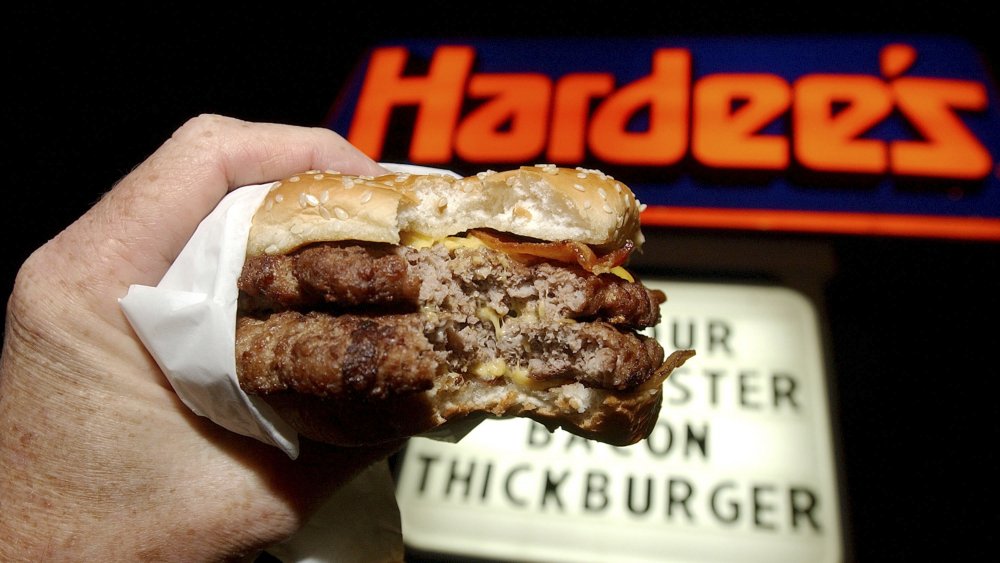 Erik S. Lesser/Getty Images
Just about every fast food restaurant out there has its secret menu, although what makes them secret is that these menu items tend to be customer-created. This means that unless they're really standard, well-known items like In-N-Out's Animal-Style Fries or Starbucks' Pink Drink (the latter of which has actually been adopted onto the chain's menu, and the first might as well have been), workers at your local franchise may be either unable or unwilling to make these items — and then, there's also the confusion about just how they should price them.
Still, if you want to feel at home amongst the Hardee's cognoscenti, you can always try ordering one of their secret menu items and see if you find a worker sufficiently eager to please — or at least, bored enough — to accommodate your request. (Ordering these at a Carl's Jr, might not work, though, since after more than 20 years of being seen as the same brand, the chains kinda sorta divorced in 2018.)
Hardee's secret menu breakfast items
Hardee's Monster Biscuit used to be a menu item several years ago, but Fast Food Menu Prices claims that you can still order one today. You may need to spell out exactly what goes into it, however, unless you run across the longest-tenured fast food counter person in history — you'll have to ask for a biscuit with bacon, sausage, ham, eggs, and cheese.
There's also another breakfast item which is known as the Harold. According to Illinois radio station WTAD, the eponymous Harold was a farmer who used to order this at the Hardee's in Macomb. His unique breakfast concoction, made of biscuits and gravy, scrambled eggs, and hash browns, caught on with students at nearby Western Illinois University. Its fame later spread throughout Illinois and onward through the rest of Hardee's territory (at some point seemingly acquiring the additional topping of shredded cheese), although it has never been officially featured on Hardee's menu.
Hardee's secret menu burgers
The Chicken Stuffed Super Star actually started out as a Carl's Jr. secret menu item, but you can make it with Hardee's menu items as well. How do you get one? Order a Super Star with Cheese, which is, according to Hardee's, "two charbroiled all-beef patties, two slices of American cheese, lettuce, two slices of tomato, sliced onions, dill pickles, special sauce, and mayonnaise on a seeded bun." You know, the usual stuff. Open it up, stuff a Spicy Chicken sandwich in there, and you have a really big burger that you'll probably have to unhinge your jaw to eat. If you want to go with a somewhat healthier option, you can always have Hardee's substitute a Beyond Meat patty for the beef in any of their specialty burgers.
Oh, and if you're the shy type, or just prefer to err on the side of politeness, you don't actually have to ask the Hardee's employees to prepare any of these secret menu items for you. Instead, you can just order the necessary components off the main menu, and then go ahead and DIY your own items. That way they stay secret, and nobody gets stuck figuring out how to ring up some mutant menu monster on a cash register that's only programmed to handle the standard offerings.