The Truth About Walmart's Copycat Chick-Fil-A Sauce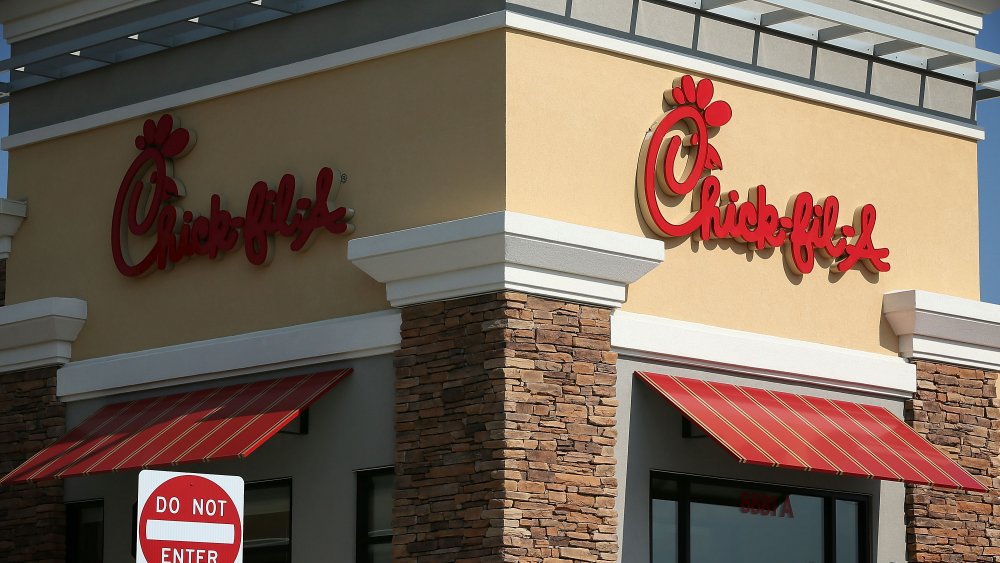 Alex Wong/Getty Images
Fried chicken sandwich chain Chick-fil-A is just as lauded for its sauces as it is for its sandwiches. Fast food fanatics are enamored by their buffalo, barbecue, and Polynesian sauces that they can use for fry and nugget dunking. The most famous of the sauces, of course, is the eponymous Chick-fil-A Sauce, which is described by the restaurant as having "notes of honey mustard and smoky tang" (via Chick-fil-A). 
More specifically, the dip is just a mixture of honey mustard, barbecue sauce, and ranch dressing, according to the company (via Reader's Digest). Given the popularity of the sauces (some would say they have a cult following), it should come as no surprise that other retailers around the country would try to imitate and emulate them, and folks try to replicate it at home, too. 
But is it possible to recreate the magic? And if anyone put it on the market, would consumers purchase it?
Walmart offers an alternative to Chick-fil-A sauce
Walmart has recently made available a "Chicken Dipping Sauce" that people say tastes just like Chick-fil-A sauce (via Walmart). The ingredients list is extremely similar, and a bottle of the sauce can be had for under $2. 
According to a taster, the Walmart version of the sauce tastes "eerily similar" and it was difficult for her to even tell the two apart during a blind taste test (via My Recipes). It's unlikely that you would ever need to bring your own bottle of this Walmart knock off with you to a Chick-fil-A, since you get ample amounts of sauce with your meal. However, if you're such a fan of the flavor that you'd want to use the sauce in salads, sandwiches, and other items you cook at home, you might consider picking up a bottle. WIth such a small price tag and such rave reviews, how could it hurt?