The Truth About Julia Child's 14-Second French Omelet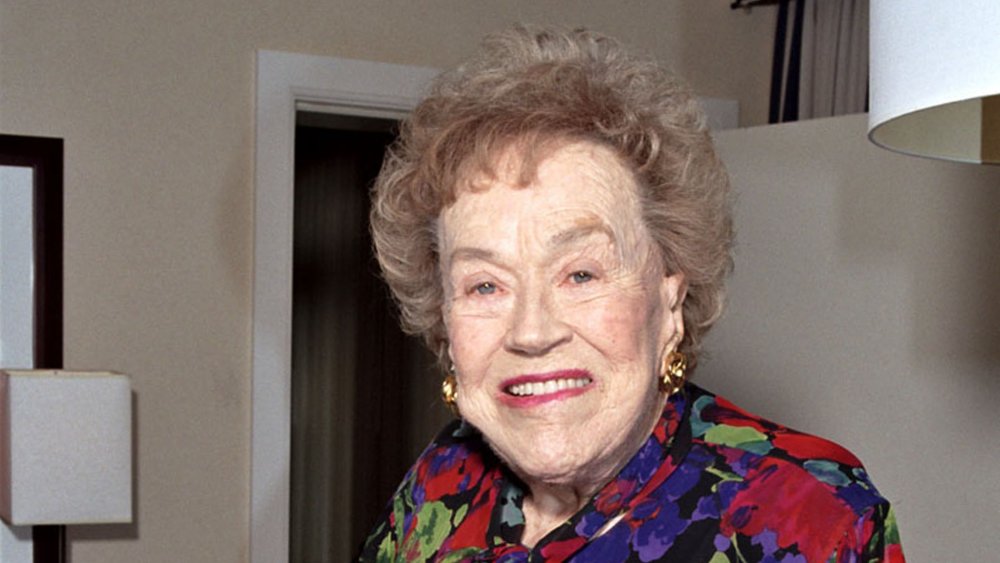 Thomas J. Gibbons/Getty Images
Julia Child was one of the first — and best — celebrity chefs, managing to make preparing classical French cuisine look not only accessible, but easy and even fun. While she may have trained at Le Cordon Bleu, she was anything pretentious, and on her TV cooking show she wasn't afraid to be seen messing up, and would even laugh at herself when anything went wrong.
Although she has been gone for quite a few years now (The New York Times reports that she passed away in 2004, two days before her 92nd birthday), she lives on forever in the hearts of food bloggers and writers. Child was even the co-subject of the 2009 movie Julie & Julia, which told the true story of a food writer who was inspired to devote a year of her life to recreating every one of the recipes in her iconic cookbook, Mastering the Art of French Cooking. More recently, yet another food writer was moved to spend somewhat less time — an entire 14 seconds, to be exact — making Child's classic French omelet, a dish so simple that it can go from pan to plate in under a quarter of a minute.
The Julia Child omelet challenge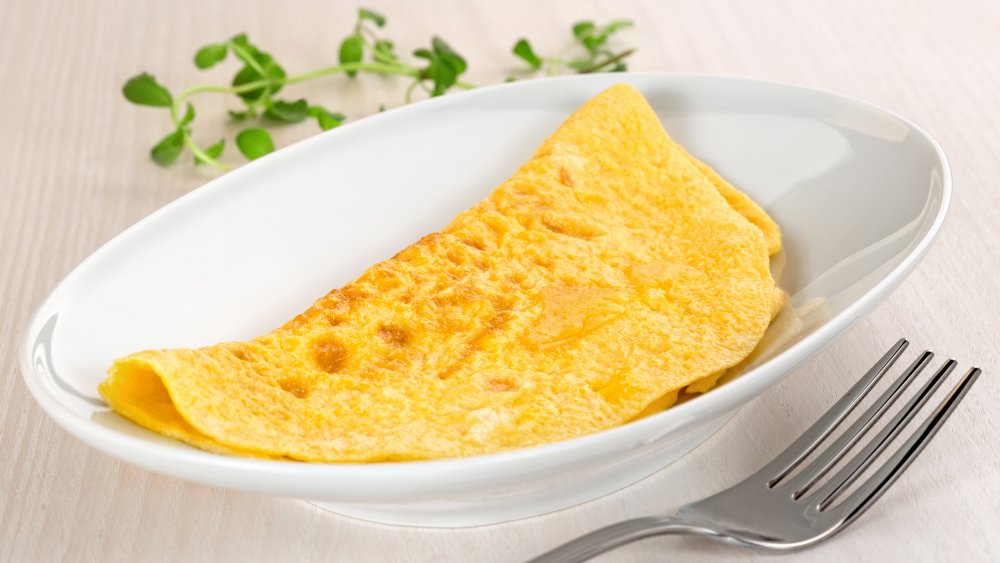 Shutterstock
Emily Fleischaker, food editor at The New York Times, did something very 20-teens with her omelet effort by turning it into a challenge. She posted a video clip of Julia Child making this omelet to her Instagram, then tagged 15 of her friends to follow suit. While not too many of the comments on her post were from anyone saying they'd cooked this omelet successfully, The Kitchn claims that the post, and the challenge, have now gone viral.
In case anybody tags you in the #JuliaChildChallenge, you might want to practice a few times first, since sometimes you've got to crack a few (dozen) eggs to make the perfect omelet. For each omelet, heat a tablespoon of butter until it foams. Have two eggs all set to go, whisked together with salt and pepper. As the butter stops foaming, pour in the eggs and shake the pan to spread them over the bottom. Once the eggs have formed a solid layer (this should take just a few seconds), jerk the pan towards you several times to allow the eggs to fold in on themselves until they're all rolled up. If your eggs won't behave like Child's do, wave an eggbeater around in a menacing manner to scare them into line. Should your eggs assume the proper position, toss them so that they're at the right side of the pan, then roll them onto a plate and arrange them nicely for their Instagram closeup.