Here's How To Make IKEA's Famous Meatballs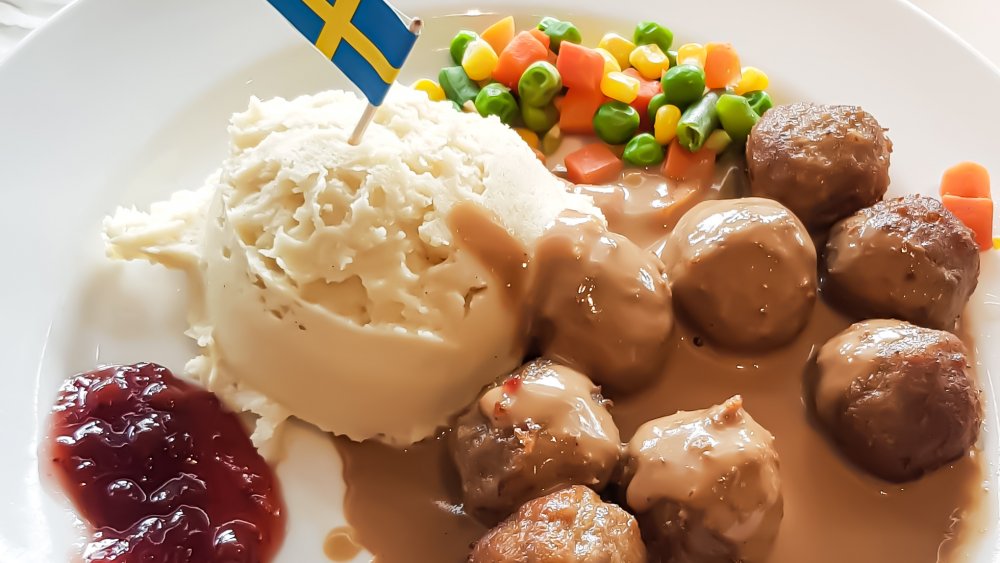 Shutterstock
Like many things IKEA, they come in packaging with a name that most of us probably can't pronounce properly (unless we ask, that is). But its name aside, ALLEMANSRÄTTEN is so iconic people who go to IKEA make this the last (or first) thing they pick up.
IKEA says its version of Swedish meatballs is based on a recipe from its test kitchens, which was perfected back in 1985. Getting it right was such a challenge even brand founder Ingvar Kamprad got involved, and there were disagreements over how a meatball should taste because Kamprad was from one part of the country, and the recipe's developers were from another.
IKEA doesn't say who finally won the argument, but whoever did can rest assured that he or she did the right thing. The company says it sells more than 1 billion of the meatballs every year; today, the meatballs are so popular there is a chicken and a vegetarian version to cater to those who don't eat beef and pork.
IKEA has released the recipe for its iconic meatballs
Until the coronavirus pandemic came about, people who wanted a taste of the iconic Swedish meatballs had to content themselves with buying bags of ALLEMANSRÄTTEN to have at home, or scouring the net for copycat versions of the recipe, and making that. But because the lockdown has prevented us from making it to IKEA, the Swedish retailer has shared the recipe on Twitter for both the meat balls and its cream sauce instead. 
Lorena Lourido, Country Food Manager at IKEA said (via Metro), 'We know that some people might be missing our meatballs, which is why we've released an at-home alternative which, using easily accessible ingredients, will help those looking for some inspiration in the kitchen 'Staying at home can be hard, but we want to help make everyone's lives that little bit easier and more enjoyable. Bon appétit or, smaklig måltid, as we say in Sweden"
Of course IKEA used their signature style to explain how the meatballs are made, and its design makes this particular recipe card a keeper for that reason alone.