What You Don't Know About The IKEA Meatballs
We may receive a commission on purchases made from links.
IKEA is well-known for two things: economical furnishings and Swedish meatballs. And chances are good that if you've ever been to IKEA, you've done two things: purchased way too many things you don't need, and been lured to the food court by the heavenly smell of meatballs.
On the plus side, both the furniture and the food is very reasonably priced, which is probably why millions of people partake in both each year. But now that you've bought your GERSBY bookcase and are scarfing down your meatballs and lingonberry jam, have you ever considered what you really know about this iconic Swedish dish?
Because no one should shop on an empty stomach
According to IKEA founder Ingvar Kamprad, "It's difficult to do business with someone on an empty stomach." With that in mind, he decided that IKEA needed to offer food to their shoppers. But he didn't want just any food, he wanted quintessential Swedish food, and he wanted to keep the food prices in line with their budget-friendly furniture prices.
The IKEA Swedish meatballs debuted in stores in the 1980s, and have become one of the most popular items on the menu. Today they sell for just $5.99 per plate, and come loaded with mashed potatoes, lingonberry jam, and ALLEMANSRÄTTEN, a gravy-like cream sauce. Is your mouth watering yet?
They're even more popular than you think
An astounding two million meatballs are eaten in IKEA's 340 stores worldwide every day. Now that's a lot of meatballs!
There was a horse meat scandal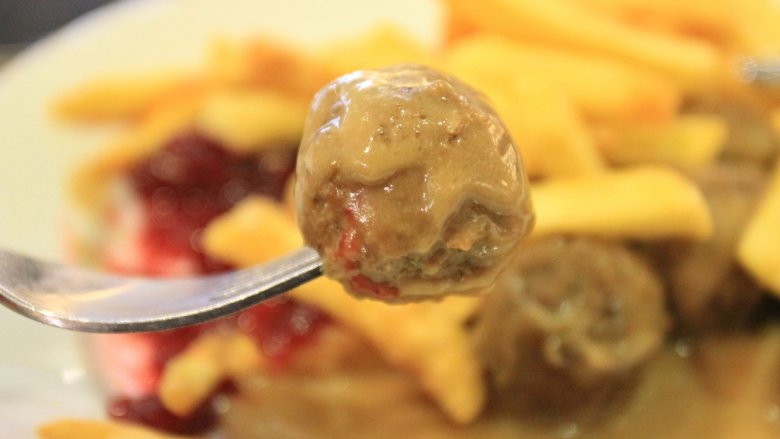 Getty Images
In 2013, traces of horse meat were detected in a batch of IKEA meatballs and triggered a recall of those being sold throughout 13 countries in Europe, both in their restaurants and in-store marketplace. Although IKEA contended that the product in their Swedish stores had not been affected, they were also recalled due to public concern. Meatballs sold in the U.S. were not affected and not recalled.
Since the horse meat scandal, IKEA has kept their nose clean and avoided any other recalls on their meatballs.
They're environmentally conscientious
Two years after the horse meat incident, in 2015, IKEA made efforts to reduce their carbon footprint by introducing more sustainable food choices, including the vegetable and chicken balls. According to the IKEA press release, "The new veggie ball is one example of the steps IKEA is taking to offer a wider variety of more nutritious and sustainably produced food. The veggie balls are made only from vegetables, are high in nutrition, fiber, protein and their carbon footprint is 30 times less than that of the traditional meatballs." Likewise, the chicken balls have a six times lower carbon footprint than the original.
Something to keep in mind next time you're pondering the menu.
You might soon be able to eat meatballs without the temptation of cheap furniture
A whopping 30 percent of IKEA visitors are there just for the food. Because of this, IKEA has been testing pop-up stand-alone restaurants in major cities like Paris, London, and Oslo, affording diners the opportunity to get their hands on their beloved meatballs without having to wade through a maze of couches and housewares. While there are no concrete plans for permanent restaurants at the moment, we'll keep our fingers crossed that there will be soon.
What exactly are you eating?
Along with the standard meatball, IKEA also offers vegan and chicken options. Here's what you're digging into:
KÖTTBULLAR: The classic meat version, which is served with lingonberry jam, is made up of beef, pork, onion, bread crumbs, egg, water, salt, and pepper.
GRÖNSAKSBULLAR: The vegetable ball (which are vegan and gluten-free) recipe changes throughout the year depending on what's in season, but includes ingredient like chickpeas, carrots, maize, kale, red peppers, peas, and pea protein.
KYCKLINGKÖTTBULLAR: The poultry choice is made up of chicken, onion, potato starch, salt, and spices.
It's also worth noting that in both the meat options, only natural ingredients are used. You've never felt so good about eating meatballs, right?
How many calories are we talking?
You're feeling good about what's in the meatballs, but how does that line up with the nutrition situation? Turns out that a plate of 12 meatballs doesn't put too big of a dent in your calorie budget, coming in at 690 calories. As with a lot of prepared foods, the sodium and fat is a bit of a doozy at 1560 milligrams and 41 grams, respectively.
Unsurprisingly, the vegetable and chicken plates are lighter meals. The chicken balls come in at 540 calories, 27 grams of fat, and 1530 milligrams of sodium, while the veggie balls have 550 calories, 21 grams of fat, and 1650 milligrams of sodium.
For comparison, a McDonald's Big Mac and medium fries will set you back 870 calories, 44 grams of fat, and 1180 milligrams of sodium.
What exactly is lingonberry jam?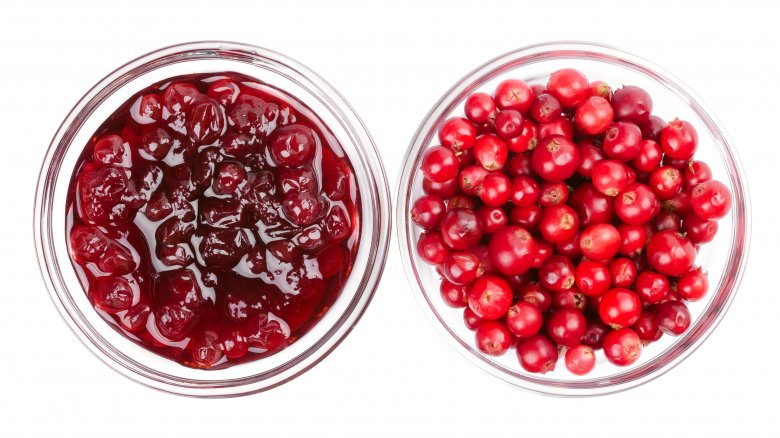 Shutterstock
It's the Swedish meatball's favorite condiment, but you probably don't see lingonberry jam too often outside the IKEA bistro. So what is it?
Lingonberries are a wild berry that grows in Sweden (no surprise there), and are harvested in August and September. Because of their bitter taste, the berries are typically not eaten raw, but when turned into jam (with more than a little sugar) it becomes a perfect combination of bitter and sweet. Lingonberry jam is often served with other savory Swedish dishes like cabbage rolls and potato pancakes.
It's unlikely that you'll find fresh lingonberries outside of Sweden, but if you get lucky you might find them frozen in specialty stores.
There's a special Christmas plate
For a few months before the holiday, you can experience Swedish meatballs in a whole new way. The limited Christmas plate comes with stone ground mustard sauce, sweet and sour cabbage with apples, sautéed carrots, and creamy gratäng potatoes. For IKEA FAMILY members, it's only $4.99 (and $6.99 for non-members).
Kids eat free!
If you time it right, you can score free meatballs for the kids. Just make sure you do your shopping on a Tuesday, and when you buy your meatball plate, you'll get up to two free kids' plates, too.
You can enjoy them at home, too
IKEA is no dummy. They know that while you love your piping hot meatballs in the store, you'll also want to eat them at home. So it's no big surprise that you can buy everything you need in their marketplace — just pick up the lingonberry jam, cream sauce, and frozen meatballs next time you're shopping, and you've got a super-easy meal for dinner tonight. The best news is, it will only set you back about $15 for the whole shebang.
If you're not lucky enough to live near a store, you can now buy their jam and cream sauce mix on Amazon. Unfortunately, the meatballs aren't available, but you can always substitute another brand for a close second.
The secret recipe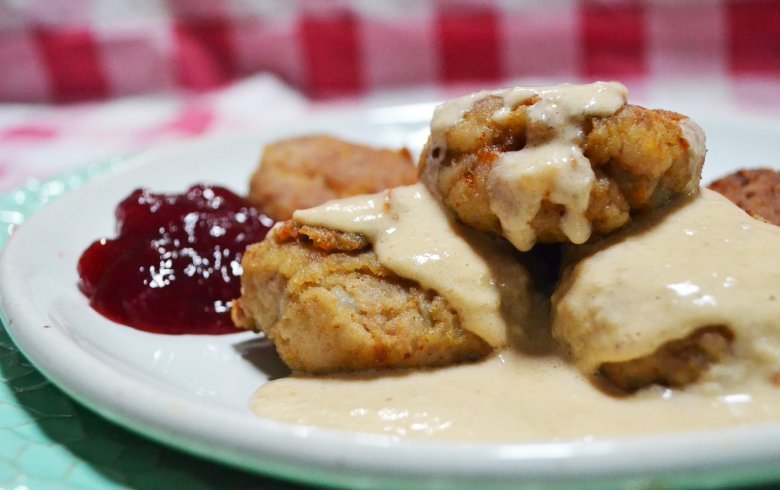 Take heed of the old saying "Give a man a fish and you feed him for a day; teach a man to fish and you feed him for a lifetime." With this recipe, you'll never again have to leave the house to get those delicious meatballs. You're welcome.